Egle Budvytyte
Leap, 2005
Video [5:13]
Courtesy of the artist
---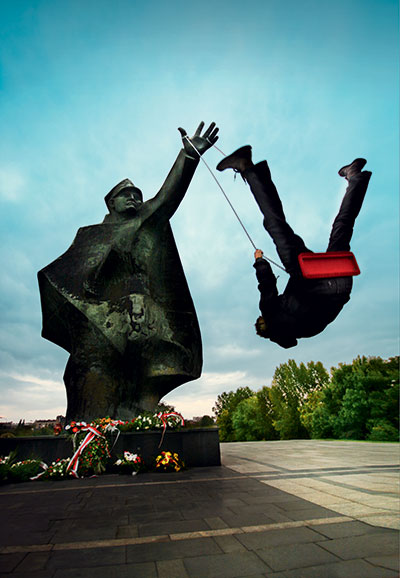 The problem is one of scale.  Against an environment of vast proportions, traversable only by vehicle and scalable only by elevator, we're just too small.  When building the concrete jungle, we suppressed our animal love of soft surfaces and strollable distances and this is all-too evident in Houston, Texas, unofficial capital of the six-lane traffic jam.  Thankfully, the windswept dystopia of heroic mid-century design is beginning to feel its backlash with the development of urban green spaces and the return of actual residents to downtown living.  Artists in the Blaffer Art Museum's Buildering: Misbehaving the City exhibition have been sussing out the contours and confines of these issues from Sao Paolo to Paris to Dubai. This exhibition, now in its second iteration after premiering at the CAC Cincinnati Museum, takes on a new context in a city that's more Bible Belt than Rust Belt.  The issue of human scale, both literally and metaphorically, is thematic.
As if to arm us for this trans-continental journey, the show begins with a visual stunner.  Didier Faustino's Home Suit Home is a vivid red carpet extending halfway up the Blaffer's imposing gallery wall.  There are geometric cutouts in the center of this carpet, which are folded and assembled.  The cutouts form a suit of armor suspended expectantly above the viewer.  This piece is an outlier in the show for its somewhat mythical treatment of the human/industrial dichotomy, but it is beautifully alluring.  Other sculptures seem included specifically to remind us of our tenuous relationship with architecture, the fact that at any moment things might come crashing down. A twisted metal grid by Monika Sosnowska looms menacingly in the first gallery, like a piece of debris from a man-made disaster. In the back room, a weighty brick column by Michel de Broin appears to balance on a few stacked I-beams.  The half-hearted way it is "holding up" the low ceiling isn't exactly reassuring.  This tricky balancing act is also found in Hector Zamora's bicycle in the front entranceway; in a dada-esque gesture, it's been precariously laden with mud bricks.
This absurdist and deadpan humor is found in many of the exhibition's multitude of video pieces.  The cacophony of moving images is quite like a city with its simultaneous but unrelated movements, and likewise it becomes difficult to focus on any one for too long. There are several gems, like a particularly stomach-churning performance by Ivan Argote in which the artist romantically French-kisses a subway hand-rail.  It's gross but somehow hopeful, especially paired with another performance, It Rolls, in which he attaches a spool of thread to a departing city bus.  Both communicate the yearning of the individual amid the masses with breathtaking clarity.  The stakes are a little lower in Lee Walton's Getting a Feel for the Place, in which he merely touches the surfaces of benches, curbs, puddles, and citizens in Belfast.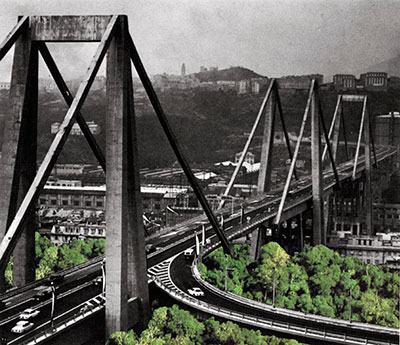 For all of the humor and hopefulness in this exhibition, there are echoes of the more despairing aspects of urban living.  Sebastian Stumpf intervenes in urban environments by jumping unceremoniously from low(ish) bridges.  Viewers are left guessing as to his fate, and the reference to suicide and the ennui of by-passers is chilling.  Etienne Boulanger's Plug in Berlin, in which he attempted to live "rent-free" for two years in Berlin acknowledges the day-to-day struggles of the homeless, but offers neither cause nor solution.
It's a rare bird that makes itself an uncomfortable nest, whether physically or psychologically.  As a whole, Buildering points out the aspirations and shortcomings of our constructed environment.  Individually, its artists do what artists do best: remind us of our fundamental humanity.
—CASEY GREGORY
---
Buildering: Misbehaving the City
Blaffer Art Museum
Through Dec. 6