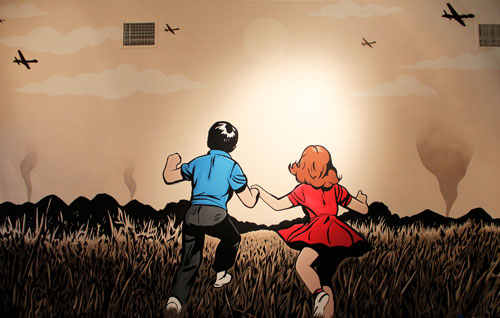 Politics are inherent in street art. The fact that the art form sidesteps established museum and gallery circulations is a political statement in itself.  Thus, it may seem a curious amalgam for an exhibition of street art to be brought indoors, but such is the case with the Station Museum's latest show Call it Street Art, Call it Fine Art, Call it What You Know.  For this exhibition, the curators of the Station asked prominent Houston muralist Daniel Anguilu to reach out to his street-artist colleagues and invite them create works on the walls of the galleries. Emerging and established street artists fill the space with works that overtly state partisan beliefs, tackling Middle East relations (Anat Ronen), the Deepwater Horizon spill (Eyesore), drone attacks (Michael C. Rodriguez), and everything in between.
The Station Museum is no stranger to hosting such a cacophony of voices.  It's run by Jim Harithas, perhaps one of today's most notable activists within the art world, whose mission for the Station is to have it serve as an "activist institution." When it comes to political views, the Station Museum's only requirement seems to be that you have one:  and as evidenced from the array of work here, the Station will give a platform to anyone with something to say, as long as they say it passionately.  Street art and the Station are well matched in that way; with modest means, they both manage to be big and bold.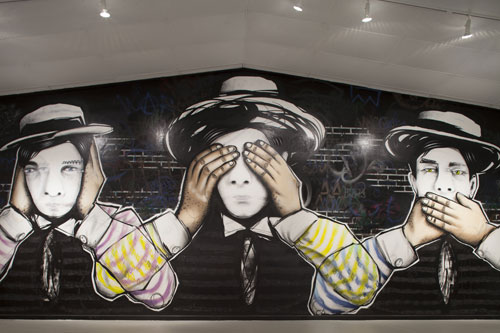 The show opens with the artist The Death Head's duo of Disney characters, one a Mickey Mouse parade float, the other a Donald Duck army tank. Both faces on these figures have been replaced with animal skulls.  Astride them are busty female creatures wearing Vans sneakers and wielding guns.  Each work subverts Disney's family-friendly narrative, and instead casts the characters as beholden to irresponsible marketing and consumerism.
Deck WGF's work grapples with ongoing attacks on constitutional rights, depicting Lady Liberty gagged by a handkerchief with the words "Second Amendment" scrawled across it. Empire I.N.S. paints a vampire child watching a program on a "FONY" television set.  The works read like political cartoons and lack attention to nuance, both topically and aesthetically.
Themes like advertising and capitalism are standard fare for street art, and the artists in this exhibition take on these hot-button topics.  That is not to say that issues surrounding civil liberties and economic justice aren't worth revisiting, but these works may make the problems more cut-and-dried than they actually are.  When it comes to rights surrounding speech, protest, and quality of life, the stakes are high for artists;  the art community frequently provides some of the most provocative yet empathetic views I come across. For the majority of works here, that is not the case.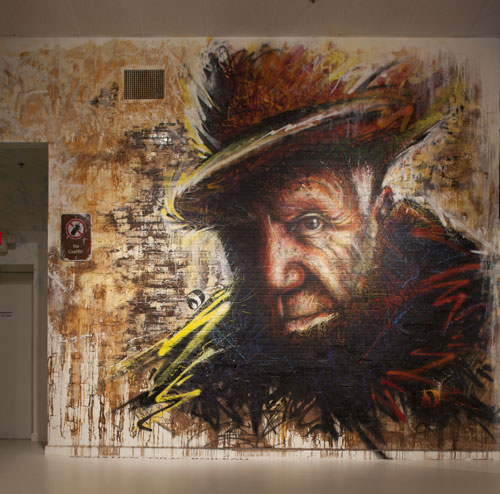 In truth, it is questionable how much is to be gained from viewing this particular collection of street art within an art space.  The collaboration takes advantage of both artistic and institutional development, challenging the expectations of where street art should and should not be:  Nevertheless, some of the works exist somewhat uneasily indoors.
For instance, a few of the artists bring elements of the street into the works shown here, as if their works cannot come to be without it.  Dual paints a backdrop of bricks for his haunting "see no evil, hear no evil, speak no evil" trio.  Sebastien "Mr. D" Boileau cakes paint on the wall to the point where it is as rough and worn as any outdoor space.  His mural even comes with a tin "No Graffiti" sign.  Given a blank slate to work with, these artists brought the street indoors as their starting canvas.  Perhaps for some artists, a love for the street came before a political voice.
Other artists use the opportunity to take their work beyond what found urban surfaces could provide.  Tatum One's contribution is a tentacled creature, with a different religious symbol encased in plastic at the tip of each appendage.  The artist effortlessly incorporates mixed media, as does Skeez181, with truly scary black rubber masks affixed to his mural.  Lee Washington's outsized portraits of controversial political figures like Hugo Chavez and Malcolm X are adeptly shadowed to project them out into the viewing space.  Seeing these pieces in an enclosed area makes the space feel shockingly claustrophobic, an experience that doubtfully could be replicated outdoors.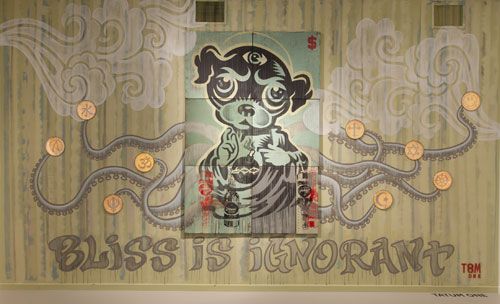 Then there is Daniel Anguilu, the invisible hand of this exhibition, whose work can currently be seen all over Midtown. His mural anchors the show, with panels of color that structure a wall-sized bull, then wrap around to become spiral culminating in a bird's head.  In another section, Anguilu packs together myriad architectural styles, with spires that take on characteristics of the human form. An outspoken advocate for immigration rights, and an immigrant himself, he is a true ambassador of Houston.  His current level of exposure has perhaps reached the point of saturation, but the drive of his message is nowhere near exhausted.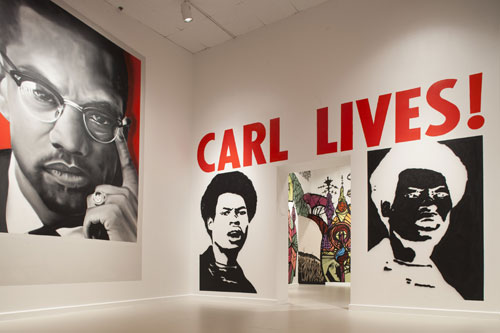 But even in these works by Anguilu, what is missing is the kind of politics intrinsic to street art, in which artists operate in spaces neglected or simply passed over — sometimes illegally, but oftentimes not.  They bring forgotten spaces forcibly back into the public eye.  The works of street artists pierce our daily routines, challenging regimes of where art should exist, and when it should be viewed.  At the very least, street art proclaims that the artist was there.  And when it comes to street art, that's political enough for me.
—KELLY MONTANA
Kelly Montana is an art historian and critic living in Houston.
---
Call it Street Art, Call it Fine Art, Call it What You Know
Station Museum of Contemporary Art
May 25-September 25