Frank Bowling, Africa to Australia, 1971.
Acrylic on canvas
Courtesy of Frank Bowling and Hales Gallery
© Frank Bowling photograph by Charles Robinson.
---
Gavin Delahunty on revisionist curation, the DMA's exhibition of Frank Bowling's map paintings, and the museum acquisition of Marcia H Travels
The Dallas Museum of Art (DMA) recently announced the acquisition of Marcia H Travels, a vibrant, large-scale painting by Frank Bowling. This and other Bowling works will be on display at the DMA Feb. 20-Aug. 2. The DMA show includes work on loan from the collection of Bowling's contemporary and fellow artist Melvin Edwards, whose work will be on concurrent exhibition at the Nasher. Between these two exhibitions of seminal black artists who came to prominence in the late 60s, and other shows elsewhere in the state including the Blanton Museum's Witness: Art and Civil Rights in the 60s, a number of questions come to mind about race, art, and timing. Arts+Culture Texas contributor Seth Orion Schwaiger sat down with Gavin Delahunty, the relatively new DMA Hoffman Family Senior Curator of Contemporary Art, who was kind enough to offer his insights.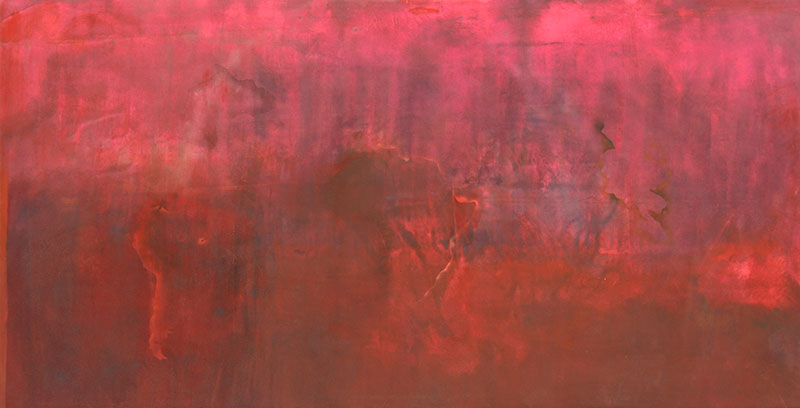 IMAGE: Frank Bowling, Marcia H Travels, 1970, acrylic on canvas, 305 x 570 cm courtesy of Frank Bowling and Hales Gallery,© Frank Bowling photograph by Charles Robinson.
---
Arts + Culture TX: In its press release the DMA describes the upcoming Frank Bowling exhibition as highlighting your "particular focus on celebrating overlooked artists and under represented identities." Can you provide some clarity to our readers of what exactly that means: is this a focus on individual artists that are underrepresented in relation to their work's value, or a focus on artist populations that aren't exhibited in relation to their number such as women or minorities, or perhaps a focus on an undervalued type or genre of work? Maybe all of these?
Gavin Delahunty: Yes, to all of the above. When I was educated in the 90s it was already a very different art world from the previous generation. I've described it in the past as "Ryanair powered art history", in that coming from Ireland I could be in any part of Europe for $50 in a matter of hours. In the 60's, 70's, and 80's that wasn't possible. The conservative (with a small c) art world from that time has always been foreign to me. For instance, coming back to Francis Mckee and Michael Wilson, and my other professors and educators in the 90's, there was a valuable difference between a formal art history training, which remains to this day fairly conservative, and — well, curatorial studies. I can summarize this by saying, even though I was born in the 70's, the political and artistic liberties of the 60's and 70's that brought about experimentation in the art somehow seemed very tangible to me, and it seemed odd then to not be, curatorially speaking, cognizant of civil rights, feminism, gay liberation movements, and all of those things that gave voice to people that up to that point were largely excluded. You mentioned the press release stating I'm interested in overlooked individuals, overlooked histories, overlooked movements. Is that true? I don't know, I simply feel I'm a curator who's had the advantage of unique teachers and bosses. For me there are so many avenues to explore because people have ignored or not had the curiosity to look there. That to me is the exciting moment that we are in. Suddenly, a whole new generation of curators are interested in what was overlooked. I'm interested in finding those artists that punctured art historical bubbles and pressed against the hierarchies and were trying to create art that was somehow in opposition to what was known.
A+C: In that way, would you say that you're taking part in the global trend of revisionist curating?
GDH: Yes, it is revisionist in that I feel like I often go back to go forward. When I go back, and I discover, or meet artists like Frank Bowling, and he tells you about his experiences, and about how he approaches his practice, and quite frankly, how he applies paint to surface, it just seems odd to me that those artists aren't as recognized as some of the other artists that are in the limelight. It has a lot to do with how different the art world is now than it was 20 or 30 years ago, between the rise of the gallery, the rise of curators, the art fairs, etc. All of these things have created a very different environment and a very different climate. There is a revisionist moment going on. There is a moment when curators are revisiting seminal exhibitions and restaging them. There's a moment when curators are trying to look outside of, let's say 'trained artists,' looking instead to self-taught artists, or other disciplines that have a creative output as a way to stimulate their thinking. To me, I don't see one as better than the other, there's room for everybody. It just feels for me right now, as a relatively young curator in a museum, anything is possible, and that is very exciting.
A+C: Along with that, given Bowling's advocacy of black artists internationally, I wonder about the timing of the acquisition and exhibition. Obviously, I'm thinking about the tumultuous race relations in the US today in a broad sense, but, you brought up art fairs, so I'm also thinking about the African Contemporary Art Fair coming to the States this year, and a number of other recent developments concerning race issues within contemporary art: the Yams withdrawing from the Whitney Biennial (the same event where these Bowling works were first exhibited), the response to Kara Walker's Sphinx, the Diversity Initiative in New York City, just to name a few. Do you feel like you're engaging with that specific conversation about race in contemporary art?
GDH: Of course you have to implicitly be engaging with these issues. I think part of the genius of Frank is that he mapped much of this in his essays written between 1969 and '72. They're still available online, and relatively easy to get your hands on. They weren't clear cut arguments, they're quite ambiguous, but they were about shifting perspectives and having an open discussion about black art, and the residue of that is still being felt today for all the reasons you just outlined. The question of diversity still needs to be tackled. It still needs curators, and critics to champion that art, because there is so much more work to be done.
A+C: But bringing that to the fore now with everything that's happening outside of contemporary art, I have to ask if this timing has anything to do with the events that we've seen in the news lately with unfortunate frequency.
GDH: Not explicitly, but Frank became very active in the struggle for civil rights. He did so primarily for black artists to gain visibility in American museums. As a curator, I certainly see part of my role is to champion black artists and give them greater visibility. It's just one step to not only diversify art history, but to bring a focus, new ways of looking, new ways of thinking. I could, in my role here, do shows with more well-known figures all the time, and that would be fine. In my opinion Dallas expects and deserves more than that, I think part of my job is to push expectations of what we should encounter in a museum. Sometimes that is the familiar, but giving it an unfamiliar edge. For example this Pollock show that I've been working on for four years, that's a known person, but the body of work I'm investigating is much less known by the wider public. That's the flip side. It's also very important for Frank. A lot of his musings in the 60's and 70's and his writing for Arts Magazine, his consternation, his arguments and debates at that time were very much about "I'm not a black artist, I'm just an artist." I'm quite sure for artists such as Mark Bradford, Glenn Ligon and Julie Mehretu, you mentioned Kara Walker, this is also something that they are all very conscious of. A younger generation of artists are hyper-conscious of that. I'm working towards a project with Kevin Beasley who is a gifted sound artist and sculptor. Of course his blackness and his family and his upbringing has played a part in that, but he doesn't want to be defined by it.
A+C: Do you feel like highlighting this artist is helping to promote an internationalism at the DMA? He's a British artist, but splits his time between London and New York, and then given your own history, I'm wondering if this is a sign of things to come. Should we be expecting more international collaboration at the DMA?
GDH: Definitely. For the past decade I have focused upon post-war American art, so I've been traveling back and forth for a long time. Frank is obviously British, but has lived in America. In the same way that many surrealists and Duchamp came to America in the 30's and 40's, I think that interchange and exchange between Europe and America then, but now increasingly that exchange between American and India, America and Japan, America and the rest of the world is reinventing that energy that was present in those decades that arguably lead to things like Abstract Expressionism. For me, again, it's at a moment when there are many many possibilities. This kind of pollination of different people, the mobility that is taking place is a positive thing that is affecting culture. Working in an American institution I get excited because you mention an artist that might be very familiar in London or in Europe, and the people here are like "oh no, we've never heard of them." That's very interesting, because the museum will own this Mark Rothko painting, and this de Kooning, and this Cy Twombly, but they're not familiar with Frank Bowling — and Frank and de Kooning went to buy their paints together in New York. So… wow, that's really interesting. Frank fits into the whole trajectory of post-war painting from the late 1940's till now. You can walk around LA or Chelsea, New York and see large stained, process based painting made by students just out of University. I've always been interested in where the root is, and Frank is definitely the root of a lot of that material on view today.
A+C: Your title itself reflects the importance of board members and individual donations in American Institutions. Could you describe, if there is any, the difference in acquiring works at the DMA than at Tate Liverpool, Middlesborough Institute of Modern Art, or any of the other more publicly funded institutions you've worked for. Were there more people to convince in acquiring Bowling's work than there would have been in your previous positions?
GDH: It's ostensibly the same process — except, well, I like to write, and I think some of my colleagues were surprised by the volume of writing I produced in support of a single acquisition. It's my firm belief that to make an acquisition for a museum you must almost write a dissertation on it, something that unpacks the work both historically and contemporaneously, that looks at the artist's practice as a whole and at the specific work. It's almost like a blueprint for the work, and it sits in the files of the museum forever and for anyone who wants to know about it, there it is. That was ostensibly the process I adopted in the UK. You need to put in place everything you can to make the right decision. Often, you can get distracted, and for me writing is a way to avoid distraction, to focus your attention so that you know you are doing the best for the institution and therefore your best for Dallas. In the UK I would write, say, ten thousand words on a single artwork. I would present that to a group of curatorial colleagues. Success there meant it would be presented to the directors of a given institution. Often there were advisors around that process, which in a way, is one way the board functions at the DMA. They are counselors and friends to the museum. You present to them, and if you've done your homework, the odds are it will be approved. There is a process, and I think the process is helpful. I hope that the way I've presented Frank and the way I've presented this particular work is a sign of things to come for the museum. I believe it's very important — the art world is full of distractions, and full of deceit, and full of vanity, so what you have to do is try to be honest amidst all that.