Tamarie Cooper and the cast of the Catastrophic Theatre's The University of Tamarie.
Photos by Aaron Asher.
---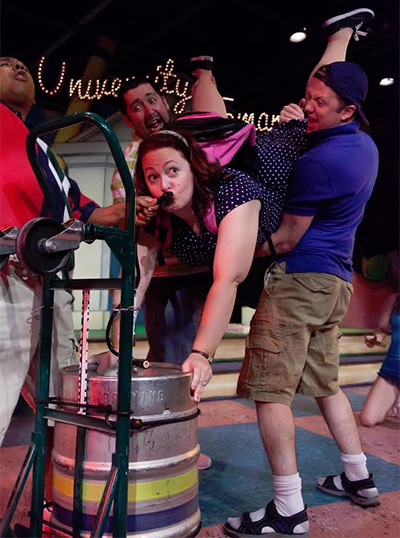 In the Bayou City, we know that it's summer when the curtain rises on Tamarie Cooper's annual extravaganza at Catastrophic Theatre. This year, the veteran singer/dancer/actor is ready to go back to school with all of us in tow with The University of Tamarie, July 17-Aug. 29. Cooper outlines her zany curriculum below.
When ever the curtain goes down from a Tamarie show I always wonder what will you come up with next. How soon do you know what's next?
Once we get past opening weekend, we always start to joke about what next year's theme will be. Often this joking leads to actual ideas. Some get tossed around for a while: last summer we were making jokes about "50 Shades of Tamarie," which was then discarded for our current education theme. The "we" I refer to is made up of myself, my writing partner, the brilliantly funny and clever, Patrick Reynolds, and a gaggle of "Tamarie Show Regulars" including Kyle Sturdivant, John Dunn, Sara Jo Dunstan, Abe Zapata, and Rebecca Randall.
I see you that are going to tackle the Texas Board of Education. Will tap dancing be involved?
There will be more boot scootin' and heel clickin' in that particular section of the show. but, I have found away to work in 1940's showgirl-style tap dancing this year-just in a different section. The Jeffersons is involved. Back to the Texas State Board of Education: expect Moses, dinosaurs, and a bunch of revisionist history!
Your high school life entered another Tamarie show and it wasn't pretty, but it was hysterical. What should we expect?
I really enjoy being able to incorporate real life experiences in my shows. This time around, we take a trip back to 1983 and my first theatre class. It's super weird. But these actual details and bizarre elements make it more interesting, in my opinion. And my audience often relates to my real life disasters and strange stories. I love making that connection with people.
How did the school topic come up?
It was actually our former managing director and my friend, Kirk Markley, who suggested the education theme. The poor fellow has suffered through many of my long rants about school choice, testing, kindergarten lotteries, as well as my own stories of dropping out of college, HSPVA memories, etc. He pointed out that it was obviously something in the forefront of my mind these days, with Rose entering kindergarten. Of course, we go off the rails and end up all over the place, thematically. This year's script seems to be a bit more political in it's humor, too. Much like my show, United States of Tamarie.
The dancing and the choreography are always terrific in your shows. Some people out there don't even know that you were a member of my tribe (dance) before you switched over to theater. Talk about the dance element.
Dance is my primal art form, my native tongue. Of course, I have always felt that theater and dance were very similar and interwoven. My transition to theatre was a very smooth one. Being able to choreograph for Catastrophic (Not just my own plays, but many of our other productions over the years) has allowed me to stay in touch with my dance roots. My dance experience has informed me as an actor, especially when it comes to physicality, kinetic awareness and relationships with other actors on stage, and of course as a director, it is very helpful for staging, as I see "the big picture", I have a strong spatial intelligence.
I am lucky to have some fantastic dancers in my show. I thrive with the challenge of pedestrian movement but it's nice to throw some more technical dance at Shanon Adams and Christian Holmes, who have a long history as dancers on Houston stages. I also love the energy and fearlessness I find in many of my actors when it comes to movement. They may not have proper technique, but they commit 150% to everything. I love having a 40 year old fat guy singing and dancing his ass off in the intimate setting of our theater. There's something so vital and real about that sweat rolling down an actor's body, drenching his chicken costume, right there in the front row…in the audience's lap.
You have put together a crack creative team for the show. What kind of chemistry have you created over the years with this bunch?
My writing partner, Patrick Reynolds, is so valuable to me. We met in the early 90's, have acted together in a dozen shows, even dated disastrously briefly. Our writing relationship developed during my Tamalalia shows with IBP. Later, with Catastrophic starting in 2009, Patrick became the writer of the book. We basically outline the play together, throwing ideas back and forth. Patrick then fleshes out the script with hilarious dialogue and occasionally I edit which pisses him off. It's a very unique writing relationship. Another collaborator is Miriam Daly, who composes a great deal of the music and does all the arrangements. She is one super talented musician. Both of these creatives live in other cities-Miriam is in New York and Patrick and his wife work for Cirque de Soleil, traveling the world. God bless the Internet and Dropbox and Skype! I can't leave out my assistant director, co-star, and best friend, Kyle Sturdivant. I often say it's "the Tamarie Cooper show, starring Kyle Sturdivant." It true! He is my muse and the essence of my productions. He's my "consigliere."
Having this rich history with my creative team allows us to speak in a sort of shorthand. We are already all on the same page which is a pretty awesome thing when you are cranking out a brand new original musical every year.
What else do we need to know about the University of Tamarie?
As with all my themes, it is broad and wide-sweeping. You do not need to have a kid in kindergarten to relate to this play. You do not need to have attended college to get the jokes. It will be irreverent, ridiculous, sometimes bizarre and always very very silly. It is my mission to provide an opportunity for people to laugh at us, at themselves, and at the absurdity of life. So enroll now. Summer session at University of Tamarie starts July 17th!
—NANCY WOZNY