Image above courtesy of Big Medium.
---
Looking back at 2014 and ahead to 2015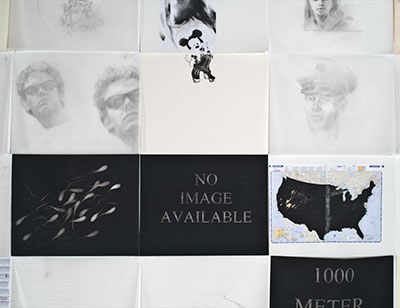 Austin's art scene remains characterized by a group of scrappy, resourceful, and deeply creative artist run spaces in the Eastside, and a DIY spirit among artists and curators at every level. Collaboration rather than competition remains the rule of the day, and it's exciting to see that very few institutions and galleries take a stance of isolation. The two major contemporary art museums, despite upping their game in recent years and playing on the international stage, remain involved in the local scene, frequently collaborating with Austin artists and exhibition spaces. They know on a first name basis Austin's emerging and established talent. If I were to typify the major developments of the last year, I'd point to an increase in complexity and the birth of new strata within arts infrastructure here. Austin is headed out of the provincial sensibilities of former years and into a state of responding to, and influencing, outside art centers. Austin's scene, along with the city's problems of drastically increasing rent and ever-clogging traffic, is beginning to take on the attributes of a bigger city. Nevertheless its DIY roots remain and are the bedrock of its consistently irreverent, "for the hell of it" personality.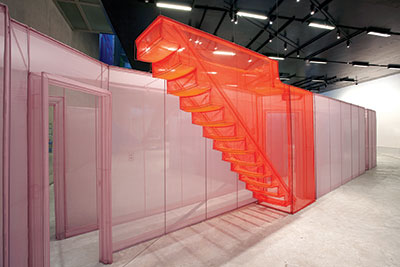 Money, or rather the lack of it, is still a problem in Austin, and is blamed almost unanimously for the flight of talent from the city, as well as for the frequent gallery closures over the last decade. Early this year, Austin took a blow when the well-respected Tiny Park Gallery shuttered its doors due to increased rent (though they still seem active in the scene in other ways). Previously, other galleries like Champion, and Art Palace were pushed to greener ($) pastures in New York and Houston respectively. Likewise, critical voices like Leslie Moody Castro, Andy Campbell, Dorota Biczel, and Russell Etchen have pitched their tents elsewhere. Austinites generally talk about this with a downcast gaze, but the outward momentum may be becoming a strength, as it balances with an inward pull, and a very recently developed, layered local scene. The galleries, curators, and critics that have left Austin generally keep tabs on the city and are seen with some regularity at local openings when they have the chance to visit. Through this Austin art is being exported (by word and in physical form) to more powerful urban centers, and this in turn is bringing the city into more regional, national, and international conversations.
POP Austin, a glamorous annual pop-up exhibition that debuted this year, is also an important part of the topic, slamming a number of artists from LA, Austin, and the rest of the world into a major sales event and somehow tapping into the young art buyers that remain so elusive to the more permanent spaces, suggesting that perhaps it is the experience rather than the product that proves enticing to the next generation of Austin collectors.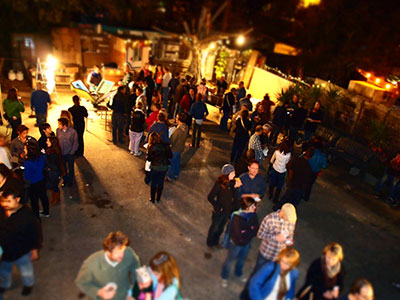 The topic of art import/export brings us back to the two major museums in town, The Contemporary Austin, and The Blanton. The Blanton has refreshed itself over the last few years bringing on a number of new staff including curator of contemporary and modern art Veronica Roberts. The Museum has added significantly to its collection through the gift of 120 pieces of Latin American Art from the collection of Judy and Charles Tate of Houston. On the flip side of the coin, the Contemporary Austin looks to ready a number of local artists for export, on one level doing so through a multifaceted professional development program for artists, and on another, through strategic exhibitions. They've laid the groundwork with a lineup of celebrity level shows over the past year (one of which will be duplicated at FLAG in NY) and using that momentum, curator Heather Pesanti will be exhibiting a similarly high level of international artists alongside a select number of Austin based artists in her multi-venue exhibition Strange Pilgrims in 2015. The museums are beginning to bring things to a higher level in Austin.
Filling in the gap between these institutional spaces (along with the VAC and the at times aloof Lora Reynolds Gallery) and the new grassroots, are the scrappy venues of yesteryear more fully developed: Big Medium (grand architects of EAST, WEST, and The Texas Biennial), Co-Lab (relocating, expanding, and soon leasing out studios), and Pump Project (meeting their decade anniversary under the more contemporarily inclined curatorship of Rebecca Marino) alongside Museum of Human Achievement and MASS Gallery. With GrayDUCK Gallery relocating to join the ranks of this pantheon of the East, Austin is seeing a critical grouping of exhibition venues led by young but experienced directors and curators. Taking up the ecological vacancies that these groups have left behind are a new generation of galleries like Little Pink Monster, Permanent.Collection, and Test Tube, lifting high the devil-may-care, "art for the hell of it" torch.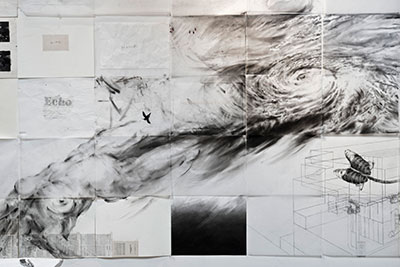 While resisting the glad-tidings-of-comfort-and-joy urge to say that Austin is breaking out of the cycle of incubating new galleries and artists just to see them fly the coop after a year or two (I'm not quite sure we're completely there yet), I will say that it's looking like a more well rounded and dynamic, less split-level scene, for 2015. Regardless of the existence or non-existence of that oft-cited cycle, the new dynamism being fostered between the multiple levels of arts infrastructure, and between Austin and more powerful art capitals, makes for an exciting (if still challenging) time and place to be an artist or curator.
– SETH ORION SCHWAIGER