Lisa Immordino Vreeland's Love, Cecil opens the 2017 Houston Cinema Arts Festival on Nov. 9 at the MFAH.
---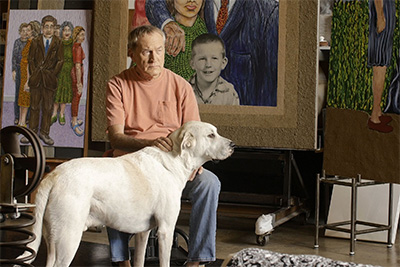 Houston Cinema Arts Festival, one of the few festivals in the US that focuses on films about the arts, takes over several Museum District venues from Nov. 9-13, with a streamlined program. Regina Scruggs sat down with HCAF artistic director Richard Herskowitz to find out more on this year's festival.
This year's slogan for HCAF is "The Show Will Go On." Hurricane Harvey continues to have an impact on the Houston community. Is this an opportunity for HCAF to renew its sense of purpose, in the wake of the recovery?
That's exactly right. We are focusing our primary attention on Houston, and its vital community of filmmakers and artists. This festival was hatched by a coalition of representatives from Houston's arts organizations to promote and celebrate the vitality of the arts in this city, and we're doubling down on that this year.
Local filmmakers Wayne Slaten and Cressandra Thibodeaux (who is also the head of 14 Pews) are giving us the world premieres of their documentaries on Houston artists Wayne Gilbert and Jesse Lott. Between their two films, you will see many of Houston's arts leaders, including Jim Harithas, Bill Arning, and Toby Kamps, commenting on the magnitude of these artists' contributions.
And we're bringing one of the most exciting film directors in the country right now, Joseph Kahn, whose hip-hop battle film Bodied, produced by Eminem, won a People's Choice Award at the Toronto Film Festival in September. Kahn launched his stellar career as a music video director in his hometown of Houston, and is now well known for his videos for Taylor Swift, in addition to U2, Lady Gaga, Katy Perry, and many others.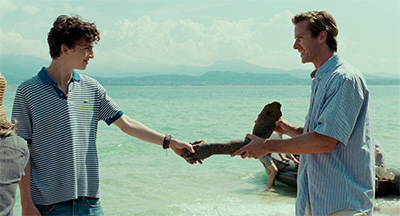 HCAF has scaled down to five days from last year's eight days. Give us a snapshot of what events we can look forward to, and which venues will be used.
While downtown recovers, we've shifted our center of gravity to the Museum District. We have an extra day at the MFAH, running films from Thursday through Monday. Our second anchor venue will be the Rice Media Center. Both of those venues are invaluable theaters in this city, maintaining the full gamut of digital and 35mm and 16mm film equipment. We're also continuing to work collaboratively with many arts organizations by having satellite venues throughout the City, including Café Brasil, Aurora Picture Show, and the Evelyn Rubenstein Jewish Community Center.
For the first time, we will open a microcinema for experimental film shows in DiverseWorks at MATCH. We're bringing back to Houston rising artists Ivete Lucas and Patrick Bresnan, who are now based in Austin. I asked Houston film critic Michael Sicinski, whom I consider the best writer on experimental cinema in the U.S. today, to curate a program of the best new avant-garde films, which he titled Space is Lit.
The HCAF is usually bracketed by specially-chosen opening-night and closing-night events. Ready to spill the beans on what we can expect this year?
I'll do better and spill the beans on our opening, closing, and centerpiece films at the MFAH, all exciting upcoming theatrical releases. Opening night will be Love, Cecil, accompanied by director Lisa Immordino Vreeland. None other than Lynn Wyatt will interview Lisa at the end of her film about fashion and portrait photographer, stage and costume designer, and magnificent dandy Cecil Beaton. Lynn interviewed Lisa during her first appearance at our festival several years ago, with the film Diana Vreeland: The  Eye Has to Travel. In between, we had great success with Lisa's Peggy Guggenheim: Art Addict, so she's a director of arts films that we admire a great deal.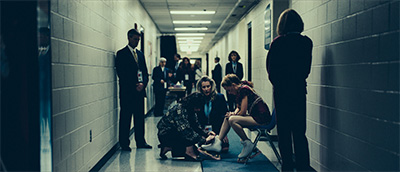 The closing night film on Nov. 13 at the MFAH will be I, Tonya, about the figure skater Tonya Harding, starring Margot Robbie in a brave performance (this is the first time figure skating has appeared among our art forms!).
And the centerpiece films are two of my favorite films of 2017. Call Me By Your Name was directed by Luca Guadagnino (I Am Love) and written by James Ivory (Remains of the Day), both of whom were featured guests at early festivals. Their collaboration here has produced a romantic masterpiece, filled with ravishing music and images. Three Billboards Outside Ebbing, Missouri is the latest dark comedy by the masterful Irish playwright Martin McDonagh, featuring a tour-de-force performance by Frances McDormand.
We are all aware of the increased efforts to give the artistic efforts of women and minorities more exposure. I can personally attest that they have been a significant part of the HCAF since year one. Can you shed a little more light on the ladies?
We're honoring the legendary avant-garde filmmaker and poet Abigail Child with two programs at DiverseWorks, featuring her early and mid-career short films, before Child premieres her wildly imaginative and very timely biographical feature on political activist Emma Goldmann, Acts and Intermissions, on Monday, Nov. 13 at the Aurora Picture Show.
Independent film festivals like ours all aim to provide a forum for voices unheard in mainstream media. There's a section this year we're titling "African Musical Migrations" that will include a film about the late years of an African-Venezuelan bamboo musician, Belén, who had a big impact in Houston years ago when she visited and performed at The Station Museum. Filmmaker Adriana Vila Guevara is coming from Venezuela to present the film and a three-channel video installation on Belén and her legacy that will be on view in the Rice Media Center. Another film in this series is Horace Tapscott: Musical Griot, about the Houston-born jazz legend which will be accompanied by its director, Barbara McCullough. Barbara was a prominent member of the '70s "L.A. Rebellion" of black independent filmmakers that also included Houston director Carroll Blue and Julie Dash. And the third film in this series is Mama Africa: Miriam Makeba, about the great South African singer and political activist.
On Saturday night every year, the big party is the Cinema Arts Celebration.  This time it takes place at one of Houston's newer "in" spots: the popular White Oak Music Hall. And – even more exciting – the celebration will bring a new and different twist on a film classic!
We are working with Bun B on collecting a host of musical talents to accompany and reinterpret the classical musical numbers while we project Singin' in the Rain on its 65th anniversary. The film will resonate in a special way for Houston this year.
—REGINA SCRUGGS