Teresa Coleman Wash and DR Mann Hanson of Bishop Arts Theatre Center in Dallas.
Photos by David Lee Kelting.
---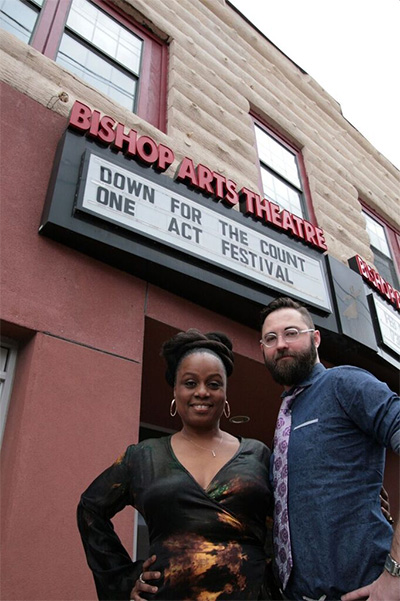 At this time of year, Dallas' Bishop Arts Theatre Center hosts a new playwright competition, with short one-acts from mostly local writers filling the stage. This year, however, producer Teresa Coleman Wash decided to rest that competition and present an evening of new and familiar works by some of the country's most celebrated women playwrights, including two time Obie Award winner and Tony nominee Charlayne Woodard. As proprietor of the arts space in Oak Cliff, Wash says this new festival, Down for #TheCount, is "the right thing to do."
Aside from Woodard, the other playwrights having works presented in the Feb 26-Mar. 6 festival are Maria Patrica Urbina, Vicki Caroline Cheatwood, Ruth Cantrell, Sharai Bohannon, and Cassie M. Seinuk.
A+C theater writer Scot Hart spoke with Wash and director DR Mann Hanson about their approach in showcasing the female voice in theater.
Why this festival at this time?
Teresa Coleman Wash: Last year I attended the Dramatists Guild of America's biennial convention in California and was shocked to learn the rate at which female voices are being marginalized on American stages. Only 22% of female playwrights are being produced in regional theaters and for women of color the number is significantly smaller. I want to be a part of the solution, so I decided to give a platform to more female playwrights.
DR Mann Hanson: When people like Teresa start to engage this conversation you get an exciting and creative solution like Down for #TheCount. And this is just one of the many ways theater artists are consciously choosing diversity over the status quo. Kirk Lynn, the co-producing Artistic Director of Rude Mechanics in Austin, is another one of these artists who is challenging theater's current disparity of minorities. He is encouraging theaters all across the country to commit to producing only work by women, people of color, artists of varied physical and cognitive abilities, and LBGTQA artists in the 2020-21 season. Bishop Arts Theatre Center is one of those theaters committed to participate in what Lynn is calling The Jubilee Year.
What were you looking for when you choose the works to produce?
TW: Well, I chose works that were profound, provocative and penetrating. No doubt, some of the works are thought-provoking and powerful while others are sheer entertainment. I expect audiences will be talking about this festival long after the final curtain. The other thing is, there were a couple of playwrights, in all honesty, that I wanted to work with and the opportunity had not manifested itself before now. I've admired Vicki Caroline Cheatwood's work from afar for so long, when the opportunity finally presented itself for us to work together, I didn't hesitate.
Give us a brief preview of some of the stories being staged.
DH: There will be six plays ranging from 10 to 25 minutes that tackle topics like protesting the greeting card industry a la Occupy Wall Street to wrestling with how to say goodbye to a loved one. You'll laugh, you'll cry, you'll want to return that stuffed bear you bought your boyfriend for Valentine's Day.
So why choose a male director for a festival that highlights storytelling from a gender-specific point of view?
TW: The festival isn't about alienating male artists, in fact, several men are cast in multiple shows. DR was seen on our stage several times last year, acting. I loved his creative choices as an artist and I knew that he had the chops to direct so he's another artist who I wanted to bring under the Bishop Arts Theatre umbrella. He's our secret weapon.
DH: Thank you Teresa. That's a fair and honest question, and one that briefly entered my mind after the excitement and joy of being offered the job, but I don't believe gender should disqualify anyone from trying to tell human stories. The same goes for race, sexuality, religious conviction, etc. One of the shows tackles a son coming out to his father, which I can definitely speak to as an out and proud gay man. But one of the stories also explores the effect of breast cancer on three generations of women. That's something I'll never experience but that doesn't mean I shouldn't try to understand it. Theater has always been used as a way to educate audiences, but it also has the power to educate the artists creating it, and we're learning a lot putting together Down for #TheCount!
As director, DR, how do you approach the project?
DH: With lots of whiskey. I'm very lucky to have some incredible actors and designers on this journey, so I'm letting them tell me what each character needs while I tell them what each story needs. We're using a lot of improvisation exercises too. We don't have a lot of time to throw this little clam bake together, so staying positive and honest is helping a ton. I think a good director surrounds himself with talented artists he can trust, lets them do their job, then tweaks things along the way.
Aside from the gender of the playwrights, is there a theme that brings these individual works together?
DH: I saw this as an opportunity to not only tell a bunch of great stories but to also curate an evening of theater for the patron. There was one particular play that was proving difficult to crack, so I decided to take a bath and dive into the script. After a joint and a prayer, the play opened itself to me and in doing so kinda unlocked how I would approach the entire festival. One of the themes this play explores is a humanity out of control. A people who over-consume and over-possess while wasting natural resources and gifts Mother Nature gives us. So I decided to use the set and the actors in an unconventional way to explore how we treat each other and how we treat the planet. This is one of the aspects of the festival I'm most excited about.
This festival is being presented in place of what is usually your New Playwright's Festival. What is the status of that festival, and any chance Down for #TheCount will pop-up again on your yearly schedule?
TW: The New Play Competition needed a shot in the arm and that festival is replicated during the Fall with our PlayPride LGBT Festival. We've received really good response for Down For #TheCount, ticket sales are brisk but I'm committed to this project because it's the right thing to do. One of our core values at the Bishop Arts Theatre Center is to give a voice to those that are voiceless. As regional representative for The Dramatists Guild of America, I have the distinct pleasure of forging relationships with playwrights all over the country. There is a reason that opportunity exists—this event feels like the right thing for our theater. Down For #TheCount will be a staple in our season.
—SCOT C HART