Dance Theatre of Harlem Returns to Houston
---
IMAGE ABOVE: Dance Theatre of Harlem in The Lark Ascending. Photo by Matthew Murphy.
---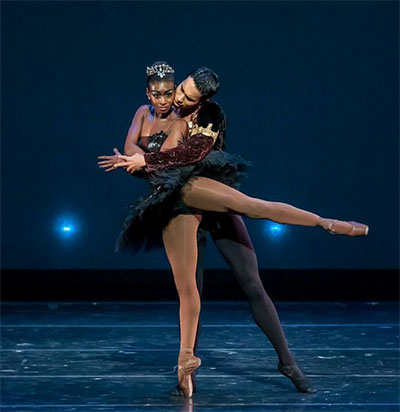 Dance Theatre of Harlem stops at Miller Outdoor Theatre on July 23 and the visit couldn't be more timely. Diversity is taking center stage right now in the ballet world. DTH dancer Ashley Murphy, along with American Ballet Theatre soloist and author Misty Copland and Cedar Lake Ballet's Ebony Williams graced the June/July 2014 of issue of Pointe, the magazine founded by Virginia Johnson, now artistic director and former principal dancer with DTH.
Copeland and Murphy have recently appeared in commercials further placing African American ballerinas in the spotlight. Such high-profile media attention comes on the heels of a number of articles questioning the lack of "black swans" in the international ballet community, and highlights the success of a ballet company whose mission is the presentation of dancers of color.
Although it's been over a decade since the company has been in Houston, DTH was recently presented by Performing Arts Fort Worth and their touring exhibition of costumes, Dance Theatre of Harlem: 40 Years of Firsts, stopped at the University Museum at Texas Southern University in Houston and the Irving Arts Center in Irving, Texas.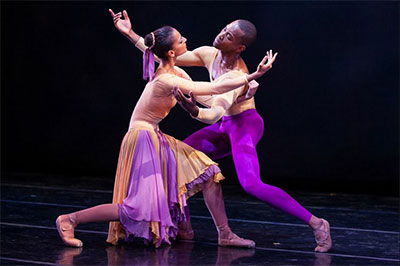 Johnson is excited to bring her troupe back to Texas, and to Houston."My intention with this performance is to show the breadth of what the art form of ballet is," says Johnson. "Each work is symbolic of a different part of the ballet world." The company will perform four masterworks from its extensive repertory, notably including the "Black Swan" pas de deux from Swan Lake, George Balanchine's Agon (famously originated by DTH founder Arthur Mitchell, who was the first African American dancer in the New York City Ballet), Alvin Ailey's The Lark Ascending and Robert Garland's Return, set to the music of Aretha Franklin and James Brown.
Founded in 1969 by George Balanchine protégé Arthur Mitchell, DTH is widely credited as having an exceptional ballet repertory, and with singularly grappling with the complicated racial legacy of the ballet idiom. The company, and Johnson in particular, have been consistent, strong voices in the fight to make ballet more diverse, inclusive, and broadly accessible. "There used to be a need for a mystique… But we've gotten so mysterious that we've turned a lot of people off," says Johnson. "I want to make sure we're inviting people in."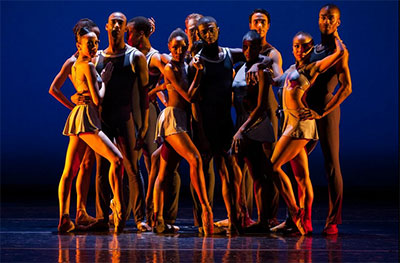 Johnson sees accelerating progress on issues of diversity and inclusion in the dance community. "We are starting to see people actually stop flapping their gums and actually taking action. We're at a point of transition where people aren't just wringing their hands… to people taking positive steps to change the complexion of ballet," she adds.  Among the many national programmatic innovations designed to promote and sustain the careers of African American ballet dancers, Johnson highlights a "wonderful partnership with the Charlotte Ballet, in which they will take two of our professional training students into their second company. They have a real commitment in North Carolina to making their company look more like the audience they attract to their performances."
The company, which went on hiatus in 2004 due to a debt of nearly $2.3 million, has been on the rebound under the leadership of Johnson and executive director, Laveen Naidu, who was also a dancer in the company. This year marks their second return to the prestigious Jacob's Pillow Dance Festival in Lee, Massachusetts, as well as tours to the Tanzsommer International Dance Festival in Austria and the famed Celebrate Brooklyn festival in New York City.
DTH uses ballet to communicate, in Johnson's words, "The African-American experience, telling African-American stories through the language of ballet." The company exists both despite and because of the complicated racial history of ballet, and that it continues to perform is as much a radical statement as its founding 45 years ago. "We're at the beginning of a big wave that's going to change things a lot," she says. "It's action that needs to be taken." When DTH was founded, it was a clarion call countering racist notions of what bodies of color could and could not do. Contemporarily, DTH is vastly more than a proof-of-concept. It's at the forefront of ballet, has a world-class repertory, and resembles the diversity of the world more than any other ballet company in the country.
—SYDNEY SKYBETTER