Emily Neves in Stages Repertory Theatre's production of Marie Antoinette, with costumes by Barry Doss.
Photo by Amitava Sarkar.
---
The house lights dim. Whispers slowly die; phones are finally stowed. A faint swish of brocade or the tap-tap of high heels against the stage herald the show to come. Stage lights go up. The audience sighs with appreciation for the visual feast in front of them. While lighting and sound design are indispensable parts of the production, those elements are ambient influences on an audience's perception of the play. Set, costume and the actors' performances are direct influences—often what viewers remember after the show's curtain falls.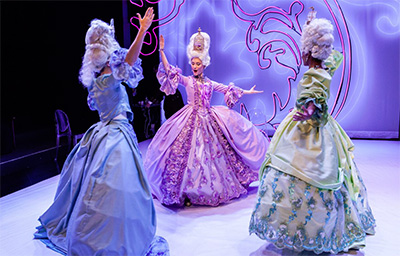 Nap. Hand. Drape. Sheen. Color. Fabric is where it all begins for designer Barry Doss, resident costume designer for dance at Sam Houston State University. These textural elements allow him to create a dress that will fit the character as neatly as it does the actor who will wear it. In Houston's Stages Repertory Theatre recent production of David Adjmi's Marie Antoinette, the playwright imagined Marie Antoinette through modern eyes, with bitingly humorous results. Doss used modern fabrics and frills in sorbet neon colors to create the period silhouettes of Marie's court dresses. Because the set included actual neon tubes as a design element, this created one happy visual marriage to support the play's intent. Each costume got couture treatment, thanks to Doss' mad sewing skills, acquired through his early career experience in New York costume shops. The fact that he'd designed for a number of big shows in New York gave him the confidence and skills to push the design into "Wow!" territory.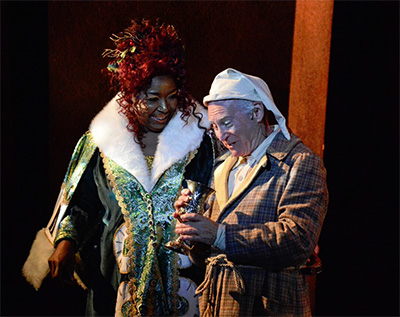 Fabric drives most designers, but energy breeds energy. If you get a bunch of creative people together and they're all headed the same direction, that production's designs really pick up speed. Susan Branch Towne, who teaches costume design at St. Edwards University in her native Austin, designed period costumes for the 2014 production of A Christmas Carol, inventively directed by Dave Steakley at Austin's ZACH Theatre. Steakley's vision of this oft-told story was inspired by Moulin Rouge, where contemporary music infused a period setting with great results. His vision allowed the designers to break out of the usual design flow in this holiday classic, allowing the show to span genres and eras. There was music, excellent lighting and sound design, and all this made the costumes extra fun for Towne to develop. Like Doss, Towne used period silhouettes, but stretched the designs via her fabric choices. One of the ghosts wore a waistcoat, tails and gladiator-style boots over what appear to be paint-splashed breeches. Another character sported a semi-modern argyle sweater vest while strumming a guitar. Her color choices were vibrant, playing up the playful, joyous outlook that Steakley wanted audiences to bring out of the play.  You can catch Towne's latest handiwork in  Sophisticated Ladies, starring Jennifer Holliday, at the Zach Theatre, July 15-Aug. 23.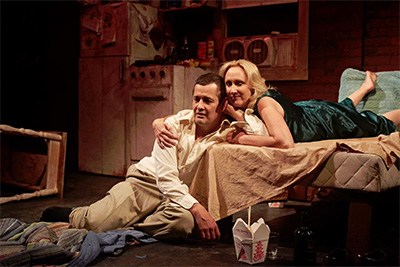 L.A. Clevenson, an emerging Houston-area designer, recently worked on Sarah Ruhl's Stage Kiss at Houston's Stark Naked Theatre. "Part of the humor of this play-within-a-play was how over-the-top it was, so I wanted all of the colors to represent that," says Clevenson. She uses her degree in psychology to get into the minds of the characters, creating clothing that fits their personalities. The script specifically mentioned a green dress for the lead character as a costume in the play-within-the-play. This character is irresistible to several of the other characters, so Clevenson chose a vibrant shade while the others were drabber. The minute director Brandon Weinbrenner saw the lustrous emerald green satin Clevenson chose he was on board.
Christina Cook got her undergraduate degree in University of Central Oklahoma, and a Master's degree from Southern Methodist University. Cook, who just wrapped up the world premiere of The Firestorm at Dallas' Kitchen Dog Theater, finds the Dallas area theater folk to be a close-knit and welcoming community. When asked about a standout design experience, Cook touted Kitchen Dog's production of Noah Haidle's black comedy Mr. Marmalade. Director Aaron Ginsburg had a sharp vision, yet encouraged each designer to bring things to the table. These two things combined to produce an unusually cohesive design team. Cook said that she felt the strength of the other aspects of design pushed her to get even more creative than she had before. Cook used a Photoshop filter with her initial designs so that they looked like they were made from crayon. The colors she ultimately used for the costumes were clear, vibrant shades of primary and secondary colors, perfect for a play about an extraordinarily advanced four-year-old girl with a surreal imaginary friend. Cook was quick to point out that the play was a success "not because I had a cool design idea, but because everyone served the play."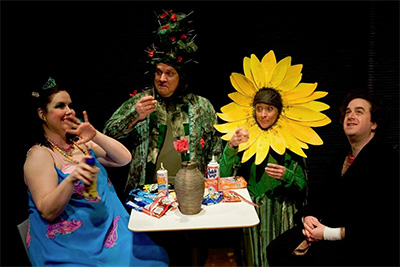 Good costume design isn't simply a color choice or period appropriateness. It is also about the crisp lines of a pleated trouser, or the way a hemline flutters when a young actress skips across the stage. Macy Lyne, who designs for several Houston area theaters, says, "I am very particular about the shoes I put on stage. Details matter." In the Stages production of Yasmina Reza's The Unexpected Man, her choice of pumps in the same color as The Woman's dress lent her a quiet sophistication. The Man's highly polished dress shoes elevated his ensemble. Lyne's attention to detail is one of the reasons theaters keep coming back for her designs.  Lyne, who credits her mother for most of her technical skills, has found that no matter which theater she is designing for, they all feel like home. "It's amazing," she says, "that I can make a living dressing people up." Lyne steps out of her usual live theater design role now, styling a film called The Messengers by Taylor Gahm, currently in production.
When a designer gets to work with a full-featured costume shop, it has lots of advantages. Towne mentioned a play she did in the Midwest before she came back to Texas. The costume shop happened to have a specialty in embroidery. They added embellishments of natural elements to the fabrics for the mortal costumes in a production of Shakespeare's Midsummer Night's Dream. This was a happybonus not included in Towne's original design. It was an enhancement she gladly accepted. Most Texas theater companies do not sport the kind of budget that allows for a large costume shop dripping with brocades and velvets, with vast work surfaces. Designers often work on a show-to-show basis, and need to be able to find their own workspace. Towne and Doss have some access to their school's costume shops for workspace. Cook says, "Sometimes I get lucky enough to borrow SMU's workshop when they're not filled with their school productions." Clevenson works on a sewing machine on the coffee table of her living room, unless an actor is allergic to cats. Then she begs the use of a corner in Stages' costume shop space.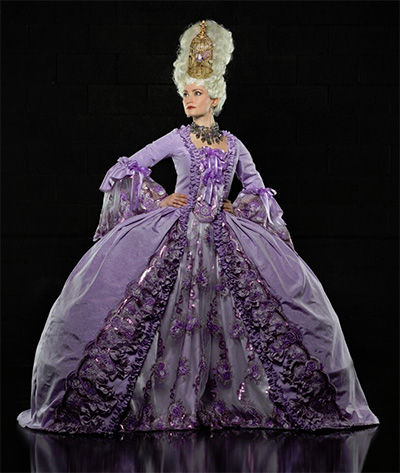 Each of these designers blends a formal education in theater with a critical eye for designing clothing. Three of them have returned to school to teach their craft. Lyne serves as the resident costume designer at L.S.C.-Montgomery, where she advises students, designs for shows and teaches introductory theater design classes. She gained her M.F.A. from Utah State. Doss and Towne both left their native Texas, gained experience in theater design, and have returned to the state to teach. Doss has a B.A. from Texas Christian University. Towne earned her M.F.A. from Yale University. All recognize the difficulty students may have in finding jobs in the spotlight. While costume design should not be considered a "fallback" job, it is clear that some students who begin in performance go on to work in design. Towne noted that teaching has, in some ways, made her more cognizant of things that affect her designs. She is meticulous about keeping up her resume with good photographs of her pieces, and it "makes me examine process more." She now has a clearer idea what motivates her choices of color, value, texture and line. Doss, while he loved many things about living and creating costumes in New York, enjoys sharing his experience with the students. Costumes begin as images during the designer's first reading of the script. They may end their lives hanging in a storage closet, but for the run of the show, they are front and center, an integral part of the story being told.
—JULIE HERMAN