---
IMAGE ABOVE: Charles Long, unhealthy Pet Sounds (detail), stuff 2012. Powder coated aluminum, purchase fiberglass, and electronic components. Dimensions variable. Installation view, The Contemporary Austin – Laguna Gloria, Austin. Courtesy the artist, Tanya Bonakdar Gallery, and Madison Square Park Conservancy. Photograph by Ben Aqua.
---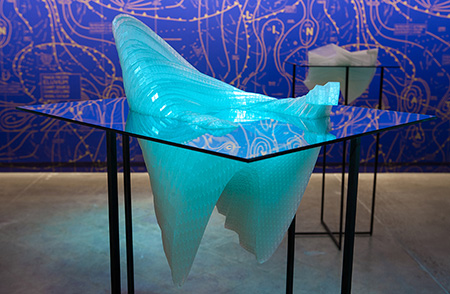 Los Angeles-based conceptual artist Charles Long's CATALIN and Pet Sounds are the two newest sculptural installations on view at the Contemporary Austin's two venues, the Jones Center and Laguna Gloria. Radically different in form, both are alike in offering intellectual stimulation accompanied by a rich aesthetic experience involving sight, touch, sound and smell.
CATALIN is a complex, multi-layered, specially commissioned work that occupies both levels of the Jones Center. Named after a toxic plastic made from formaldehyde that was used to make jewelry and other objects during the 1930s, the exhibit focuses on the tensions between the natural and the man-made, as well as the looming threat of planetary destruction to which those tensions have given rise.
On the first floor, viewers interact with a space defined by miniature, crystalline, iceberg-like perfume bottle sculptures that Long and his team of designers created by graphically organizing and merging sets of random data. Scents derived from glacial waters harvested all over the world waft through the air and meditative ambient music envelops viewers like liquid. In a small adjacent room, a continuously-streaming video of a sea voyage completes Long's evocative oceanic experience.
The artist plunges viewers into a much darker, murkier realm on the second floor. Funereal-looking tiles (two of which enclose a single piece of catalin), columns and moldings made from mycelium fungus line the inside walls. Recycled plastic iceberg sculptures cover the floor and glow eerily under black light while scents waft through the air and videos documenting collisions between the natural and manmade world stream continuously on two glass screens that reflect images onto the walls.
As beautiful as it is sensually overwhelming, CATALIN forces viewers into direct confrontation with the double-edged sword of human progress and hubris. The deadly ecological results and catastrophic future-time possibilities of unrestrained technological invention are everywhere apparent. Yet the same spirit of innovation, when wed to ecological awareness, offers hope for recovery and more sustainable living.
Less cerebral but no less compelling, Long's Laguna Gloria installation Pet Sounds is a joyful, sometimes mischievous, interactive celebration of form and sound. Named after a1966 Beach Boys album and originally created for New York City's Madison Square Park, this outdoor installation is comprised of six sculptures that begin as brightly colored railings that unexpectedly morph into formless shapes that evoke insects, sea creatures or—more ominously—industrial effluvia. When touched, rubbed, or patted, these blob-like masses produce vibrations in tandem with musical sounds and animal-like screeches, moans and wails.
Like CATALIN, Pet Sounds is a dynamic installation that invests the public space it inhabits with a palpable vigor and vitality. But where one amazes as it admonishes, the other delights by summoning the inner child. Powerful and provocative, Long's exhibitions not only inspire disturbing questions about humanity's relationship to the environment but also pure and simple wonderment.
– M.M. ADJARIAN