Melody Mennite as Clara and Hayden Stark as Fritz with artists of Houston Ballet rehearsing Stanton Welch's new Nutcracker, Nov. 25 – Dec. 27 at Wortham Center.
Photo by Amitava Sarkar.
---
Snow, a Sugar Plum Fairy and a gigantic Christmas Tree are three things we all expect from any production of The Nutcracker.  So fans can rest easy because Houston Ballet artistic director Stanton Welch's new version of this storied classic—the first new production in 29 years—will contain all three of those necessities, and a lot more.
There are also three things to expect from any new version of a classic coming from Welch's vivid choreographic imagination: he will visit the source for inspiration, in this case, E. T. A. Hoffman's classic tale; there will be more developed roles for many of the characters; and, like his revised versions of La Bayadere, Cinderella and Swan Lake, their will be an element of the spectacular.
The Nutcracker that millions of ballet fans have grown to love bears little resemblance to Hoffman's 1816 story, Nutcracker and the Mouse King, which was hardly a story for children. The 1892 Russian ballet was based on Alexandre Dumas's version of the story, which he altered to make it less grim, more child friendly, and well, French!
Welch, being the choreographer/scholar that he is, returned to the Hoffman text as a starting point, but then in typical Welch-ian style, ran with it, giving the story a much needed throughline, which is all about Clara. In most productions, Clara gets things going, and then spends the Act II watching from the sidelines. Welch has other plans. "She is the lead character and will be danced by a principal," he insists. It's in Clara's dramatic arc where we will see Welch's mark on this classic. By the end of her journey, she has transformed from a child to a woman. "Yes, there will be a Sugar Plum Fairy, but this is very much Clara's story," Welch explains. "This is a coming of age story. Clara is a middle child about to graduate from the kid table to the adult table. In the beginning, she is still playing with toys, by the end, she's ready to switch from a toy man to a real man."
Houston Ballet's audiences have grown accustomed to elaborate productions, and this will definitely be one. Welch adds, "We cannot skimp on sets." For sets and designs he turned to British designer Tim Goodchild, who is known for his work in opera, theater and ballet. For Welch, the choice was an easy one. "I was looking for someone old school, who comes from the same lineage as Desmond Heeley, Peter Farmer, and Kristian Fredrikson, who were also hands-on artists, drawing, painting and stitching their ideas.
Goodchild met the choreographer as a young lad when he worked with Welch's mother and father. When they re-connected for this project, Welch knew he had his man. "I was over the moon to be asked," says Goodchild.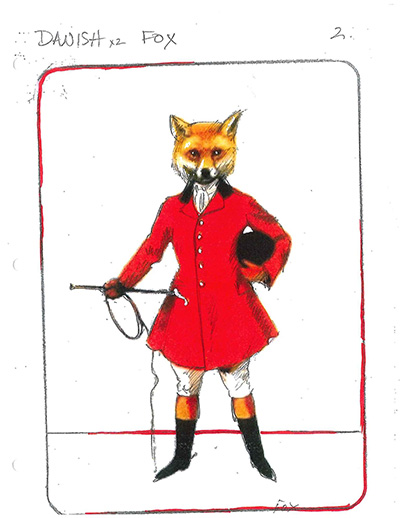 "This is a ginormous show," laughs Goodchild, about his first Nutcracker. "I'm not sure I'm capable of another one. So far, it's been a three-year process with over 400 designs and counting. I draw in my sleep." Goodchild describes his work as both "traditional and spectacular." Goodchild also returned to the text for inspiration. "There are wonderful descriptions of the characters," says Goodchild.
Welch and Goodchild have set the story in a slightly later period, 1830-1840, which according to Goodchild, is a perfect period for ballet. "The men dress dandyish and the three-quarters length skirts for the women move well," he adds.
It's not unusual for Welch to rethink any ballet story giving it more structure. Here he has given Clara and Drosselmeyer expanded roles, with the whole second half taking the form of a whimsical dream, which is where Clara's toys come to life. Enter the animals, such as polar bears, lions, pandas and more, donning incredibly intricate masks by Robert Allsopp. Welch, a huge Beatrix Potter fan, promises all kind of animals surprises, "Some you would expect, some you wouldn't" he adds. "These are not Disney animals," Goodchild insists, but some will be dressed in human Victorian clothing, which is not odd to a child at all." And the rats will be back, of course. "They will be pretty gruesome," quips Goodchild. "The Rat King has a huge ego. That should be fun." Since Welch's Clara is a book worm, there's a reference to Alice in Wonderland with a white hare and Peter Pan with a dog like Nanna.
For the party scene, Goodchild has situated the Stahlbaum family in a two-story mansion, which will eventually get split in two by a gigantic Christmas tree, a Nutcracker staple. Clara's big dream happens under the tree. "The tree is simply a tremendous scenic element," says Welch.
Wendall K. Harrington, Assistant Professor Adjunct of Design & Head of Projection Design at Yale School of Drama, will be heading up the projections, which will add to the "wow" factor. Named as "the godmother of all projectors" by John Simon in New York Magazine, Harrington's work runs the gamut from Broadway to opera to ballet. "It gives a whole new dimension influenced by film," says Goodchild. Welch concurs, "Wendall is great, and I cannot be happier with her work."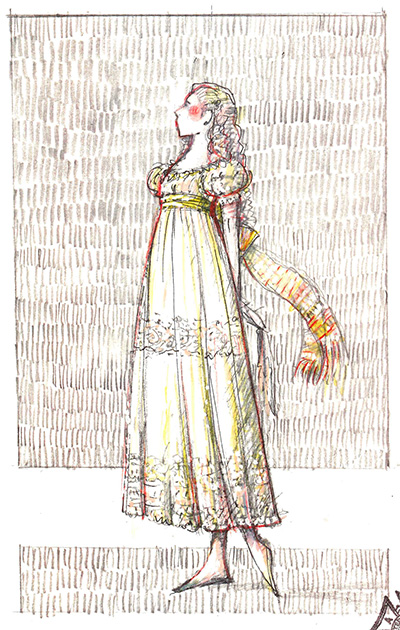 And then there's the mandatory precipitation. It's not a Nutcracker without snow and Goodchild promises some glorious icy effects. "The snow has to move like the dancers, expect updrafts and swirls."
Welch and Goodchild have created a seamless thread where both acts follow the story of Clara growing up, with room for fabulous dancing and stunning visuals. "Everything that happens to Clara in her dream relates to things in her life, for example the flowers related to the wallpaper in her bedroom," says Goodchild.
Creating a new Nutcracker is part of Welch's legacy at Houston Ballet and a task he has wanted to tackle since he was 17, long before he knew that he would be heading up one of the nation's leading companies. Welch doesn't find it even a bit daunting that this production may be around for decades. He adds, "That's what you hope for every ballet, that it will have staying power. Of course, it will evolve, as we do."
—NANCY WOZNY
Reprinted from Playbill.