Contemporary Ceramics, Russian Icons and More Hit the West Texas Triangle
---
IMAGE ABOVE:   Timothy Harding, Constructed Corner Drawing, 2014. Site-specific installation; paper, graphite, assorted lighting, electrical cords and components. 20 x 12 ft. (approx.) On view in Drawn In/Drawn Out at The Grace Museum, Abilene. Courtesy of the artist.
---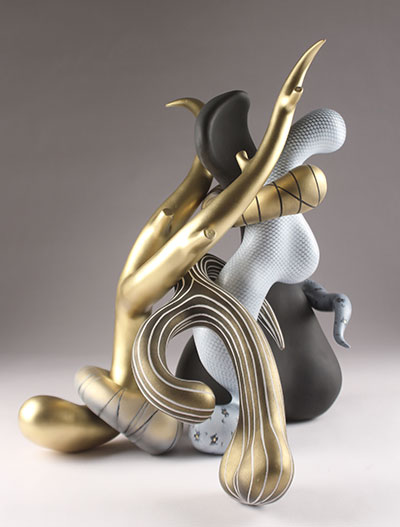 West Texas occupies a special place in the art world's heart; Donald Judd saw to that long ago. But Marfa is hardly the only cultural outpost in the region. Take, for example, the San Angelo Museum of Fine Arts, which actively collects contemporary American ceramics and, each spring, turns its hometown into a hotbed—make that a hot kiln—of all things clay.
The San Angelo 20th National Ceramic Competition, a selection of works from leading and emerging ceramic artists from the U.S., Canada, and Mexico, goes on view April 11-June 29. It's juried by Montréal's Léopold Foulem, an internationally-recognized ceramic artist, instructor, and scholar. The Competition also includes a small focus exhibit of invited artist Jason Walker from Bellingham, Wash., whose work humorously (some would argue darkly) explores the complex relationship between nature, human culture, and technology.
Although the kickoff series of events is dubbed Ceramics Weekend, it's spread over five days, April 10-14, during which the three partnering institutions—SAMFA, Angelo State University's Art & Music Department, and the Old Chicken Farm Art Center—will present a packed schedule of related events and activities. The official opening reception takes place April 11.
Throughout the five-day "weekend", attendees can choose from hands-on or more observational events, including two ceramic art-making workshops, symposia, lectures and gallery tours, all involving leaders in the field of functional and nonfunctional sculpture. The extended weekend also offers a Texas barbecue dinner, and special events at nearby businesses, artists' studios, and galleries. A convenient shuttle bus is available for at least part of the weekend, and some events require tickets, so check the website for exact times, dates, and prices.
SAMFA is hardly the only art-centered hub in the region. In fact, it's one-fifth of the West Texas Triangle, an alliance of accredited museums that also includes Abilene's Grace Museum, the Old Jail Art Center in Albany, Odessa's Ellen Noël Art Museum of the Permian Basin, and Midland's Museum of the Southwest. The WTT helps to wrangle all this creative energy into an official "space for art" by highlighting the unique collections and promoting the exhibitions of each museum to a wider audience.
Judy Deaton, chief curator at The Grace Museum, describes theWTT as "an ongoing collaborative effort to share the trials and triumphs of serving our communities and the wider art world." The alliance strengthens internal and cross-institutional relationships through bimonthly meetings at different museums so their staffs can interact and exchange ideas.
Additionally, each summer the WTT endeavors to collectively exhibit the work of a single sculptor who has strong ties to Texas. For 2014, that artist is the prolific nationally-recognized San Antonio-based Ken Little, who has been making figurative works since the early 1950s (he also enjoys the spotlight as a songwriter and performer, singing and playing guitar in two bands).
Details of the WTT collective efforts are beginning to surface and include The Grace Museum's Home on the Range, Where the Prairie Meets the Plains in Central West Texas. The exhibition features Little's work as one in a group celebrating the continuing story of accomplished Texas-based artists whose work reaches beyond the state line. The Old Jail Art Center is using its sculpture courtyard to exhibit a version of Little's installation Lookout!, consisting of over-sized, cast iron animal masks which sit upon metal risers, lit from underneath with colored neon lighting.
"Little is an accomplished artist with great credentials and masterful technique. He has an inclusive take on media and a unique take on contemporary art, with just a hint of Texas twang," says Deaton, adding that the WTT members were thrilled that he was on board with the ambitious project of exhibiting simultaneously at the five museums. (Visit westtexastriangle.com for details about member museums' Little programming.)
Currently, The Grace Museum and Old Jail Art Center have joined forces to present Drawn In /Drawn Out (on view through April 19) an exhibition of pieces from artists, strongly influenced by their time working or living in Texas, whose innovative and specific drawing techniques allow for a combination of portraiture, landscape, narrative, fantasy, symbolism, conceptualism, text, and appropriation. Meanwhile, the Ellen Noël Art Museum presents an exhibition of over one hundred pieces of centuries-old Russian iconography and rare artifacts (through May 18), and the Museum of the Southwest is mounting a solo show for San Antonio artist Kathy Sosa (April 5-June 25).
Obviously, there is no shortage of art to be seen, experienced, and supported—if you know where to find it. For Texans, one obvious answer is: go west.
—NANCY ZASTUDIL