Alex Karigan Farrior and Joshua L. Peugh in Critics of the Morning Song.
Photo by Morah Geist, courtesy of Jacob's Pillow Dance.
---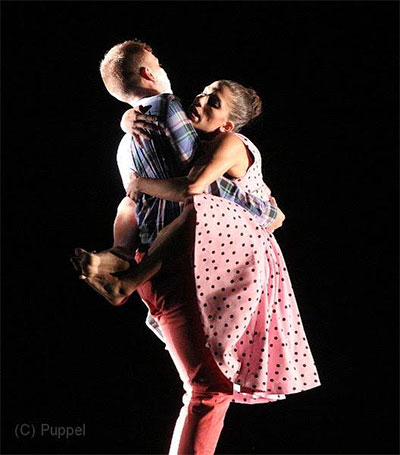 Alex Karigan Farrior joined Dallas's Dark Circles Contemporary Dance in 2014 and has been spinning her own brand of kinetic magic, often alongside  Dark Circles artistic director Joshua L. Peugh, ever since.  Most recently, their performance in Peugh's Critics of the Morning Song won the Grand Prize at the Palm Desert Choreography Festival in California, after wowing the Jacob's Pillow audience on the Inside/Out stage. Before returning to Dallas, she danced with Amy Marshall in New York City and worked with the legendary dance photographer Lois Greenfield. She is a graduate of Southern Methodist University, and is currently completing her MFA at The School for Classical & Contemporary Dance at Texas Christian University.  Farrior has many shows on the horizon and can next be seen on stage when Peugh premieres his new The Rite of Spring in a joint concert with Avant Chamber Ballet on March 4 at Dallas City Performance Hall. She was featured in the On the Rise section in Dance Magazine's December issue. Farrior sat down to visit with A + C editor Nancy Wozny on her time away, the move back home, and her current projects.
Was leaving for New York City always in the plan after SMU?
Yes. I spent summers there studying at intensives while at SMU, and I fell in love with the city––it's vibrancy, accessibility, opportunity. I had a need and urge to go, which fueled my determination and drive once I arrived.
How did your time in Dallas, both at SMU and your early ballet training, prepare you for life as a dancer in New York?
My pre-university training gave me the foundation of classical ballet technique that opened the door to SMU. SMU gave me the knowledge and versatility of training in different genres–especially jazz and Graham. At SMU, I performed classical ballets, Graham repertoire, Forsythe repertoire, as well as works by Alison Chase. All strengthened my versatility and thus marketability as a hopeful professional. I explored different ways to partner, express emotion, tell a story, shift my weight… My experiences helped me narrow down the genre I wanted to pursue after graduating. I loved performing classical modern and contemporary work, which ultimately influenced my search for dance companies.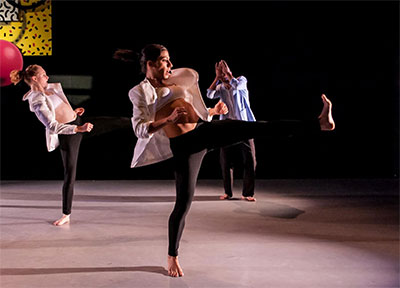 What were some of the high points of your time dancing with Amy Marshall?
Amy Marshall (and her husband Chad Levy, who is the executive director) gave me so many incredible opportunities after university that it is hard to narrow down to just a few. The company was so close and supportive of each other, so highlights would definitely include all of our touring experiences domestically and abroad, most memorably, Jacob's Pillow, Querétaro, Mexico, Ladek Zdrój, Poland, and Macau, China. Also, because of AMDC, I began working with Lois Greenfield.
What did you learn about movement from working with Greenfield?
Working with Lois Greenfield will always be one of the most fulfilling and irreplaceable experiences I have had as an artist. She made me see, feel, and perform dance in new and profound ways. Her pictures capture impossible moments and sustain movements that I strive to sense and feel as a dancer performing in real time. When I look at them, I feel myself in the brief moments before and after. To me, her pictures capture the dance that slips through––impossible for the naked eye or other medium to witness. I am so grateful to Lois and her work because when I retire, I can look at her photographs and re-live the vitality of my dance career. Working with Lois and her photography is a gift that will continue to grace my life as I develop and evolve as a dance artist and human.
What did you miss most about Texas while you were gone?
Besides, of course my family, I missed the space! And the air. The air here is so clean, and you don't realize it until you've been away and return.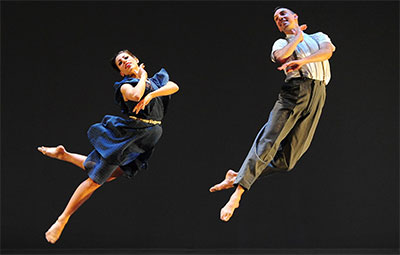 Talk about the choice to move back to Dallas.
For me, it was both a difficult and exciting move. I was in New York City for seven years. I established a life and network that were very hard to leave. However, I felt like it was time. I listened to my gut; I can't really explain it better than that. I felt the draw to be closer to my family and my future husband. Every time I would fly back to New York after visiting them, I would notice how I felt when the New York  skyline emerged. I knew I was ready to move when I saw the skyline and it didn't feel like "home" anymore. I wanted to leave with a sense of nostalgia and deep love for the city. I treated the move like a new pair of shoes. New York was a pair of shoes that were one of a kind. So, instead of Dallas attempting to fill the shoes, Dallas became a new pair. This helped me recognize how special New York was, and avoid placing any unrealistic expectations on my experience in Dallas. Also, besides the draw to move back to Dallas from my family, I was hearing about how much more vibrant and prosperous the arts were in the city, and I became very excited to be a part of, and help grow, the dance community here.
That's a very mature way of looking at it all. I think we would all be better off if we stopped trying to be anything other than Texas. But, that said, what do you miss most about the city?
How quite literally everything is at your fingertips. I could go see a show, exhibit, concert, etc. on a whim any day of the week. There is always something to do. There is so much art-making and inspiration. I miss walking past Central Park in the fall when the leaves are changing. I miss the ability to take public transit. I miss having endless options of dance classes to take with other professionals; there are so many incredible dancers and teachers that you can learn from every day.
What is your MFA thesis at TCU about?
I am researching and writing about how dance training in undergraduate programs meet the demands, needs, realities of the contemporary dance market. I couldn't help but be inspired by my own recent experience of being in academia while simultaneously working professionally with Dark Circles.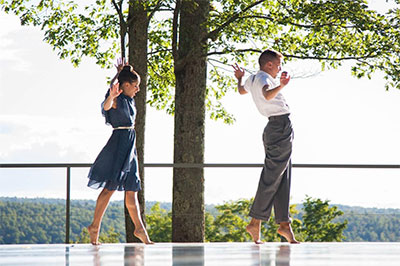 Well that's an excellent topic, and yes so relevant to your own life. How did you end up as Joshua L. Peugh's main muse?
I would argue that his main muse is the company. In the studio, I witness every company member fuel his curiosity and inspire his creativity equally. That is what makes Dark Circles so incredibly special––each artist is celebrated, moving, and unique.
How true, and I have watched how he mines the unique qualities of each dancer, which is what makes his dances so textured. But I have watched you in a number of duets together and you do have this thing! What's the secret to your chemistry?
A deep-rooted friendship. We had the same university training. We experienced formative, turbulent, complex, meaningful college years together. There is a level of trust, respect, patience, and support that is foundational and profound that fuels our interactions on stage. Our life experiences and long-time friendship create an atmosphere that allows us both to get lost in the work and become sensitive to each other and our instincts.
How do you see your talents as a perfect match for his brand of zaniness?
Because I am just as zany. And Josh capitalizes on it. It is a cyclical brand of zaniness, if you will.
What do you do that is not dance-related that perhaps sneaks into your dancing?
Once I begin rehearsing a piece, I always tap into my life experiences as a way to deepen my character in a particular work. Because Josh frequently choreographs subtle, human gestures, it is easy for me to remember a moment in my life that suits the work and tether that emotion to the gesture. For instance, there is a moment in Critics of the Morning Song when I reach for Josh's hand as a gesture of love and forgiveness; I always think about my husband in that moment and times when holding his hand has strengthened our bond in times of joy and grief. Tapping into intimate moments of my life when on stage provides me with a way to communicate more authentically, and it becomes so much more meaningful and enjoyable for me.
What would you say to a young dancer who is considering moving to Dallas?
Like any other city in the world, if you are pursuing a career as a dance artist, be prepared to hustle. You have to make a living, and most of the time, you cannot survive off of a dance paycheck. Plan to have a job/jobs that are flexible and hopefully complement your active lifestyle (ie- teaching, fitness, etc.). Don't be afraid to reach out and introduce yourself too. Ask to take company class or watch rehearsal; the worst someone can say is no, but you have still communicated your interest. I would also advise to always be courteous, responsible, and professional in all of your interactions; it is a tight-knit community. Most of all, involve yourself as much as you can and make time for yourself to reflect and nurture your passion.
—NANCY WOZNY