Amy Morrow in her work Hiraeth.
Photo by The Dancing Image.
---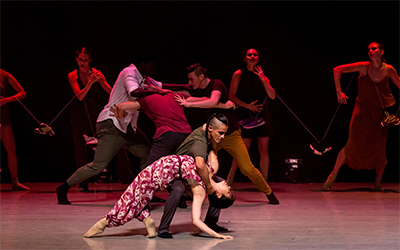 Amy Diane Morrow, a Fort Worth native, returned to Texas after a long series of travels – most notably an extended stint in Tel Aviv, Israel, to train in Gaga under Ohad Naharin, artistic director of the Batsheva Dance Company. Her return marks an influx of Gaga in the South, and a generous approach to including people of all abilities and backgrounds in her projects.
As the only certified Gaga teacher in the region, she is making waves in Austin, her city of choice, after returning from Israel. She also heads up the TBX [Toolbox Series], hosting national and international artists for specialized workshops in Countertechnique®, dance activism, multi-media, choreography labs, dance film, and thus far, two residencies with Deborah Hay.
Morrow also choreographs and performs with her collective of freelance artists, The Theorists. Project collaborators come from different states and countries, giving The Theorists an international scope.
Morrow is also the co-manager of Tel Aviv-based Idan Sharabi & Dancers and will be in Houston for Dance Month at the Kaplan for Israeli Contemporary Performance Art on Jan. 14, which includes a Gaga/dancers class and an informal showing followed by a screening of Mr. Gaga on Jan. 15, and a Gaga/people class complimentary for all audience members. Austin dance writer Erin Fulton had the opportunity to sit down with Morrow and talk about her dance life between Israel and Texas.
Tell us about your artistic vision and approach to dance-making.
My artistic vision is to cultivate homegrown art by artist-citizens who ask, "What if?" My goal is to close the gap with this question, between audience and performer, between what I think I'm doing and what I'm actually doing. If I can notice there is a gap, I can laugh at it, and this awareness brings things together over time.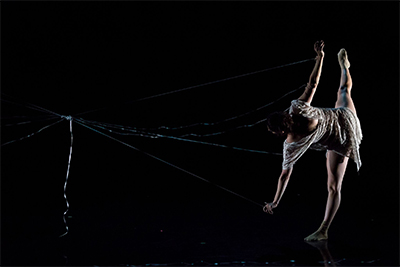 How would you say your work adds to the cultural climate of dance in Texas?
Rather than labeling myself as the Gaga girl, I wanted to focus on all the tools I have as an artist and how they can help others. This is why I created TBX [ Toolbox Series ]. I don't look like Batsheva, and Batsheva itself looks different than it did five years ago. Instead of being enslaved to style, I want to help people find their own voice, and not just dancers, but anyone with a passion to move.
What is your experience being the only certified Gaga teacher in the south and how receptive has Texas been to Gaga?
Week to week, a handful of people can show up and we'll find incredible wow moments. Then there's an overwhelming 50-100 people waiting for a master class. People are more receptive than one might think, but I often feel I'm the one receiving the gift. People are hungry for Gaga, and will travel across state for class or fly in for a workshop. I can also identify with those who have access to it, but think 'ah, it's a fad.' I agree. It should be more than a fad. It should be the necessity of using a tool, opening doors to the body and pushing our limits on a daily basis. In Gaga, we want people to come to that place in their own time.
What have you brought back with you from your time spent in Israel with Ohad Naharin?
One of the biggest gifts Ohad gave me was not telling me how to teach. He speaks a lot about giving us keys to unlock blocked places on our own. We only began to teach after being immersed his language six days a week for nine months, and the first class I taught was in Delhi, India. Their feedback helped to put a light on something – as a suggestion – not a rule out of the Gaga bible. Rather than being right, I found I wanted to understand. When I traveled back to Israel in 2014 to update with Ohad, rockets fell several times a day during the Gaza War. We still had class and the company still performed in and out of sirens. We had to find a way to live our lives. Rockets might be falling, but we are dancers, so we dance.
Do you find that there's a cultural link, or crossover, between the dance environment in Israel and Texas?
In Israel, things are built from the ground up with grit– and if I didn't dance while I was there, I would have gone mad. In Texas, complacency lures me away from my 91-year-old Grandfather's tenacity to build at the farm and learn something new every day. His questions fuel me. Dance in Texas is starting to grow because we are grappling with a watershed of social and political tensions in 2016, and toiling to find relief. It brings a different desperation and delicacy to works.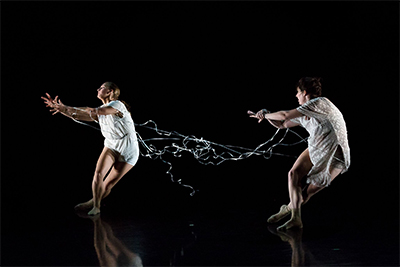 What led to the decision to move back to Texas? Also, what spurred the move to Austin?
In 2014, I was robbed on the way back to my Tel Aviv apartment. Losing everything actually brought a lightness to life, and I'm ever grateful to the thief. I decided to share more than ever and created a solo show on a rooftop in Florentine. The next month, it became a homecoming performance at the Fort Worth Community Arts Center. After the performance, my mom broke the news to me, she was diagnosed with colon cancer. Somehow, I still had to drive to teach Gaga  in Austin the next day. That class also brought an ironic lightness and I realized Austin was home. While the largest tech companies in the world move campuses to Austin because of the arts, I was drawn by the trees and a sense of being at home in my body.
Tell us about the dynamic of your performance group, The Theorists.
The Theorists are more of an initiative than a company, an invitation to embrace the communities we collaborate with. We warm up with Gaga and cross-train in yoga, Gyrokinesis, and what we coined as String Ballet. Our project collaborators range from TBX guest artists, to Rattletree School of Marimba, SWNG Productions, and dance ability teacher Amy Litzinger. Our core group has toured 10 cities, but our Austin artist in residency is at Bravo Blackbox, an essential relationship after Tapestry was priced out of their building. With this new home, we can open our doors to freelance artists. Some deal with injuries, loss of husbands and fathers, but we've created a safe space. You know how squeezing sand makes it run through your fingers? The Theorists help me "What if" with an open palm.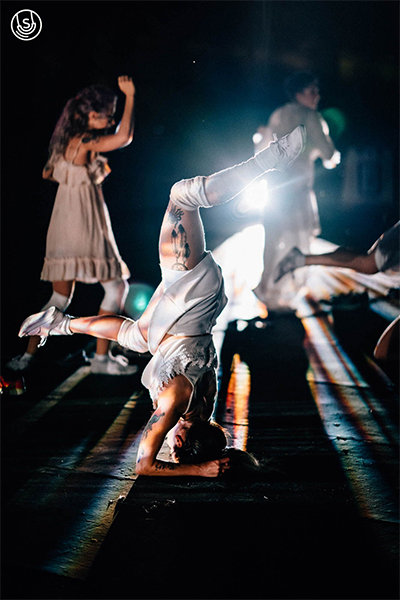 Can you tell us about the group's recent and future performances?
Hiraeth [a portrait series ] is as an ongoing process to share stories as I travel. It continues with a residency in Guadalajara and then back to Dallas to create on Contemporary Ballet Dallas. One portrait, Carry On, received the 2016 Artist Exchange Award from the Detroit City Dance Festival, and we are honored to perform at the 2017 Gala as well as in NYC at Dumbo Dance Festival. This New Year's we are producing a dance film with Kira Blazek and SWNG Productions before heading to NYC to represent Idan Sharabi during APAP. Then I'm off to Birmingham, back to host Deborah Hay, and on to Boulder before our third season with Austin Dance Festival. I'm writing grants on planes to raise the funds for hosting Jason Akira Somma (protégé of dance legends Kylián and Forsythe) to create a portrait of Austin with people all over Austin.
You have had more of a Texas dance career in that you have done works throughout the State. Was this the plan from the get go, or more of a way to survive artistically in Texas?
Surviving as professional dance artist is certainly challenging. At our first Austin Dance Think Tank in 2015, Deborah Hay reminded us that there will always be a struggle for space and money, but we survive because of our artistic process. I realized that traveling to work with new people deeply rewires the DNA of my choreography. My collaborators have come from Tulsa, Brooklyn, Albuquerque, Denton, Dallas, San Antonio, Winston-Salem, Tel Aviv, Richmond, Puebla, and Guadalajara, and together we embraced this invitation for change. They remind me that art is not a commodity; it is our fuel, our nourishment, and it is only as alive as our process and the people apart of it.
—ERIN FULTON