Bree Welch as Antigone in Classical Theatre Company's production of Antigone.
Photo by Magid Salmi.
---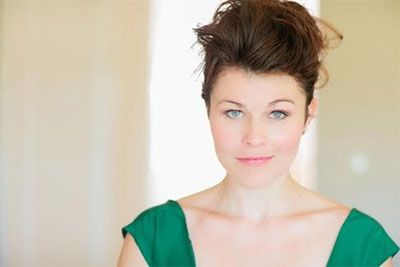 Bree Welch made a triumphant return to Texas, playing Henry in Henry V at Houston's Classical Theatre Company.   Her gender bending performance left audiences rejoicing with the news that she's back in her native Houston. Welch trained at University of Houston and received her MFA at The Globe Theater University of San Diego. Next up, you can see her in Miracle on 34th Street  through Dec. 29 at Unity Theater in Brenham, and in Twelfth Night Dec. 31-Jan. 10 at Main Street Theater, presented by Prague Shakespeare Festival, and directed by MST's artistic director Rebecca Greene Udden. A + C editor in chief Nancy Wozny visited with Welch on coming home, her time away and the upcoming shows.
A+C TX:  First off, welcome home and congrats on your performance in Henry V at Classical Theater.  I loved the "we band of brothers" speech coming from a woman! How was the experience of playing Henry V for you?
BREE WELCH:  Playing Henry V was an incredible experience. I was terrified, nervous, excited, and exhausted all at the same time. It was a really great challenge and an incredible gift from CTC and Julia Traber, the director, to have the bravery to hand off such an iconic role, which is typically played by a man, to a woman. I felt a huge amount of pressure to rise to the occasion and push myself more than I have before.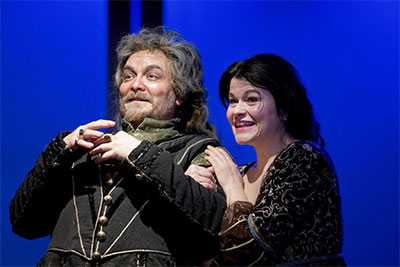 The ensemble was an amazing group of talent, who worked endlessly to fight just as hard as Henry. It made for a powerful experience and the connections on stage and the passion which drove us all was very real. It is one of the greatest journeys I've been lucky enough to take.
I felt great pressure to serve the piece well and to tell Henry's story with truth, honesty, vulnerability and passion. I could not have done any of that without the wonderful support around me from the director and the cast.
Talk about your training.
My MFA training at the the Old Globe University of San Diego was one of the most rewarding times of my life. The faculty and artists there are the most experienced, knowledgeable, and passionate theater creators I have ever worked with. The MFA program is designed to bring out the best in each student and to enhance one's strengths and give each student technical training to have longevity in an acting career. The program has a heavy focus on the classics and works of Shakespeare and I was lucky to work under the direction of two former artistic directors of the Royal Shakespeare Company, the former director of the Royal Court Theatre, and multiple Tony Award winning directors. The ensemble was composed of some of the greatest regional actors I've ever encountered and I learned from watching, understudying, and acting along side them.
With a concentrated schedule, the academic year consisted of 10am- 10pm days and in the summer performed a six month long, three-play repertory. It was a busy two years. By the end of the program I had performed in over a dozen plays in over 250 performances. The program taught me how to be a passionate artist and person.
You spent two years working in Europe. What were the highlights of that time for you on stage?
My time in Europe was very different from the work I've done in American theaters. Just being in a room of artists who are from all parts of the world makes for an interesting start to theater. Everyone had different backgrounds, different training, different accents, and different performance styles. Collaborations were more unique and bolder because of everyone's diversity. A production of Mary Stuart, where I played Queen Elizabeth, went from a contemporary adaptation to a massive production of 50 or more performers, designers, technicians, models, and producers. Having five hours of hair and makeup every night and performing live theater that was also being recorded and streamed at the same time, made for a very unique experience. Being a part of an international group of artists and performing for international students and audiences was very rewarding.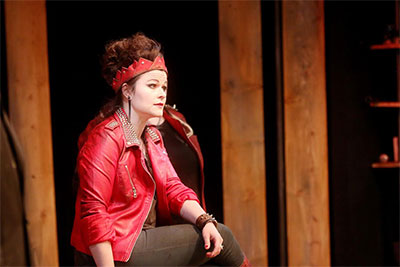 The last time we spoke in Houston you mentioned that you never envisioned yourself living in Houston. Something must have changed for you to move back. What brought you back on Texas soil?
I returned to Houston because of the people. The work I do in Texas surrounds me with friends, some of whom I've worked with half my lifetime, that makes for some magical moments on stage! I value Texas and the life I can have here. In every theater, when an actor forgets a line in rehearsals, we say, "line," and the stage manager will prompt us. Only in Texas do the actors instead say, "line, please." Texas hospitality is ever-present, even on stage and that sentiment has grown to be more and more important to me. I missed being surrounded by so much kindness.
Texans can get a chance to see you in action soon with Miracle on 34th Street at Unity and Twelfth Night at Main Street Theater. What should we expect?
Both Miracle on 34th Street and Twelfth Night allow me to play and enjoy my time on stage with great friends and wonderful artists. It's a wonderful way for me to feel at home back in Texas!
NANCY WOZNY