Jennifer Mabus in her work, Paper Hearts as part of her Dance Artist Residency at Rice University.
Photo by Lynn Lane.
---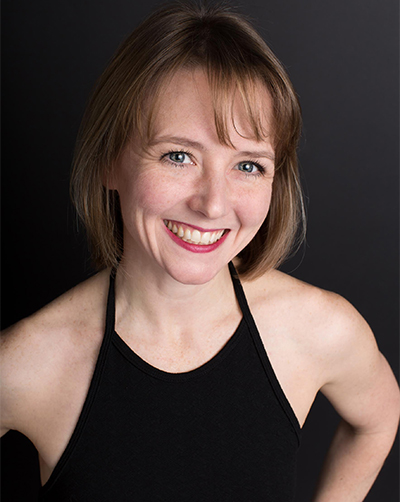 Dallas native Jennifer Mabus premieres The Art of Losing, a multi-media, sound and dance collaboration with the artist Lynn Lane, on Jan, 22-23, at The Barn as part of NobleMotion's 2016 Next Step Series. You can also catch her work as part of Open Dance Project's Stories to Tell on Feb. 19-21 at the MATCH.
Mabus comes to the Houston dance table with an impressive performance record, including dancing with Battleworks in New York City from 2001-2010, and other New York-based choreographers, such as Takehiro Ueyama, Heidi Latsky and Amy Marshall.
In Dallas, she danced with Bruce Wood Dance Project and was a founding member of Dark Circles Contemporary Dance. She has a MFA from Sam Houston State University and a BFA from Southern Methodist University. In addition to her work as an independent choreographer, she teaches at HSPVA, Hunter Dance Center and METdance. Currently, she is co-setting Battle's Strange Humors with METdance artistic director Marlana Walsh Doyle for the METdance's Celebrating 20! Duos on Feb. 12-14 at Studio 101 at Spring Street Studios.
Her dancing has been praised by Jennifer Dunning of The New York Times, Margaret Putnam of The Dallas Morning News, and Christine Temin, The Boston Globe. Mabus sat down with A + C editor Nancy Wozny to discuss her varied career in New York and Texas.
You have one of the most impressive dance resumes of a contemporary dancer in Texas. We are lucky to have someone with your level of experience among us. How do you think your time living the super competitive life as a dancer informs your work with young dancers today?
Thank you! I think of that Merce Cunningham quote, "You have to love dancing to stick to it. It gives you nothing back… nothing but that single fleeting moment when you feel alive." I honestly believe that it was this love that helped me succeed, and I do whatever I can to nurture that same passion in my students. I am also aware that the movement my students will be asked to do hasn't been created yet, so I try to give them a solid technical background enhanced by critical thinking and creativity in order to be available for varied choreographic processes. We need thinking artists that are engaged in making new work as dancers and creators.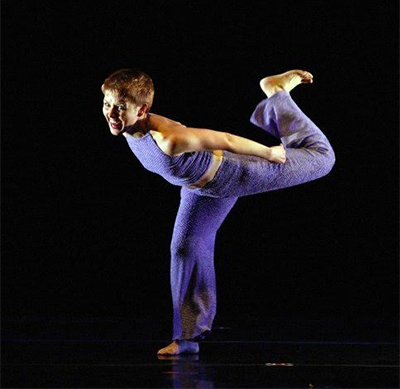 I am sure glad that I got to witness your outstanding dancing during your time with Battleworks at ADF in 2005. It must have been amazing to have been one of three dancers to work directly with Battle when he was creating his signature work, Takademe. Do you have one potent memory of working with him on that dance?
Takademe is fast, animal-like solo that requires the dancer to be very present, and I was honored to dance it in places from Jacob's Pillow and ADF to Colombia, South America. I have many memories of that dance, but the most potent was a performance in Boston, where I was going through some life challenges that made it difficult for me to find the confidence and bravado required. Robert pulled me aside and said, "You say you have faith. Well, this is where it comes in. You have to 'fake it 'till you make it.' Believe you can do this." It worked. I found joy in that performance and received one of my best reviews. Christine Temin, of The Boston Globe, wrote that my dancing was like "living calligraphy!"
Battle was known for some extreme movement. How did your body and style fit with his?
My petite size and muscular structure allowed me to move quickly, but with power, especially in and out of the floor. Robert gave me many solo moments of throwing myself to the floor! Mainly, I think there was a certain inner intensity, intelligence, and extreme commitment to the work that all of the dancers in the company possessed. This made rehearsals magical, exhausting and exhilarating!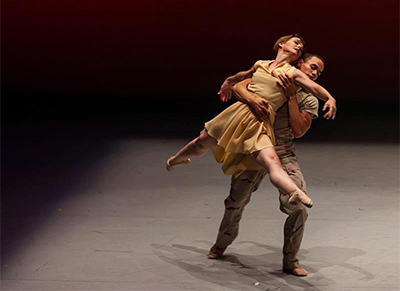 After New York, you returned to your hometown of Dallas with the idea that you would settle into post-performance life as a yoga teacher. That clearly did not happen, and instead you had a whole other chapter in your performance life. Can you share one memory of working with Bruce Wood?
I met Bruce for coffee, and that was my audition! He gave value to my experience and allowed me to influence the work as a dancer and rehearsal director. On my 40th birthday, he wrote me a letter telling me that my life would get more interesting as a person and artist. He was right!
Joshua L. Peugh, the hottest choreographer in the South, never mind Texas, worked with you to create Cosmic Sword, and you were there at the beginning of Dark Circles Contemporary Dance. Peugh's work is so idiosyncratic. What did you find in yourself as a mover and performer dancing his work?
His work was like coming home. Josh allowed me to be my awkwardly beautiful self and to follow my imagination or "fantasy" on stage. Josh, himself, is one of my favorite dance partners because I can be so human with him.
From Dallas you moved to Huntsville to get your MFA at Sam Houston State University, where I was again wowed by your dancing. Did you find yourself as a choreographer during that time?
I had been presenting work in NYC, at places such as the Dumbo Dance Festival and in university residencies, but I wanted the time to develop my voice outside of the demands of my teaching. Along with my MFA, the faculty at SHSU gave me the space, trust, and exposure so that I could emerge a more confident choreographer. I love the process of making work and exploring new ideas.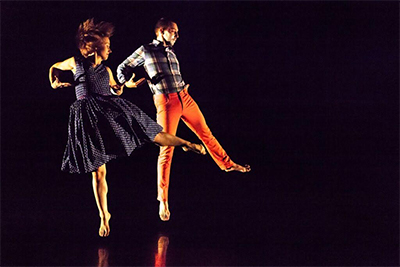 Tell us about your new work, The Art of Losing.
For me, the piece is a way to understand a family member's descent into Alzheimer's. I'm trying to abstract the idea of memory and identity in order to create the physical experience of loss. I ask, "Is there something essential to who we are that remains when we have lost everything?" This work is also important because it is a new direction for me. I'm collaborating with Lynn Lane, who is creating a live, responsive, improvised soundscape for the work. I'm also performing in it.
Then we have a chance to see one of your solos in Open Dance Project's February shows at the MATCH. Give us a glimpse of that work.
Brightly Colored Paper was born from the story of my mom sending recordings of her family Christmas morning to my Dad in Vietnam. The soloist, Brittany Thetford Deveau, uses wrapping paper as a metaphor to explore how we try to give others gifts of ourselves through loneliness, vulnerability and love.
You are one of the few dancers who has been fully immersed in both the Dallas and the Houston dance scenes. Do you see these cities becoming closer together?
I think that the two cities, and Austin, have much to offer each other, and that a cross-pollination is already happening, through festivals such as Barnstorm, Dance Gallery, Dallas DanceFest, and Austin Dance Festival. All three cities have established artists and new artists jumping into the scene, and it is exciting to see my home state becoming a stronger home for dance.
-NANCY WOZNY