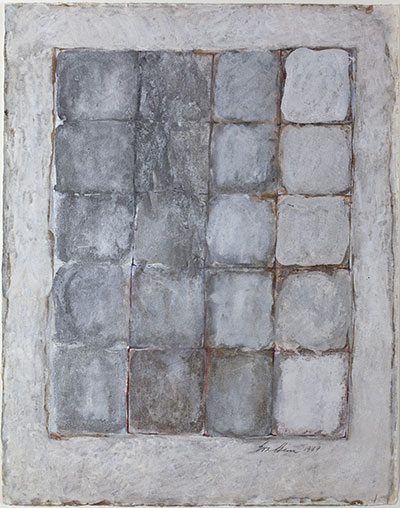 Sometimes, a simple gesture is all it takes. In the most striking works made by Eva Hesse in the Blanton Museum of Art's Converging Lines: Eva Hesse and Sol LeWitt, Hesse quietly slips into the viewer's mind as one gazes upon the five graph-paper drawings in the second room of the exhibition. These five works, which the wall text claims reflects LeWitt's influence on Hesse, are quiet and dynamic. The X's and O's she employs as her only mark float in the larger plane of the drawing. The viewer's eye darts around, seeing imaginary patterns and a subtle op-art quality.
This vibration is more evident in Sol LeWitt's colorful wall drawing located further into the exhibition. This work, executed by many in the UT community—LeWitt's wall drawings are always realized by other hands—is the standout of the show for the artist. His first non-straight wall drawing (Wall Drawing #46, also in the exhibition) came in honor of Hesse after she passed away in 1970. Wall Drawing #797, first drawn in 1995, instructs a drafter to draw an irregular, black horizontal line near the top of the wall. A red line, a yellow line and finally a blue line closely follow this line. Hundreds of other lines form peaks and valleys through the irregularity and act as a beacon in the gallery.
Throughout the exhibition, Blanton curator and LeWitt scholar Veronica Roberts delves into the artists' intimate friendship. Meeting in New York in the late 1950s, their active friendship lasted until Hesse's untimely death in 1970 at the age of 34. The works in the exhibition are perhaps not what one is expecting, including the first room of early works from both artists. While I commend the Blanton for including works that rarely are seen, much of the first room may come as a shock if one primarily knows the artists' later works. One drawing that stands out is Hesse's drawing No title from 1963, a colorful work on paper in a frame made by LeWitt. Abstracted imagery dots the paper with shapes that might eventually influence her sculptures, but in this piece, they live together as a cast of characters. Unfortunately, and probably due to the fragility of her later works, none of her better-known latex, fiberglass and plastics sculptures are included.
The most compelling section includes Hesse's graph-paper drawings and LeWitt's wall drawing to her. Many of these works were gifts the artists gave each other. About halfway through the exhibition, one can pause to read a dense five-page letter from LeWitt to Hesse while she was in residence in Germany. The letter attempts to alleviate Hesse's self-doubt about her work, with LeWitt pushing her forward with long ramblings such as "…just stop thinking, worrying, looking over your shoulder, wondering, doubting…"
This letter, which is in its own right an artwork, solidifies how influential he was on her as she continued to make the work she wrote him about. However, leaving the exhibition, it seems that without the influence from Hesse's much more experimental and less rigid practice, LeWitt's work might have suffered from too many straight lines.
—RACHEL ADAMS
---
Converging Lines: Eva Hesse and Sol LeWitt
Blanton Museum of Art
Through May 18