Malpaso Dance Company performs through the Society for the Performing Arts on April 30 at Wortham Center.
Photos by Robert Leon.
---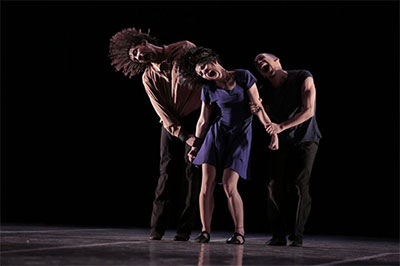 Cuba's Malpaso Dance Company made a strong impression on me when I saw the company at Jacob's Pillow Dance Festival last summer in a program of works by Malpaso artistic director Osnel Delgado and Trey McIntyre, whose Texas roots run deep. I had the great pleasure to spend time with Malpaso executive director Fernando Saez at the Pillow and was thrilled to learn he would be coming to Houston for a Society for the Performing Arts show. Malpaso performs on April 30 at Cullen Theatre, Wortham Center in a program that includes works by McIntyre and Delgado. I caught up with Saez below.
How did Malpaso get started, and tell us a bit about the significance of the name?
FERNANDO SAEZ:  The company was founded in December 2012 as a non-profit independent organization. We are a contemporary repertory company with a resident choreographer, and can be also approached as a collaborative experience in contemporary dance making. Malpaso can be translated as Misstep. It comes from the advice of many people that told Osnel Delgado about the misstep that he was about to take when decided to leave the established ensemble Danza Contemporánea de Cuba (DCC) after eight years as one of the leading dancers of that troupe, and at the peak of his dance career. He followed his wish of looking for more space to develop his choreographic voice and left the company in 2011. It made sense to us as it is not pretentious and connects with irony, and to the right of failing that is deeply related to authentic human and creative adventures.
Give us a taste of artistic director Delgado's work? What should we expect?
Strong, demanding physicality, blending various movement and dance traditions, having as its core the dense Cuban cultural and dance background we come from and belong to. Embedded you will find the will of developing narrative structures with ostensible theatricality.
How did the company connect with Arturo O'Farrill and the Afro Latin Jazz Ensemble? It will be the second time the group has been here this season, they were here with Da Camera earlier.
We met in a meeting at a BAM's office in 2013 not directly related to any dance project. Arturo's music has a profound power of evocation and theatrical quality that fits organically with our dance vision. We also share ideas about artistic and cultural matters that make our collaborations an enriching artistic, intellectual and human venture. We are developing our third collaboration: Arturo is composing the score for our next production: Dreaming of Lions, a 60 minute work by Osnel Delgado in collaboration with the dancers based on Ernest Hemingway's The Old Man and the Sea.
It's truly exciting to have Trey's work back in Houston, as he got his start right here at Houston Ballet. Can you talk about McIntyre's work for the company?
Under Fire, co-commissioned by the Joyce Theatre and Jacob's Pillow Dance Festival, is deeply related to the circumstances of Trey's life right after the disbanding of his troupe. It is a metaphor about the human condition and fate. The process was so joyful that he gave another work (Bad Winter) to the company that is now also part of our repertory.
I had the great privilege of watching several of your dancers rehearse McIntyre's Bad Winter at the Pillow. I consider the piece one of his strongest works. I just interviewed him for Dance Magazine and he spoke about how wonderful it was to work with the company. He also mentioned that he thought it was a good thing that he did not speak Spanish. How would you describe watching Trey work with the company?
Relaxing and joyful. He is confident and easy going. Dance is an international code and somehow we belong to the same artistic dance tradition, so the language was not a barrier; on the contrary, it made the process as a whole meaningful and more than concepts in words, the process was about poetry in actions.
The company has been on tour for a while now. How are audiences receiving the company and the work so far?
We are in the midst of our fifth US tour, and in general the works have been always very well received by the audiences; it's very rewarding to perform almost always anywhere with full houses.
What other choreographers do you hope to bring to the company?
This May, we will develop our next collaboration with a guest choreographer, Aszure Barton, thanks to a NEFA NDP grant and the Joyce Theatre Productions.
—NANCY WOZNY