To lovers of opera, cheap it was a big deal to learn last year that Dallas Opera would be naming only their third musical director in the organization's 56-year history at the end of this season.
It was a very well-kept secret that even had insiders and the press guessing until the announcement was officially made by Dallas Opera General Director Keith Cerny at a news conference April 30. Many wondered if the opera would choose an American or look across the ocean for a selection.
The first musical director was Nicola Rescigno, an American born to Italian parents, who came to Dallas in 1957, after co-founding the Lyric Opera of Chicago in 1953. Next in the job was British-born and trained Graeme Jenkins. His 19-year-long tenure officially ended with the last performance of Dominick Argento's The Aspern Papers this season. There is some connectivity there, in that this opera was commissioned by the Dallas Opera when his predecessor, Rescigno, was at the podium.
Cerny kept the suspense until the very end, when he announced his decision and Emmanuel Villaume popped out of a door like the reappearance of a previously vanished subject in a Vegas magician's trick.
Villaume is not a familiar name to Dallas operaphiles. His only two podium appearances here were a performance of Gounod's Faust in 1998 and Mozart's The Marriage of Figaro in 2002. His French accent, which overlays impeccable English, adds an undeniable charm to everything he says.
The retiring Jenkins lists his residence as Dorset, which is on the southwest coast of England. However, in answer to a question about where he will live, Villaume said that he is apartment hunting in Dallas. "I have spent too long living in hotels," he said in a recent Skype interview. "It is time for me to put down some roots. When you spend your life living in hotel rooms all over the world, and you are asked 'where is your home?' there is an awkward silence. Now, I can say 'Dallas.' Besides, I can't stand dark winters," he added with a laugh.
This is very good news indeed.
A music director must have a connection to the community. We know full well that he will continue to guest conduct around the world, but we rejoice in his desire to become a part of our world. In fact, we want (need) him to conduct major orchestras and at prestigious opera houses and concert halls. This will add to the luster of the Dallas Opera. "I will guest conduct as much as time permits. I can hear talents that might work for Dallas. It will also spread the word about the exciting things that are happening here in the Metroplex."
He said that the Winspear Opera House played a large part in his decision. "You cannot have a world-class opera company without a world-class opera house. The Winspear is a very impressive tool for this company. It is acoustically superb and the size is ideal, especially by American standards. It is intimate, but has enough seats to be economically viable. Furthermore, it is in the center of a buoyant Arts District in the heart of the city. Such synergies are vital."
In his due diligence, Cerny wisely watched all of the possible candidates in both rehearsals and performances. A good performance with a conductor that then acts like a tyrant in rehearsals is a recipe for eventual disaster. Villaume obviously impressed Cerny in both arenas.
"I love to rehearse," he said. "Some conductors don't like to do it, but I love it because you can try so many different things. While there is something unique and special about a good evening between audience and performers, the process of working out all of the 'performance stuff' beforehand is where the creativity happens and the electricity is fashioned."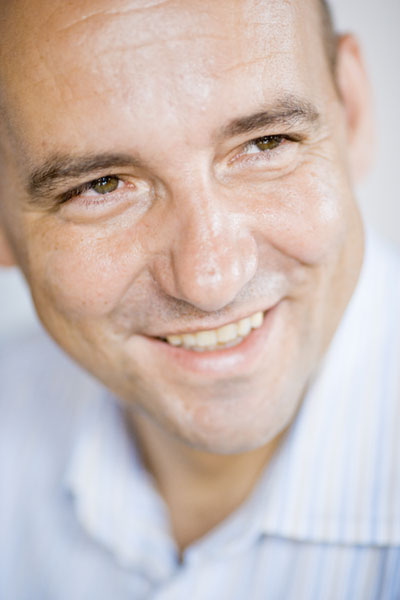 Villaume started out in the ballet, which is the most demanding of all conducting jobs and the least creative. It is the dancers that dictate the tempo, not the conductor.
"I learned a lot by doing ballet," he said. "The Ballet di Monte Carlo needed a conductor that did the symphonic repertoire and I was available. With dancers, you have to remember tempi precisely because they only move as they are able. You are obliged to do a masterpiece at a tempo that may be wrong in your opinion, but you still have to make music within it. In some ways, this is the same as in opera. The singers may need a certain tempo in order to have the voice to finish a phrase or negotiate the runs. Why would you do something different?"
So, the remaining big question for an internationally famous conductor is …why Dallas?
"Well, first of all, there aren't that many American opera companies with a vacancy at the top," he said with a Texas-sized grin. "Dallas has great traditions but it also has an exciting future," he said. "One can feel that things are sizzling. It is best to come into a house that wants to go to the next level, rather than one that is just trying to hang on."
The management that is in place at the Dallas Opera was also an important part of his decision.
"The talks I had with (General Director and CEO) Keith (Cerny) and (Artistic Director) Jonathan (Pell) were impressive. There are way too many examples of companies that fail because of structural infighting. The personalities that are involved are very important. I have known Jonathan for years and am very impressed with Keith."
We Dallasites completely agree.
Chorus Master Alexander Rom has worked with his new music director in the past, and was very impressed with him onstage, and off.
"Emmanuel and I worked together on Marriage of Figaro and Faust. I recall a very enthusiastic, energetic, and excellent musician, kind and personable. I also think he speaks four languages fluently, which is critical in opera. He is also very well educated in areas other than music and has a rounded personality. One thing I remember is that he cooks very well, and I remember an occasion when he was elaborating about the importance of different sauces in French cuisine. This alone makes him my best friend."
Perhaps Villaume's personable and affable nature, not to mention his French accent, is the "secret sauce" that explains the universally high regard in which he is held professionally and personally. In much reaching out in the profession, it was impossible to find a single person offering anything other than high praise about him. In the friendly, but cut-throat opera world, this is not only an anomaly, it is a virtual impossibility.
However well-regarded, Villaume must fit into the future that Cerny envisions for the Dallas Opera. Here, too, we have a synergy.
The upcoming season is the first one that Cerny actually planned and, thus, tells us a lot about the future. It opens with Bizet's Carmen, arguably one of the most popular operas in the world, with Villaume making his debut in the pit. (This is purely serendipitous, since seasons are planned more years in advance than Villaume was engaged.) Next, something new – Death and the Powers –a science fiction opera by MIT Media Lab's Tod Machover (that involves robots and a downloaded consciousness).
Korngold's Die tote Stadt, which follows, took the opera world by storm at its premiere in 1920 but has only had sporadic productions ever since. This tale of obsession with a lost love is loaded with beautiful late romantic music, but also sports a chorus of self-flagellants. The season ends with Rossini's Barber of Seville, a show warhorse if there ever was one. Thus, we have four main stage operas next season: two standards, one odd-ball revival, and one new futuristic vision.
"I think this is a perfect season," said Villaume with obvious sincerity.
This bodes well for a fruitful and creative partnership of both the general and music directors going forward. The future of opera in Dallas is depending on it.
–GREGORY SULLIVAN ISAACS