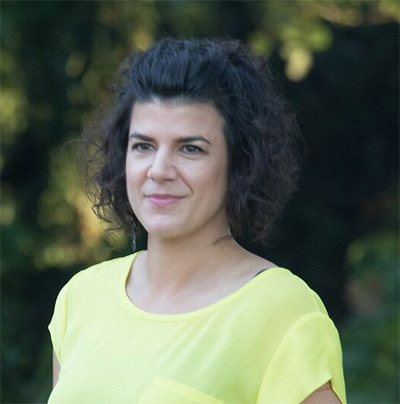 I walked into the Jones Center on a Monday to meet with Heather Pesanti, senior curator of The Contemporary Austin.  Daylight poured into the room through glass walls and darkness flowed out from beyond the elevators and the second floor. The museum was quiet and people on the street outside hurried past.
"I don't feel Texan and Texans wouldn't call me Texan. I feel like a Yankee in the state of Texas. I have different mannerisms and different ways of communicating," says Pesanti. "It's all been a learning experience for me."
Pesanti joined The Contemporary in 2013 shortly after Austin welcomed Louis Grachos, the Ernest and Sarah Butler Executive Director. Before this, Pesanti was curator at Buffalo's Albright-Knox Art Gallery and, prior to that, was an assistant curator at the Carnegie Museum of Art in Pittsburgh. Pesanti spent most of her childhood in Avon, a small town in Connecticut. Her parents often piled her and her two siblings into the car for travels all over—from national parks to Chichén Itzá and Tulum.
"Austin is definitely its own little animal," says Pesanti. "In Buffalo and Pittsburgh art is very old—Contemporary Art. Both the Carnegie and the Albright-Knox are two of the oldest art museums. We're talking a century that that city has lived with the idea of having world class art there."
In 2013, Pesanti joined an institution that was starting a new cycle. She brings her curatorial ideas to a mix of projects the museum commissions in an effort to shift Austin's national reputation towards one that includes visual art. The Contemporary has thrown its energy into rebuilding all aspects of the museum. Beginning this summer, The Contemporary will undergo a major renovation and expansion. In 2013, the museum received a grant for Laguna Gloria (now the Betty and Edward Marcus Sculpture Park), which has visibly brought a rotation of new art to the grounds. The investment in the sculpture park, in a city that receives over 200 sunny or partly sunny days a year, shows the thoughtfulness of The Contemporary's vision. On weekends, Pesanti is often seen on the route of openings throughout the city.
"I have always spent a lot of time in the community. It makes me feel grounded. As much as the art community might want to feel they have a contemporary art museum that is paying attention to them, I want to feel like I have a community of art people that cares about me," says Pesanti. "I want to be engaged with them as much as they might want to be engaged with me. It makes it feel more meaningful wherever I am."
What assures me about Pesanti is her drive. Her resume reads like a straightforward trajectory: undergraduate degree in art history, master's degree in Ethnology and Museum Ethnography from the University of Oxford, master's degree in Modern and Contemporary Art from the NYU Institute of Fine Arts (IFA), curatorial fellow at the MCA Chicago, assistant curator of contemporary art at the Carnegie, curator at the Albright-Knox, and senior curator at The Contemporary.
But behind those steps were periods of uncertainty. Pesanti applied to Oxford alongside a scholarship to cover costs. She got into Oxford but didn't get the scholarship. After moving back to the states, Pesanti worked for a nonprofit that helped Michael Govan launch Dia:Beacon. This experience inspired her to go for another masters at NYU IFA. "IFA was totally brutal. It punched me in the gut a few times," says Pesanti. The fellowship at the MCA Chicago was unpaid so she lived with family and commuted 2 ½ hours each way. Then while she waited to hear back from the Carnegie, she spent four to five months living in her sister's basement.
"It wasn't seamless. In between (MCA Chicago and Carnegie) I wanted to not get distracted and to stay the course," says Pesanti. "It's important to hear that it's not seamless and sometimes you have to find a way to wait it out. So that's what I did. I moved in with my sister—I nannied and waitressed while I waited to see if I got that job."
Pesanti's tenacity plays its part in the passionate team that Grachos has built. And it is tenacity that everyone in the arts needs to even dream of success. Next from Pesanti, we will see work by Polish artist Monika Sosnowska who will introduce the new exhibition space at the Jones Center in November.
"It's exciting to tap into the Eastern European community and bring new work by a young but important Polish artist to Austin for what she considers her first major U.S. museum exhibition," says Pesanti. "She has exhibited in other museums, but the breadth and scale of the project, as well as the incentive to make major new work, feels like the next chapter for her. This is part of our mission—to encourage and support significant artists who have been perhaps less shown and are ready to try new things and move into the next chapter of their work."
—THAO VOTANG