Why does the Dallas Symphony mount its annual Soluna music-and-arts festival?   Not because it wants to escape the proverbial same old thing. For an orchestra, "the 'same old' is fantastic," president Kim Noltemy says. With Soluna, the group is thinking bigger.
"We believe the orchestra should be at the center of what matters to society," Noltemy explains. In this year's festival, running April 4-28, an oratorio paying homage to Pennsylvania coal-mining towns will dramatize the social and economic upheavals that are transforming U.S. life. Dancers and projections will help a jazz ensemble summon art's healing power in the face of gun violence and other social ills. A chamber ensemble, including a 50-foot-plus string instrument in tandem with an aerial sculpture woven from fiber, will envelop an audience in sights and sounds.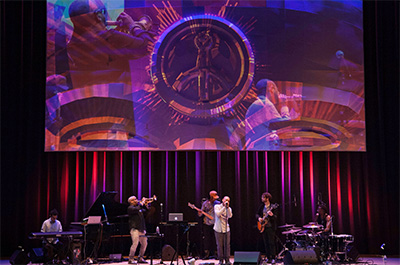 "We have to continuously push the envelope in order to connect the average citizen with our art form," Noltemy explains. That means marshalling other Dallas groups as well as guests from far away for a festival embracing music, visual arts, dance, theater and more. Spread across venues in the Dallas Arts District and beyond, the panoply of offerings help the orchestra reach new people "when they're enjoying something else they like, whether it's visual arts or dance or jazz."
Soluna draws an audience that's younger and more diverse than the Dallas Symphony's usual concertgoers, says Gillian Friedman Fox, the orchestra's director of contemporary and Soluna programs. Last year's festival drew about 55,000 people, and two-thirds of them were new to the orchestra's database.
In keeping with Soluna's original goal of showcasing other Dallas groups, especially those in the arts district, the orchestra shares the spotlight in this year's edition, too. Dallas Black Dance Theatre's Encore company premieres a new work by My'Kal J. Stromile, a Boston Ballet II dancer who graduated from Dallas' Booker T. Washington arts school. Dallas Theater Center performs Shakespeare's Twelfth Night, and Dallas Opera stages Verdi's Falstaff. Voices of Change performs a modern-music program, and Verdigris Ensemble premieres a choral work by David Ross Lawn based on poems by local writers.

Performing alongside Bang on a Can All-Stars, a top new-music group, Verdigris Ensemble will also take part in one of Soluna's headline events: the Texas premiere of Julia Wolfe's Pulitzer Prize-winning Anthracite Fields. Wolfe's oratorio honors the workers and history of her native Pennsylvania's coal-mining region, using texts that range from oral-history interviews to a coal advertisement to an impassioned speech by a long-ago union leader. Archival films fill out the picture.
"It's a piece about the evolution of society at the broadest level," Noltemy says. Jobs in mines and factories once helped power the United States' middle class, but that now has "changed dramatically. … It's the kind of piece that makes you think about all the things that are happening in the U.S. these days."
The turbulence of contemporary life also propels Caravan: A Revolution on the Road, a multidisciplinary jazz work that Soluna will give its world premiere. Spearheaded by composer-trumpeter Terence Blanchard, Caravan grows from concert tours and community discussions Blanchard has focused the subject of violence by and against police. Now the project is expanding: Legendary Hip hop choreographer Rennie Harris' Puremovement will embody the issues through dance, and visual artist Andrew Scott will widen the perspective via projections of video, photographs and computer-generated images.
"The three of them want to create a piece that talks about their shared experience, and hopefully bring healing to the whole country on the (post-Soluna) tour," Fox says. Blanchard will also take part in a panel discussion about activism and the arts. And he'll attend a screening of Spike Lee's BlacKkKlansman, then discuss his longtime collaboration with the director in composing the scores for Lee's films.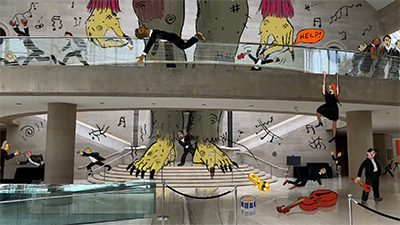 In what's sure to be a new experience for most any arts lover, a program titled The Language of Nature will feature The Long String Instrument, brainchild of composer Ellen Fullman. Stretching more than 50 feet across a room, the instrument releases its ethereal sounds when the player plucks the strings or even walks the length of the instrument rubbing them. An ensemble of Dallas Symphony players will join in alongside composer-performers Fullman and James Talambas, and a fiber sculpture by Sheryl Anaya will stretch above, running the full length of the supersized instrument. The audience will sit all the way around.
"It creates a really immersive, beautiful environment to hear music in," Fox says. "I think people are going to be really excited about the full 360 degree experience." (Fullman also performs in Houston's CounterCurrent festival, April 11 and 13)
Down a more whimsical line, Icelandic artist Egill Sæbjörnsson will recreate When the Trolls Go Marching In, a giant multimedia installation he unveiled at the 2017 Venice Biennale. It features two 118-foot trolls that come alive thanks to animoji-like projections, Fox says. As the show unfolds, it turns out that they're curious about classical music, so the Greater Dallas Youth Orchestra will perform.
"I've heard some of the music," Fox says. "It's like no classical music you've ever heard. It's really fun and edgy–kind of like classical music goes rock."
Soluna will at time put the Dallas Symphony and its musicians front and center, of course. The audience will sit onstage with a chamber group in the annual "A Musician's View" program, which not only gives listeners an up-close-and-personal view of the performance, but lets the players share their individual views about the music.
The festival also spans four of the orchestra's classical-series programs. One of them will feature Italian conductor Fabio Luisi in his first Dallas Symphony concerts since the orchestra named him its music director designate. Bridging iconic repertoire and neglected Americana, Luisi's program will include Beethoven's Symphony No. 7 and the Poem for Orchestra by African-American composer William Grant Still. After he steps into the music director post this fall, Luisi will become a new influence on the festival.
"I was talking to Fabio before we had finalized the contract or anything," Noltemy says. "Since he's extremely renowned as an opera conductor, he is very much into connecting the visual arts with classical music, and expanding the creative experience. For him, Soluna is a great opportunity to implement some of his ideas."
-STEVEN BROWN