FOUND, directed by Brenda Cruz-Wolf and choreographed and performed by Daniela Antelo.
---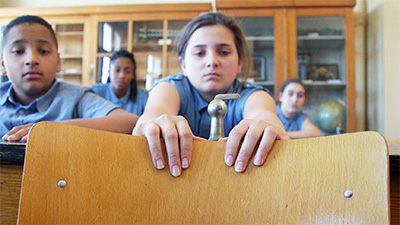 I'm convinced that most spaces can be improved by the presence of a few dancing bodies. The Third Coast Dance Film Festival's 12 short films proved that fact and more in their recent showing at Aurora Picture Show on Oct. 7, 2016.
Curated by Lydia Hance, Jennifer Keller and Rosie Trump, Third Coast is now a well known festival born right here in Texas at Rice University, while Trump was running the dance program. After taking a hiatus from Houston last season, it has found a cozy home at Aurora, where a dedicated group of fans showed up to see this collection of dance films.
Each film had something to offer in terms of striking visuals, unusual settings, snappy dancing, or any combination of these factors, along with some level of tension between the dancing body and the surrounding space. Here are a few highlights of the 2016 festival.
Spirit of the Festival Award Winner Klasse unravels in a 1938 classroom in Hamburg, Germany. Directed by Malia Bruker with choreography Hannah Schwadron and the cast, Klasse used gestural motifs to create a haunting experience of loss. The mix of professional dancers and children added to a conversation across time. Here, the space is heavily embedded with memory, while the movement remained contained and highly personal.
Besties, directed and choreographed by Marta Renzi, oozed a bubbly vibe. Who doesn't want people to start falling over your couch in unison at their parties? We follow besties Mica Bernas and Caitlin Roben throughout the interior of chic urban apartment while they mingle, connect with others and each other to sassy vocals by Marisa Monte. Cari Ann Shim Sham's cinematography added to that feeling of being inside of a relationship. Watching Bernas and Roben simply spill into Renzi's uber natural movements is pure joy. Renzi actually invites the viewer to the party in Besties.
Best of Festival Award WinnerPromenadetakes us inside Le Corbusier's Curutchet House in Argentina as a group of sleek dancers fully inhabit every corner of this iconic architecture. Directed by Cirila Luz Ferron with choreography by Florencia Olivieri, Promenadecreates a vibrant tension between shape, motion and an intricate interior space.
Not all bodies need be present in any traditional form. Kristen Lauth Shaeffer's 349, the only animated film in the festival, used drawings from many hands to make its point on the power of movement embedded in the slightest change of image. 349 was choreographed by Sarah Parker and performed by Jessica Marino and Parker with music by Little Warrior.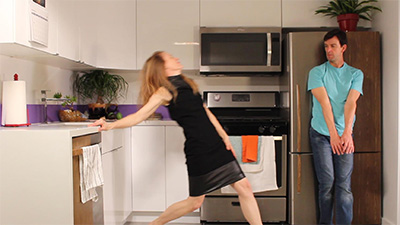 Best of Festival Award Winner 3 Conversations takes place in a sleek ultra modern kitchen, which transforms into a dramatic container for a relationship under director/choreographer Rebecca Salzer's hand. Performers Liz Burritt and Liam Clancy create mesmerizing tension in and around the refrigerator, dishwasher and the sink in Salzer's clever film.
Brian Johnson's Inheritor Recordings finds a strong connection between dance and place as Company 605's rugged choreography matches the raw interior of the historic BC Sugar Refinery in Vancouver, BC.
Best of Festival Award Winner FOUND featured a Houston-based creative team of Daniela Antelo (choreographer/dancer) and Brenda Cruz-Wolf (director/editor), and dwelled in a much more subtle connection between space and the moving body. A series of still-life vignettes of Antelo, a television, windows and a door on a couch set off a series of mysterious antics. Cruz-Wolf's use of stillness added drama as the piece unfolded in a series of white rooms. Although it's the most elusive of the bunch, I found FOUND the most compelling of the evening. No fancy interiors here. I appreciate how much intrigue they stir up with mundane objects and nondescript settings. Perhaps Antelo and Cruz-Wolf are proposing a body lost in space. Either way, it's fabulous.