NobleMotion Heads Back to the Studio for a Hobby Show
While other companies go on hiatus during the summer months, NobleMotion Dance dives deep into intense rehearsal for their early September show, "Collide: An Evening of Collaboration", at the Hobby Center. The NobleMotion aesthetic is defined by a relentless physicality combined with powerful visuals. Artistic directors Andy Noble and Dionne Sparkman Noble caught up with A + C editor Nancy Wozny for the scoop on the September show.
Arts + Culture: What is NobleMotion Dance all about right now?
Andy Noble: Collaborations! It has always been part of our mission to collaborate, but our upcoming evening, "Collide," really puts an emphasis on it. Of course we include our trademark technology and light design, but we are also bringing in a post-rock band from Austin and a slew of guest artists. With 34 performers, we are going to bring that stage to life.
Dionne Sparkman Noble: We are also concentrating on organizational growth. We recently graduated from the Houston Arts Alliance Pre-Incubator program, a crash course in running a not-for-profit, and have learned a tremendous amount.
A + C: I'm curious about your choice of the Hobby Center. I see you in a grittier, more urban setting.
AN: Simple, really: we like to take risks. I'm super pumped to bring something grittier and more raw to the refined Hobby Center. We will be able to showcase some of our larger works and hopefully reach a new audience. I think this sends a pretty clear message that NobleMotion is growing and on the rise.
A + C: What's with all the collaborating? Don't you ever get the urge to be the only boss?
DN: Because Andy and I both run the company, we are challenged to collaborate every day;  it's like having a third child — a really troublesome one that's too big for its britches. Surprisingly, it is not that hard to add another party into the mix. There are not many dance companies out there with two artistic directors. People always ask us who is really in charge, and we just look at them and say we both are, and I can tell that they don't get it. Somehow it works for us and translates well into collaborative ventures.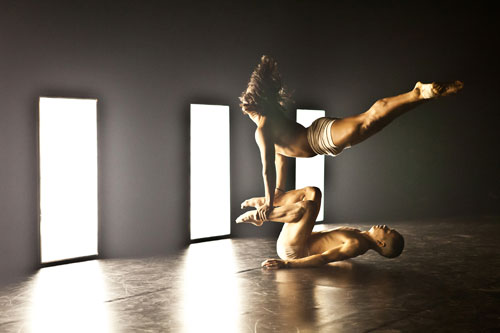 A + C: How did your paths cross with Austin rock group My Education? How do you see them as NobleMotion-ers?
AN: We were premiering Photo Box D at the Big Range Dance Festival in Austin in 2010. The last section contains a musical score by My Education. We had always been fans of their music but were unaware that they were based in Austin. As fate would have it, one of their band members, Brian Purrington, came to that show. He was so taken with the work that he wrote us a nice little email.  One thing led to another and eventually I asked My Education to collaborate with us. We are really excited to perform live with them. Their music is haunting and raw, while still having a refined quality. I think that description sounds a lot like NobleMotion.
A + C: I'm happy to see you are continuing to work with David Deveau, but honestly the description of your new collaboration with him made my head hurt. What draws you into these heavy production projects?
AN: Our newest collaboration with David incorporates movable walls, real-time projection design, and crazy athletic movement. We are really excited to show off this work; it has quite a few surprises that should appeal to a broad audience.
DN: We like to tell stories; create worlds that our audiences have never visited. We also are in the unique position to be able to add technology and light design; not everyone has the resources to accomplish this.
A +C:  Andy, you describe your new work for 15 male dancers, Maelstrom, as  "Fight Club meets contemporary dance." That's a lot of testosterone. Your work is nothing like the endearing family man and caring dance professor I know you to be. Could your shadow self be coming out here?
AN: I didn't want any women in the room, including my wife. I wanted to let the men out of the cage. Maelstrom is raw energy; it is athletic and unencumbered. It really reflects man's internalized struggle to conform to modern-day societal norms. As men, we don't always want to be sensitive metro-sexuals; sometimes we need to beat our chests and scream at the wind. If you enjoy the camaraderie of screaming at sporting events, you will like this work. I guess I'm a walking oxymoron. I always jokingly say that a dancer is just a sensitive athlete.
DN: I stay as far away from the rehearsals as possible, but secretly I get super excited the moment the curtain opens and we get to see men being men on stage in such a thrilling and raw way!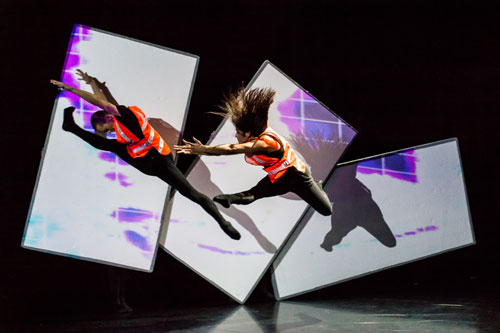 A + C: Jeremy Choate's sudden death hit the dance community hard, and I imagine it was especially difficult for both of you, as you had worked so closely with him. What can you share about the process of Photo Box D, a work that literally put NobleMotion on the dance map?
AN: Jeremy was a founding member of NobleMotion and played such a pivotal role in our development and success. What's so special about Photo Box is that it was our first collaborative work with Jeremy. I don't think any of us knew what we were going to create initially. It only took us two rehearsals to find the intersection of dance and light; we could make dancers disappear instantaneously on stage. Jeremy had this quiet and thoughtful intensity. But I knew right away by the smile on his face how excited he was by our discovery.
A + C: Besides a willingness to drive to Huntsville, what does it take to dance for your company?
AN: I posed this very question to our dancers and the two answers they gave me were "beast-mode, " and "being able to dance in the damned dark." I'm guessing you can pick up on the sarcasm in the second answer. We think of our dancers as collaborators, so we always want that artist who will be creative in the moment and have a strong point of view. We want individuals who are emotionally and physically connected to their body.
---
NobleMotion Dance
Collide: An Evening of Collaborations
Hobby Center
September 6-7