Daniel Proietto in Simulacrum, by Norwegian performance company, winter guests directed by Alan Lucien Øyen, which will be performed as part of CounterCurrent17, presented by the University of Houston Cynthia Woods Mitchell Center for the Arts.
Photo by Erik Berg.
---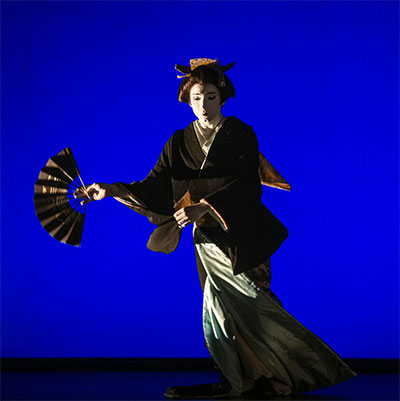 The award winning choreographer and dancer Daniel Proietto makes a double festival stop in Houston this April, as his solo, Player, is on Dance Salad's lineup (April 13-15), and he is appearing in Simulacrum by the renowned Norwegian troupe winter guests, as part of CounterCurrent 2017, the annual multi-disciplinary festival presented by University of Houston Cynthia Woods Mitchell Center for the Arts (April 18-23).
Like many artists, Proietto navigates the jobs of performing and choreographing. Dance Salad fans may remember his remarkable performance in Sidi Larbi Cherkaoui's Faun in 2011, or his riveting solo Cygne, danced by former Houston Ballet dancer Samantha Lynch in 2014. This year, his ballet Player calls on the talents of American ballerina Whitney Jensen.
Dance Salad founder and artistic director Henderek is excited to have Proietto back. "Daniel's ballet grabbed me because of the great music, striking solo dancing and the vividly designed background film that fills the full screen in back of the dancer," says Henderek.
Proietto will stay in town for his performance with winter guests. Simulacrum, directed by Alan Lucien Øyen, is a duet between 76-year-old Shōji Kojima, who moved to Spain from Japan to become a master of flamenco, and Proietto, who is also trained in Kabuki. Mitchell Center program director Pia Agrawal found the piece an ideal fit for CounterCurrent when she saw it at the University of Maryland. "Simulacrum is such a strong representation of what the CounterCurrent festival is after: it's interdisciplinary, intercultural, international, intergenerational," says Agrawal. "It's storytelling that resonates with both stark beauty and complex identities. It's storytelling that spans decades but feels more relevant than ever." I visited with Proietto via email about his upcoming double visit to Houston.
We are thrilled to have you at two Houston Festivals, but let's have a quick catch up. Are you moving more toward being a full-time choreographer?
I've been doing a lot more choreography lately with Vienna State Ballet, Cuban National Ballet, the Norwegian National Ballet, and as Alan Lucien Øyen's assistant and co-creator with the Gothenburg Opera Dance Company, among others. I've been focusing more on my acting projects and my Kabuki studies, so definitely I'm doing less projects as a dancer. But I've also got some great dancing gigs ahead this year, like Simulacrum  at Chaillot in Paris, AfterLight by Maliphant at London's Coliseum and We Two Boys, a duet I made for Ivan Putrov and myself for Kiev's National Opera.
It's interesting that you are bringing another solo to Dance Salad. The last time your work appeared on the Dance Salad bill, you stole the show with Cygne. Tell us about the new solo Player.
Player is different than Cygne. The original music by Mikael Karlsson is epic (very loosely based in Ravel's Bolero), and sets the mood for a kind of ritual, which is also suggested in the video design. The movement is a lot more energetic and demanding technically. It was made for Osiel Gouneo and Whitney Jensen, two great dance virtuosos. I mixed more techniques than before and used a larger range of qualities, as the music sections all have very different characters. I created a huge physical challenge to the dancer on stage, as a way to explore drama and the ritual of performance through the relentless fight the performer puts up. It's fun having these two dancers who are really strong and push themselves to their limits.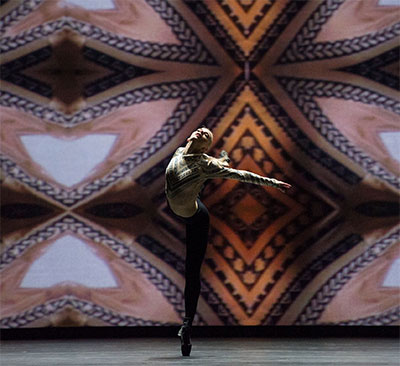 Whitney Jensen, like Samantha Lynch, is a one-of-a-kind dancer. Give us a glimpse of your synergy with her.
Whitney is beyond dreams. In the studio, she's willing to try it all, which is so liberating and inspiring as a creator. I'd like to develop many more works with her. She's so incredibly versatile and dedicated, and we laugh a lot in the studio, which is a must in any creative relationship.
How did your path cross with winter guests?
Alan [Øyen], winter guests and I have developed tightly from the beginning. I've been together with Alan for 14 years, but besides being family, we have been working together for 12 years now. He made his first work for me, a 20-minute solo. So I'm kind of the first winter guest I guess. Since then, we have made many works together. And Alan always challenges me into new territories, from acting in theater and film, to dancing Le Spectre de la Rose, and now doing Kabuki Buyo. He's my closest and dearest collaborator and the person I most respect in our business. And it's great to be able to work with someone you love, it's intense and passionate.
I had no idea that you studied Kabuki, but now thinking about about Cygne, there was a slowness and deliberateness to that piece. I want to know more about your training.
Kabuki also encompasses quick and complex movements, but perhaps that's not the most known side of it. I've been studying traditional Japanese dance for five years, going regularly to Tokyo to train with one of the most prestigious schools, led by master Kanjuro Fujima VIII, who choreographed an original work for me, which is the second act of Simulacrum. I became intrigued by the intricacy in the coordination, the delicacy, the detail and the beauty of Kabuki. I'm not the only artist to pay attention to this old traditional art, Robert Wilson for instance, have been intensely influenced by it. There are so many tools that enrich my performance and choreographies, and they inspired me and trigger new directions in me. I feel extremely lucky to be in the hands of some of the best in Kabuki, Kanjuro Fujima VIII, and my sensei Aya Fujima are among the top dance experts in this tradition.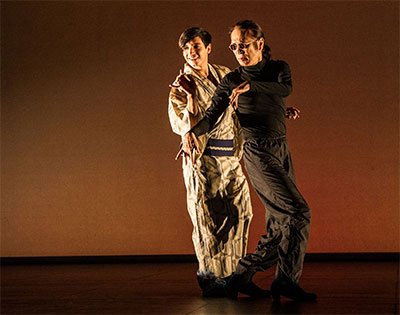 What's it like to work with Shōji Kojima?
Shōji is such an inspiration. At 77 he jumped into doing contemporary dance, text and singing on stage! That fearlessness is extraordinary. It is such a joy to share the stage with someone so experienced. It's enriching, but also humbling. I get very moved when I'm with him on stage. I feel privileged. He embodies passion and discipline in equal terms and he's very generous with me.
How do you see Kabuki and Flamenco existing in the same space?
Their roots are similar in that both were associated with the popular and not the elite. Stylistically they share sound (guitar/shamisen, cantaor, chanter), the attention to costume-dance, which is very integrated in both, and in movement the circularity, the centralization of the bailaor/main character and the hands for instance, just to give you a few rough examples of their similarities. But in the particular case of Simulacrum, it is the question of authenticity that unites both. And this is very relevant in the times of new nationalism.
Yes! This feels like a timely piece as borders, barriers and identity politics are very much on our minds here in the states.
I never thought of borders as barriers of any kind. When I'm confronted with them I look as deep as I can and learn from them. Most Japanese don't understand why would I be interested and how is it possible to do something as intrinsic to the Japanese as Kabuki Buyo, but in that transformation lies the challenge I look for in every step I take in my career. It's only in the limits of what we think is impossible and wrong that I want to be exploring ways. This happens in science all the time, for instance. Therefore, this shouldn't be just timely, to me, this should be norm in art and I try to show this with my choices in work. I'm a very "free spirit," an idealistic dreamer but also a pragmatic hard worker, and I hope this can inspire others to try to think what borders really are and free themselves from any restrictions.
What's your big dream?
I'd like to lead a company, so I've been working closely with an artistic director who's mentoring me and advising me as I develop my vision.
—NANCY WOZNY