Danielle Georgiou Dance Group presents NICE at the Wyly Theatre (Elevator Project), Nov. 13-23. Photo courtesy of DGDG.
---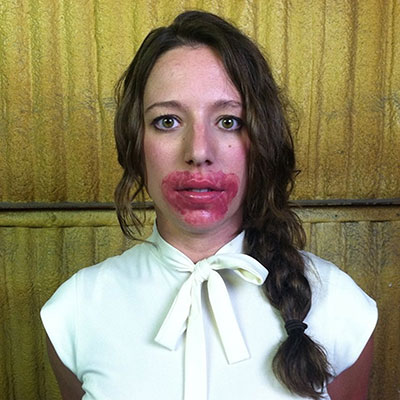 Danielle Georgiou moves into the Wyly Theatre, 6th Floor Studio Theatre, as part of the AT&T Performing Art Center's Elevator Project, Nov. 13-23, for NICE, a new immersive dance work created in collaboration with Justin Locklear (script and conceptual design), Joshua Nichols (assistant choreographer), J. Paul Slavens (composer) and the dancers of Danielle Georgiou Dance Group. She visited with A + C Dallas Dance writer Manny Mendoza about the new piece.
A+C:  I think I understand what you're trying to get at with NICE, this idea of how our behavior is sometimes determined by societal expectations and we wind up hiding our true feelings/nature. I wanted to ask how you are  going to show this on stage? In other words, describe what happens in NICE. I'm particularly interested in how the audience will be brought into the performance.
DANIELLE GEORGIOU:  Without giving too much away, because we do want to keep you all on your toes, we will be opening up the audience to process choreography in a way that doesn't rely on the traditional relationship between performer and spectator. Building on that, the audience will have a direct impact on the structure and soundscape of the show. It will be a new experience for us, and I hope a very new sensation for our audience. DGDG always encourages audience participation, and this show will be pushing those boundaries. With our Kickstarter campaign, donors have the opportunity to have songs written about them, which would then be included in the show. Further, much of the dialogue of the show came from Emily Post and her rules for etiquette, and we explore how that translates into present day.
A+C:  Who is that in the photo with the smeared lipstick and why is her lipstick smeared?
DG:  That would be Haylee Barganier. In the scene from which that image comes, Haylee's character is preparing for a formal dance and, well, the excitement/pressure gets the best of her. Her makeup almost becomes a mediation and ends up taking on a life of its own. We want to look our best, don't we? Because, when we look our best, things just seem to go right, or so they say. What happens when you trick your mind into thinking you're having a good time? That's what we're trying to get at with NICE.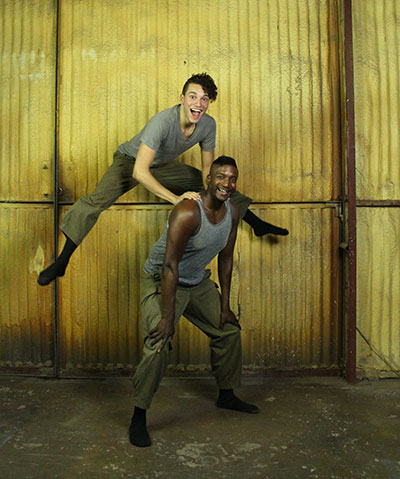 A+C:  The formal dance reminds me of Dirty Filthy Diamonds. Does NICE somehow build on your previous works, such as Diamonds and What This is Not About?
DG:  While NICE references a formal dance, it is not as much of a plot point as it was in Dirty Filthy Diamonds. Much of our source material is from Emily Post, and for her, the etiquette of social dance is a common topic. Since we are, after all, presenting dance, we find the discussion of how one should approach a dance satisfyingly meta-theatrical. The work of DGDG often deals with social anxiety and the impression left by pop culture. While Dirty Filthy Diamonds and What This is Not About dealt with more contemporary material, NICE reaches just far back enough to address some of the foundational dark material still thriving in our culture.
A+C:  I see that J. Paul Slavens is involved. What's his role?
DG:  Paul is composing original music for the production. He will also be playing live at the show and is an integral part of piece. He was a great source of inspiration and in some ways my muse for the tone, tempo, and setting of the show. Paul, Justin, and I worked closely to create just the right mood for this show, and Paul contributed some of the archival songs and dialogue that we are utilizing.
A+C:  Is he playing solo or is there some kind of live band? And tell me a little about the archival music.
DG:  We love Paul! He has an amazing process, from his constant ingenuity to his diligent editing and sound manipulation. We haven't ruled out any options for the live music, but we will leave those decisions up to Paul. Through his many journeys down the rabbit holes of lesser-known music, Paul has collected eerie examples of the misogyny found in early 20th century music. These songs may sound antiquated at first listen, but the attitudes are often the same as music today – just not as "nicely" written.
A+C:  You seem like a really nice person. So what true feelings/motives are you hiding?
DG:  Well, I think that there is a major difference between being "nice," and honest/kind/open. Being "nice" is a cultural phenomenon which consists of editing your natural behavior to be agreeable. Over time, this editing creates a divide between a person and their actual thoughts and feelings. I strive to be honest and open, but I know at times I'm just being "nice." Working on this show is revealing a lot to me and the dancers about ourselves, about how we treat each other, how strong the words we say can be, and how difficult it is to not be "nice."