Michael Amoky and Artists of Houston Ballet Academy performing as French waiters in Stanton Welch's The Nutcracker, Dec. 10-23 at Smart Financial Centre in Sugar Land, and Dec. 30-Jan. 6 at the Hobby Center for the Performing Arts.
Photos by Amitava Sarkar.
---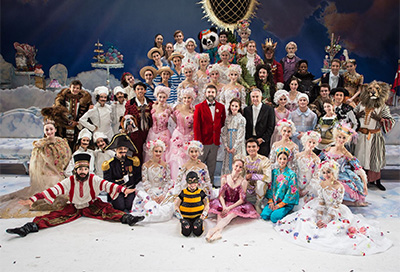 Stanton Welch framed his new Nutcracker as a coming-of-age story, with a young Clara at the center of his dazzling holiday ballet, now entering its second year. With that choice come dancers of all ages, including more than 100 Houston Ballet Academy students, some dancing on stage for the first time, others on the threshold of a professional career.
This holiday there are two separate venues to see all those talented young dancers in action as Houston Ballet's production of The Nutcracker has a double run, Dec. 10-23 at Smart Financial Centre in Sugar Land, and Dec. 30-Jan. 6 at the Hobby Center for the Performing Arts.
Traditionally, young dancers are a staple of Nutcracker productions, mostly in minor or decorative parts. But that would not do for Welch, who dared to give Houston Ballet's tiniest talent some standout roles—a decision that was met with praise by both fans and critics alike. Audiences will be delighted to find young dancers in surprising appearances as a polar bear guard or frog ambassador. Welch knew early on that, in order to make his ballet truly fantastical, he would need an army of dancing children. "Stanton Welch likes to involve more kids, so they are in almost all of the acts," relays 13-year-old Michael Amoky, who has been performing in Houston Ballet's Nutcracker since 2011 and, like others involved, understands the importance of his role in the production.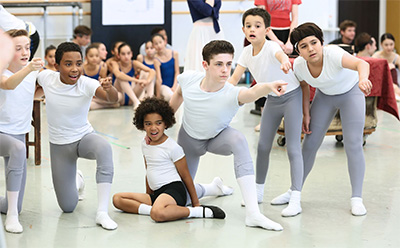 The same goes for Mary Clare Pincu, who performed as one of the adorable bumblebees last season. Her older sister Mattie had performed in three Nutcrackers, first as a party child, then a clown, and last year as the Chinese Doll. "I loved watching my sister in the ballet and dreamed of the day that I would finally get a chance to dance on stage with Houston Ballet just like her," says Pincu, who also performed as a scraggy samurai rat. At age nine, Pincu already has one Welch world premiere on her résumé.
However, it's not entirely fun and games for these youngsters, as being a cast member often comes with responsibilities, such as managing multiple roles. "In a professional production, you have to pay attention to instructions," insists Amoky, who performed in 11 shows as a party boy and a waiter last season. "It is so important because there are different casts, and if they're giving a different cast a correction, you have to know about it because it might be your part next."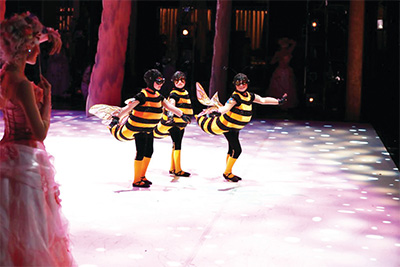 Much of the ballet's eye-popping magic can be found in Tim Goodchild's 282 whimsical costumes, each designed to amaze and astound even for the youngest cast members. With its big black and yellow stripes, Pincu found her bumblebee costume equal parts fun and funny. "We wore a super cool leotard with pads inserted to give us muscles like a body builder and funny tattoos down the arms," she says. "I looked like a 'biker bee' with my black gloves and tattoos. We also wore these awesome aviator goggles." But not all the costumes are designed to be gorgeous. Goodchild's rats are a case in point. He meant them to look scrappy and slightly deranged. Pincu agrees, "The samurai rat costume is creepy cool, and the fur is so realistic. My favorite part was scratching myself all over and making silly faces."
Even still, performing in these elaborate costumes is a factor these young dancers handle with professional prowess. "When you're dancing, the costumes can get really itchy once you start to sweat, while other times buttons might pop off and you just have to pretend like nothing happened," explains Amoky.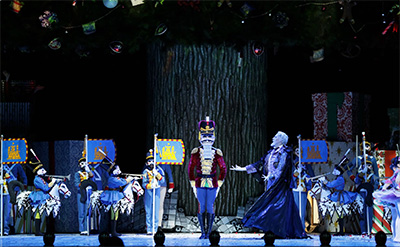 It's all worth it, though, when it's time to leave the rehearsal room and enter the theater, where some of these young dancers experience a world-class production from the inside for the first time. Although Amoky is an experienced Nutcracker performer, Welch's lavish ballet brought a new level of excitement. "It's the most amazing thing ever to see everything that is going on backstage, from changing sets to seeing the props in action, like the snow that falls," says Amoky. Pincu also found herself starstruck. "It was really cool," she says. "The sets are awesome. My favorite part was the Christmas tree growing and the presents bursting open."
Ultimately, performing in a Nutcracker isn't just about wowing the audience; it can be life-changing for the young dancers themselves. Amoky adds, "The Nutcracker will always hold a special place in my heart because it was the performance that solidified my drive to be a professional dancer."
—NANCY WOZNY
Reprinted with permission from the Houston Ballet Program Magazine.