Tamarie Cooper and the cast of Tamarie for President (Greatest Hits Vol. 2), with set design by Ryan McGettigan. Photo by Anthony Rathbun.
---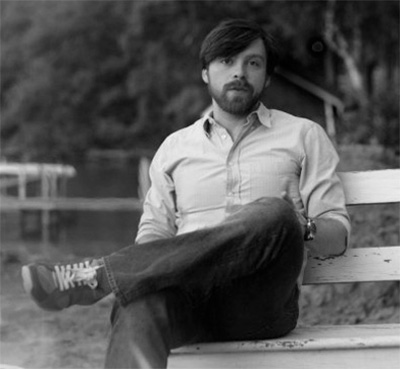 Set designer Ryan McGettigan's bold designs have graced the stages of many of the theater companies in Houston. Often seen at Main Street Theater, Stages Repertory Theatre, Classical Theatre Company, and TUTS Underground, each set is as different from the others as pudding and cake, but all include visual details vital to the production's success.
This summer, you can catch McGettigan's handiwork for Tamarie for President at Catastrophic Theatre in July 9-Aug. 6 at the MATCH, in Theatre Under the Stars production of Million Dollar Quartet at July 12-17 at Miller Outdoor Theatre, and at the world premiere of Wilde Tales, Aug. 9-18 at Glimmerglass Festival in Cooperstown, NY.
Set design is much more than a backdrop for the actors' lines. Good sets give you clues about the action even before the play begins. Think about the wild neon design for Marie Antoinette at Stages, the fluffy clouds behind the giant statue in LMNOP at TUTS Underground, and the box-within-a-set that provided focus for important narrative for Bound at HGOco. Each of those elements on its own would be wild and improbable, but within the productions, those sets melded with the rest of the designs of sound, light and costume to provide a nuanced framework for the actors' performances.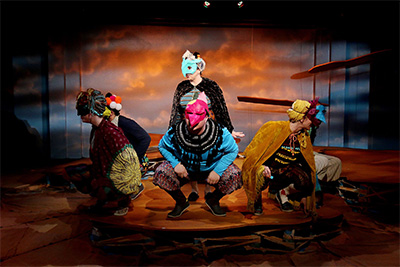 So how does a nice boy from New Hampshire grow up to design these crazy-good sets? Early theater-going cemented McGettigan's love for theater. "It's what it's all about, really," he says, "the excitement of being carried along on a journey with a room full of strangers. One of the most exciting ideas that I latched onto early was how interesting it was that everyone could be in the same room together, and experience entirely different things."
Growing up, he had a steady diet of theater, both as an audience member (his parents drove him to New York City several weekends a year to see Broadway shows — Go parents!) and as a student at Andy's Summer Playhouse in Wilton, NH. Coincidentally, Andy's did entirely new works written by established and emerging artists that included Mickle Maher, playwright of several recent Catastrophic productions. At home, McGettigan had a small stage that his parents and uncle built for him in the basement. While other kids were playing ball he dissected remote control cars and used their engines to fabricate makeshift motorized rigging for flying drops and scenery in and out over the stage. His inspiration? "Whatever book I was reading that week," recalls McGettigan. "I spent a lot of my time underground in that basement building mockups of Audrey II puppets for some theoretical production of Little Shop of Horrors… The joys of being an only child theater nerd."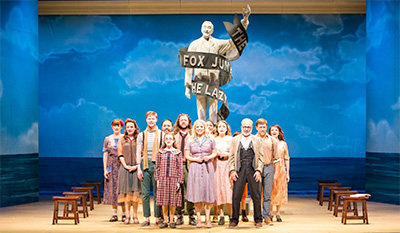 His formal education is a BFA in Scenic Design from Emerson College in Boston, MA. Houston isn't the only lucky city seeing McGettigan designs. McGettigan loves his now-home state, but says that working outside the region "is a good way to create expanded networks between different cities and regions, but more importantly, it's integral to keeping our artists freshly influenced and culling any status-quo stagnation." When he's not doing a show here in Texas he has designed sets for the Cape Rep Theatre in Brewster, MA, at several opera companies, including the San Jose Opera, New Orleans Opera, and Glimmerglass, and has designed sets as far away as the Prague Shakespeare Festival.
Color plays a part in set design, as do material choices. Lest you think set design is rarefied art, there are the hard practicalities involved in getting actors and props into position. "There must be a door to the hallway. There must be a window over the fireplace. There must be a staircase to the second story. But, logistics are nothing without first defining the reality of the play's environment." Happily, sometimes they both happen at the same time, as in a set McGettigan designed for The Language Archives at Stages Theater in 2013. The parquet floor charges on up the wall, acquiring drawer pulls as it goes. Can't have an archive without file drawers, but what a lovely way to pull them in to the play.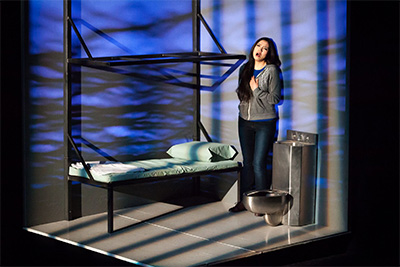 When asked how he approaches his design work, McGettigan finds each show demands its own process for initial inspiration. "After reading certain scripts, I become obsessed with researching texture or architectural details, others become entirely about color or shape and the emotions they create. Some scripts are even less about a specific starting or ending look, but more about an activated change that must take place to convey a turning point or revelation."
The advantage of working in Houston for any designer is the fresh variety of influences available to artists of all stripes. "Stuck with a bit of designer's block? Go walk around the Menil, or see what's in this month at the Rice Gallery," says McGettigan. "As a designer, as any theater collaborator, really, you've got this rolling lexicon of images and ideas that you are constantly refilling and refiling that may, one day, offer up the solution to conveying a story in the perfect way."
In addition to liking the energy and learning opportunities that come with working in diverse locations, there are distinct advantages to Houston's close, bustling theater scene. McGettigan finds working in the smaller venues here a chance for a design schedule "that allows the actors, directors, and design team to have more time to experiment and play."
Next season, you can catch McGettigan's work at TUTS Underground for Rocky Horror Show, Classical Theatre for Strindberg's Ghost Sonata, Catastrophic Theatre for Buried Child, Cap Rep for Woman in Black and New Orleans Opera for Faust.
—JULIE HERMAN