Open Dance Project in 'Bout a Stranger, performed March 16-26 at the MATCH.
Photos by Lynn Lane.
---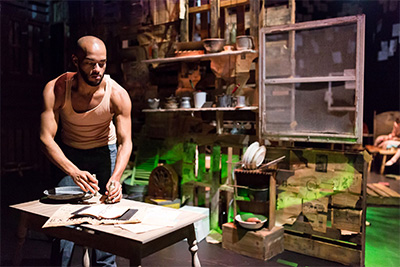 What do you do when a dancer crawls out from under the bench that you are sitting on? Then, a moment or two later, he takes the bench away entirely.
Such is the life of an audience member in immersive dance theater.
But when that immersive dance theater happens to be Annie Arnoult's 'Bout a Stranger, her most recent Open Dance Project concert, which ran March 16-26 at the MATCH, it's a pleasure to give up my seat, and sometimes scurry out of the way to avoid colliding with an oncoming performer, so that something truly amazing can happen.
'Bout a Stranger is a trip of sorts, through Woody Guthrie's life, music, and dust bowl days. Our guide was choreographer Arnoult, an artist at home with branching out into more theatrical realms, and her savvy team of performers, who double as actors and guides themselves in this full tilt environmental work.
Before I get into too much detail on 'Bout a Stranger, it might be wise to consider about now why we should be looking at an artist who carried a guitar with the words "This Machine Kills Fascists" inscribed on it. Arnoult, in a program note, answers this directly, "He's the us who sees inequality and selfishness, and greed and is sickened by it." Sadly, those driving US powers today are nothing like that. But Arnoult's message goes deeper than politics and activism, and 'Bout a Stranger'is by no means a depressing piece. She continues, "He's the us who loves to tell stories-stories about small people and big ideas, stories that make us laugh and stories that hurt our hearts, stories that don't always have a clear beginning, middle and end, but bring us closer together because we see and hear and feel ourselves in them." Artists today are struggling with the best way to engage in political activism and continue making work. Why not be in a full-surround experience of Guthrie's life, music, words and world?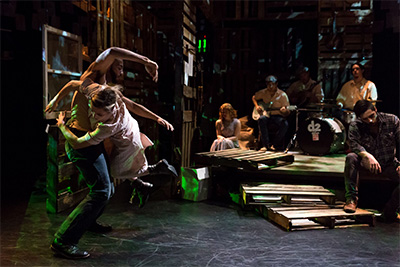 Ryan McGettigan designed the set, which contained all sorts of spaces: small stages, intimate rooms and corridors. It felt more like an actual place than any kind of traditional set. Imagine a Smithsonian diorama come to life. The rustic wooden plank infrastructure took us back in time, while the actual complexity of the environment reminded me of the compartmental way memory actually works.
McGettigan's dreamy places landed us in a field, tucked away in a tiny bedroom, gathered in the kitchen or roaming the in-between spaces. Props master Lauren Cascio dressed the set with an extraordinary attention to detail, from a copy of a check for $1.50, to a rusted roller skate, to a dusty set of dishes (I actually checked for the dust).
Audience members had a chance to acclimate to these surroundings before the piece actually started. We could rifle through papers strewn about, pick up a book or any object to examine it more closely. This very tactile experience invited our own senses into Guthrie's world. What an embodied way to lead into the show.
Arnoult, along with her adventurous team of performers, culled their movement vocabulary from gestures of agricultural and industrial labor, along with events from Guthrie's time and life. Clogging also made a brief but welcome appearance.
The most extraordinary thing about the dancing was its scale. In a tight, cramped space you would think the dancers would need to scale down, but no, this was large, generous, voluptuous dancing throughout the more active sections, while the quieter sequences required us to lean in more. But it was the intensity of the performers, combined with the commitment of their movement, that so moved me.
Whether they were hidden behind a wall, or sneaking around the bend, they were in full character.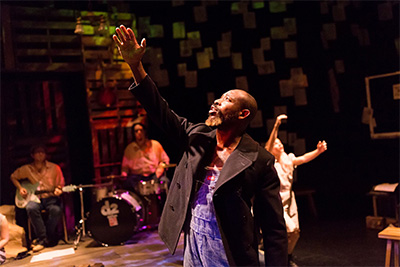 As each story played out, some tragic, others filled with joy, it became apparent that something larger than your typical "immersive" theater event was taking place.
The audience, for the most part, was on their feet and free to roam, with a heightened awareness of oncoming dancers. Arnoult explained to us before we entered, that just like in real life, if we see a dancer moving quickly in our direction, it's best to get out of the way. After a while, the milling about became part of the experience. At times, people even started to move with the same gravitas as the performers. Some choose to stay put, while others were led by their curiosity. We had the opportunity to be extremely close to some incredibly tender moments. I felt more like a witness than a passive audience member. At one point train sounds permeated the space. But here's the thing, we were part of a full-on train-hoping journey.
Garreth Broesche did the musical direction and performed along with his band, the wonderful University of Houston American Roots Ensemble (Emily Hardey, Zachery Lacy and Justin Grubbs).  Broesche organized the song selection according to Guthrie's travels, reaching deep into the Guthrie canon with such gems as "I Ain't Got No Home," "Ash and Dust" and "Hard Traveling." Although the piece was structured alongside the songs, its density went beyond the musical structure. Often, several vignettes were happening at once, some beginning as others were coming to closure.
The musicians, like the dancers, were also wanderers, blending in when necessary, and staying out of the way too. At no point was there a separation of musicians from dancers, as this was a traveling tribe of movers and troubadours. Hardey's haunting vocals added a piercing authenticity throughout.
David Deveau's lighting and projection design, Bryan Ealey's technical direction and sound design, and Ashley Horn's period costumes added to the evening's power and polish.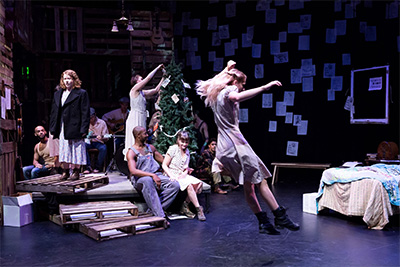 Open Dance Project has a collective soul, so Arnoult credits the full team in the making of the work, including musicians Broesche, Lacy, Grubbs and Hardey, and dancers Joshua DeAlba, Brittany Thetford Deveau, Abby Flowers, Elizabeth "Nalley" Grossberg, Tehillah Joy Hartmann, Sarah Lyman, Taylor McAnulty, Seth McPhail, Alisa Mittin, Alonzo Moore, Stacy Skolnik, Joseph Sevens, Davis Strumberg and Juan Ventura.
The evening concluded with the dancers constructing a wall made of white cardboard cubes. A cascade of photos projected on the makeshift wall flashed by, increasing in speed as it went on. The montage included images from social movements of Guthrie's time to the issues facing us today, such as the women's movement marches, Black Lives Matter movement and the Syrian refugee crisis, to name a few among many. While we watching, the dancers slipped away and we were left with a ghostly silence.
'Bout a Stranger, funded in part by an individual artist grant from the city through the Houston Arts Alliance, was clearly one of the most fully realized productions of immersive dance to come out of a Houston dance shop. I'd gladly give up my seat on the bench any day to see this level of work again.
—NANCY WOZNY