Kamrooz Aram, Green Memorial, 2017, green marble, linen on mdf, ceramic, brass. Overall: 13 × 14 × 14 in. (33.02 × 35.56 × 35.56 cm).
Courtesy of the Artist and Green Art Gallery, Dubai. Photo: Kevin Todora.
---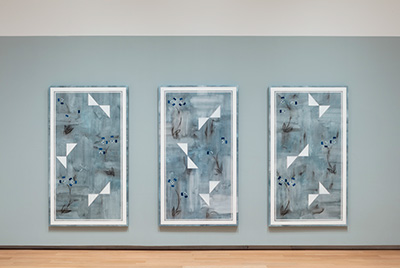 Past exhibitions by Kamrooz Aram have carried such provocative titles as Unstable Paintings for Anxious Interiors and Ornament for Indifferent Architecture. The names hint at content and concerns beneath the appealing surfaces of the Iranian-American's canvases, as does closer examination of his layered, heavily worked approach. Beautiful beyond their references, Aram's paintings, collages and installations nonetheless challenge Western notions of modern art. He's after nothing less than renegotiation of the relationship between modernism and traditional non-Western "decorative arts" that have been relegated to minor status in the West.
"Throughout my education, I was trying to come to terms with the fact that in this entire history of modern art there was nobody who looked like me or had a name that sounded like mine, that it was a very European history," Aram says in an interview at the Modern Art Museum of Fort Worth, where his latest show is running through June 17. It's part of the museum's FOCUS series highlighting the work of emerging artists.
Though his first major exhibit was in 2004, shortly after he received his MFA from Columbia University, Aram is only 40. And while the show isn't named with one of his wry monikers, it includes a tableau called Blue Backdrop for Minor Arts and the triptych, Ornament for Extraordinary Architecture, a reference to the Modern's building, designed by Tadao Ando, and to Mexican architect Luis Barragán's view that architecture should be emotional rather than the supposedly neutral space that contemporary museums have decided is their role. "One way to do this is to embrace the partially decorative role of painting, the idea that paintings sit on a wall and become a backdrop, become ornamental in some way," Aram says.
The Brooklyn-based artist begins with patterns from traditional Persian carpets, which he paints on wall-mounted canvases with oil crayons and help from photographs he projects. Then he uses solvents and rags to wipe away the images before excavating and rebuilding them. Once he has sufficiently worked over the surface to create a complex, abstract backdrop, he places more definable imagery over it. These range from modernist geometric shapes like triangles and dots to the same kind of Persian-rug flowers that have faded into the background. With tension-building balance, those elements are painted on top of the grayish-blue backdrops of Extraordinary Architecture and another canvas in the Modern exhibit that is part of the installation, Composition with Fragments.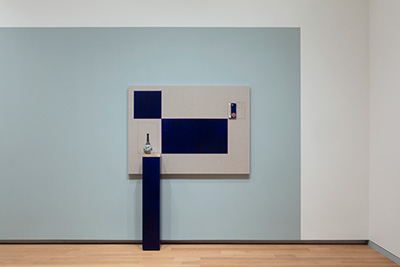 In this way, Aram defies the old hierarchies, making the connection between accepted forms of modernism and the less appreciated work of his ancestors. He cites late 19th-century archeological digs in Iran and other parts of the Eastern world for creating interest in ancient, non-Western art, even if it was swept under the proverbial rug. "It's unquestionable that modernism had a relationship with Eastern ancient art, whether it's Picasso looking at African masks or Bonnard looking at Japanese prints," he says in the gallery where the Modern's staff was completing installation of his show.
Aram came to his quest gradually as he learned more about art history. Born in Shiraz, Iran, and raised from age 8 in Cincinnati, Ohio, he trained in figurative painting as an undergraduate at the Maryland Institute College of Art before studying with the children of Abstract Expressionism at Columbia. "I was already starting to identify certain aspects of non-Western art in my own practice as an undergraduate student," he recalls. "One of my teachers pointed me to Edward Said and said, 'You have to read Orientalism.' I really didn't get much of the context. But what that text did was allow me to understand that Orientalism was a question of who gets to represent who, and the idea that in the West most Eastern cultures have not been allowed the privilege of representing themselves. I took it upon myself, almost as a responsibility, to engage that form of representation."
His early work had sometimes employed Islamic geometric patterns that look startlingly similar to shapes in modern art. Then, on his last trip to Iran in the winter of 2000-2001, he met Morteza Momayyez, the father of modern graphic design in his native country. Momayyez had written an essay on the Medallion style of Persian carpets, which illustrate the stages of spiritual development in the Sufi religion. Until then, Aram had thought of the patterns as ornamental if not decorative. "It was interesting that there was content at all in Persian carpets," he says. "Even within my family, they were treated as a luxury commodity as well as a decorative object or even a form of investment." When he got to New York for grad school, he began visiting carpet stores, started a collection and took the photographs he uses as the launching point for his work.
Alongside dismantling the limits of what was considered modern art, Aram became interested in the aesthetics of museum exhibition design and what was believed worthy of display. Backdrop for Minor Arts places what looks like an old vase sitting atop a black pedestal in front of a typically modernist painting of a black square and rectangle. Adding to the strange juxtaposition, a chunk of distressed tile rests in the corner of the linen canvas. Are either of the objects ancient relics or were they bought at a museum gift shop? Is the pedestal part of the work? Aram wants viewers to decide for themselves. "It has to do with questioning how we treat these objects," he says. "What are the devices that museums use to try to make themselves look like neutral ground? It's my way of embracing the idea that the pedestal, which is essentially a geometric abstraction, and the objects displayed are interdependent."
At the same time, Aram isn't interested in relying on a theoretical political stance as the sole framework for consideration of his art. "Contemporary visual art tends to be so heavy-handed with its content that it offers nothing more as an experience," he says. "The art that I'm more drawn to offers something before or along with or after that — a visual experience that maybe is not so easy to identify." To that end, his pieces in the Modern show use a balance of color and shape, recognizable imagery and abstraction, to create a visceral, mysterious beauty.
—MANUEL MENDOZA