As gentrification continues to change East Austin, so does the East Austin Studio Tour
The East Austin Studio Tour is arguably the city's largest art event when you add up the number of participating artists, the audience and the footprint of the two-weekend self-guided free tour.
An actual audience headcount is nearly impossible to gather, of course. Imagine having someone to tally up visitors at each of the 277 artist studios, 67 galleries, 185 exhibitions, 42 happenings and ten public libraries that make up the 581 official EAST stops this year.
Still, Shea Little, executive director of Big Medium, the organization behind EAST, estimates that this year's iteration will see an audience of approximately 15,000, same as in the last several years.
That's a long way from when Little, Jana Swec and Joseph Phillips launched the first East Austin Studio Tour in 2003 with just 28 studios on a one-afternoon-long tour. At the time, the trio were among a growing wave of young artists beginning to move into then-affordable real estate of East Austin's historically African American and Latino neighborhoods.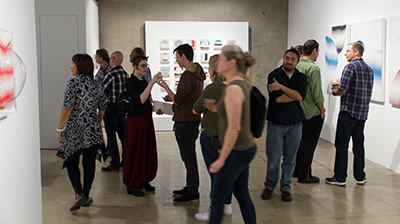 But 15 years later, the landscape of East Austin — and EAST — is radically different. And that's the great irony of EAST: While the tour has undeniably been a factor in accelerating the gentrification of East Austin, the creative community it promotes is threatened by that gentrification.
During last year's EAST, news broke that after 12 years of providing artists with affordable studio space and operating a gallery, the artist-run organization Pump Project was losing its lease. Like other studio complexes, Pump Project's distinctive yellow warehouse was a top destination stop on EAST.
So was Art Post. But in 2015, after a new owner bought the motley complex of small buildings, rents doubled, and artists left. And this East Austin Studio Tour is the last for the Flatbed complex which for 20 years has been home to fine arts printers Flatbed Press along with other galleries. Like others in East Austin, the owners of the 20,000-square-foot former shoe company warehouse will redevelop the property, which is now surrounded by trendy apartments.
Yet Austin's majority-white arts community is only the most recent to find themselves priced out of East Austin. Indeed, for all of Austin's popular reputation as a liberal and progressive city, it has a deep legacy of discriminatory public policy, as well as social and private practices, that today make it a city of profound racial and income segregation.
State-sanctioned segregation in the 1920s resettled Austin's African American population into a designated district to the east of the city's center, where many Mexican Americans had already been relocated. At the same time city planners zoned East Austin for hazardous industries, including a power plant and an oil tank repository. Financial policies "redlined" East Austin, making government-backed property loans unavailable for residents.
By the time Austin underwent an economic and population boom during the 1990s and early 2000s, the chronically underinvested yet downtown-adjacent East Austin was primed for gentrification.
A study by University of Texas scholar Eric Tang found that between 2000 and 2010, East Austin's Black population "decreased by 66 percent, its Latino population decreased by 33 percent, and its white population increased by 442 percent."
Tang is one of several featured at "Sightines Spoken: The Arts & Gentrification in East Austin," a two-part panel that's part of EAST this year. Organized by Sightlines magazine, of which I am the editor-in-chief, the event is a collaboration with Big Medium, Austin Creative Alliance and the George Washington Carver Museum & Cultural Center.
It will be held at the Carver Museum Nov. 13 and 15. "The Gentrification of East Austin: Place, Culture & the Forces of History" is the topic on Nov. 13, while "Artists Respond: What Are Our Responsibilities?" is taken up on Nov. 15.
"It's tough to be in the middle of the displacement," says Big Medium's Little, a native Austinite. "And we want to be responsive to the changes." Over the years, Little and Big Medium have expanded the geographic footprint of EAST, pushing eastward, northward and even southward across the Colorado River/Lady Bird Lake as artists have staked out working or living spaces beyond central East Austin. In fact, when Big Medium launched the West Austin Studio Tour in 2012, it was seen as acknowledgement of how far-flung across the city Austin's visual arts community really is.
A few months ago, Pump Project found space for the next three years in a temporary arts complex just south of the river. Pump Project co-director Emmy Larsen that when polled the groups resident artists said staying on the eastside, and being included in EAST, was very important to them.
"Often we heard visitors say that EAST is the only time they ever came to Pump or got out to see Austin artists," says Larsen, who added that at its original location, Pump averaged about 5,000 visitors during EAST.
But not all facing relocation think staying in East Austin is imperative.
Troy Campa is on the hunt for a new place for his gallery Cambia Art, which has been in Flatbed since 2014. And Campa is looking across the city.
"We participate (in EAST) because it is something that seems to be important to the community, and we want to support that," Campa says. "But it has very little direct benefit for us, and certainly not in sales. We do get a lot of traffic from people for whom it's a once a year pilgrimage, it seems."
While the changing demographics will continue to change EAST, Little doesn't foresee the tour ceasing.
"Austin needs some kind of mechanism to see the depth and breadth of its visual arts community," says Little. "There really isn't anything else besides EAST, and WEST too, that offers the opportunity to see the vast number of artists here who make great art."
-JEANNE CLAIRE VAN RYZIN