Jose Lerma Installation at Oliver Francis Gallery.
Image courtesy the artist and the gallery.
---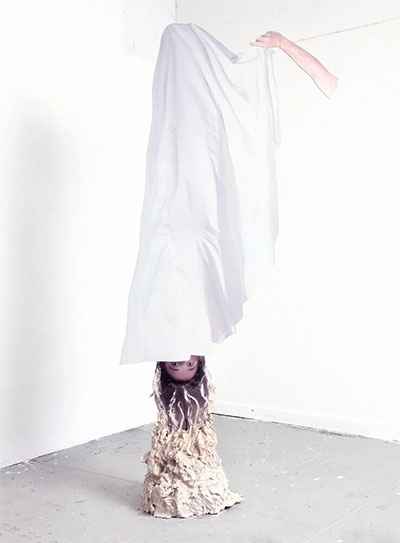 OFG, A BRIEF HISTORY LESSON
When Oliver Francis Gallery (OFG.XXX) opened in 2011 in Old East Dallas, it ushered in a golden age of artist-run, DIY art spaces within the city, unbeknownst to its founder, Kevin Jacobs. There was a perfect storm of artists returning or moving to Dallas while the real estate market was still in collapse, making square footage cheap as well as abundant. Experimentation and a sense of seriousness tore through Dallas, allowing artists to have ownership over their city and community. The feeling was very much "anti-" whatever Dallas was or pretended to be. Among multiple panels attempting to homogenize what was happening, and during a period where the commercial gallery market was at a stalemate, those who wanted to follow their own vision were not only allowed to do so but were eager to take on the responsibility.
From 2012-2014, many artist-run spaces rose and fell, and among them a few artists, understandably, left Dallas, leaving room for commercial galleries to gather themselves, form their own resurgence and relocate or establish new ventures, while aiding in urban/commercial development. During that time, artists fought hard to force Dallas to take notice of what was happening in its own back yard, and in a broader sense, to shake up the market in order to connect with the talent residing in Dallas.
Some of those original artist-run projects have finally been co-opted by the city and have been assimilated into the broader public consciousness, but at what creative cost?
Through all of this OFG and Jacobs held strong in their intent to cause trouble, not bend to the wind and generally not care about what was coming down the pipeline. For four years, OFG was a weak beacon of dilapidated hope for the underdogs and it continues to be an angst-ridden sprit that will undoubtedly haunt this city and occupy the minds of those who choose to acknowledge its importance. Above all, OFG was a place where anything was possible and, in hindsight, encapsulated an important moment in Dallas' very short DIY art history. Dallas artist and Arts+Culture Texas contributor Arthur Peña sat down with Jacobs to talk about OFG, the highlights and its legacy. What follows is a brief transcript of their conversation.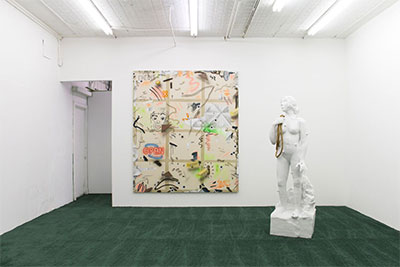 A+C TX:  I remember when we met for the first time in Providence and you mentioned the idea of opening a space, which would eventually become OFG.
KEVIN JACOBS:  Yes, but originally I wanted a personal studio that would double as an exhibition space for other artists on occasion. When I first got the keys to OFG, I told my good friend Francisco Moreno that he had to check it out. He came over and asked to do something in there before he returned to RISD. OFG had its first opening and people showed up. It was in the summer and I had no AC. You know, I didn't Google, "How do you start an art gallery?" I just looked at influences like Reena Spaulings and saw how one could cultivate the personality of a space.
The space stayed pretty raw the whole time. You seemed to enjoy the idea that the shittier it was the better.
I had to justify certain things. I barely had money for rent and remodeling wasn't an option. I accepted it for what it was and enjoyed it. The space had its own unique spirit and I didn't want to change that too drastically.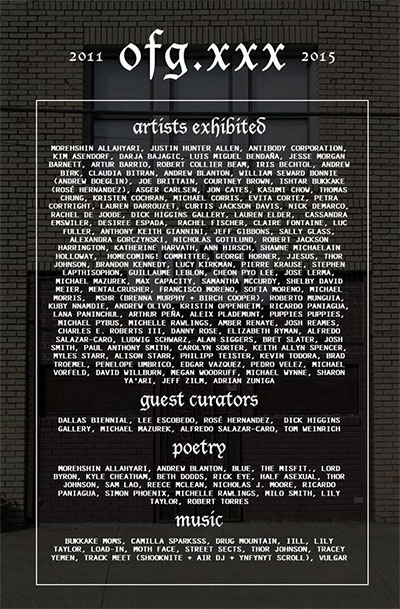 Things shifted when Jeff Zilm decided to work with you and leave Marty Walker at the beginning of the second year of OFG. It seems that was a point when OFG pushed past just being a DIY art space and turned you into Kevin Jacobs, the gallerist. What was it like to take on that responsibility?
That was a huge moment. When Jeff approached me with the idea of representing him, I wasn't doing anything like that. We had a conversation over dinner at Mia's and discussed the possibility of OFG representing him, and I was just freaking out the whole time because Jeff Zilm is telling me he admires the vision of OFG and wants to be involved. He had a show in March of 2012 and I was like "Dude, I don't know anyone rich enough to buy your work." He said he didn't mind and was happy about the show.
That year OFG took on 16 artists, myself included. How long did that last?
March of 2012 to March of 2014. Things got complicated. Responsibility and obligation are fine things to handle but it in a way it was against OFG's own origin. Initially, I took it as a way to help progress the artists that I was working with. The gallery had a name and reputation and I wanted the artists that OFG "represented" to be able to see that relationship as a sponsorship. It was a way for me to say, "This gallery loves this artist," and if they choose they can reference that they have a support system in Dallas. There is a mutual respect in that relationship. But it became difficult to run a space solo, while also working as a curator at the Goss-Michael Foundation.
What is a favorite memory of yours from running the gallery?
A great moment was when I reached out to Rachel de Joode, who was based in Berlin at the time. She was an artist who I had been following for a couple years and was really interested in showing in Dallas. She got into a residency in upstate New York, so a plane ticket from there was less expensive. I bought plane tickets for her and her husband, Johannes Thumfart, and shipped her work in. She was the first international artist that OFG showed. Rachel and Johannes stayed at my parents' house for 16 days. They took my bedroom and I slept in the living room for two weeks. Every morning I woke up to Rachel, Johannes and my mom smoking cigarettes, drinking coffee and speaking Spanish on the patio. It was incredible. I realized I could create an opportunity for artists to do awesome things in Dallas, and through the process we created lasting friendships.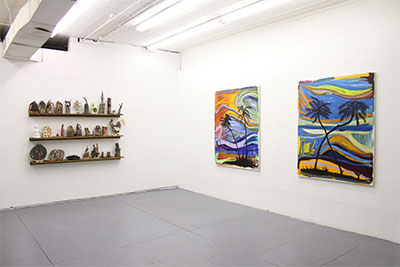 Are you okay if OFG never opens again?
This is something that will never really end. I can't see myself being alive and not finding a way to work with artists. I just think that in the future it will take on a different form. I want to keep exploring. I want to keep the irrationality, absurdity, abjectness, sincerity, and energy alive. I have to find new ways of pissing people off while still being lovable.
What do you think the legacy of OFG will be?
Fuck if I know. Long hair – Don't care. Hair flip* Mouth click*
—ARTHUR PEÑA