---
IMAGE: The Bridge Club in Waltz Across Texas. Photo by Matthew Weedman.
---
AUSTIN
Art Show/Model Show/Paper Chairs
Art show/Model Show is a multi-media, interactive, collaborative performance experiment from Kelli Bland, Meghan Adriel Dwyer, Michelle Keffer, Jorge Sermini and Elizabeth Doss based on their experiences as art models. Aug. 29-Sept.14, The Off-Shoot.

---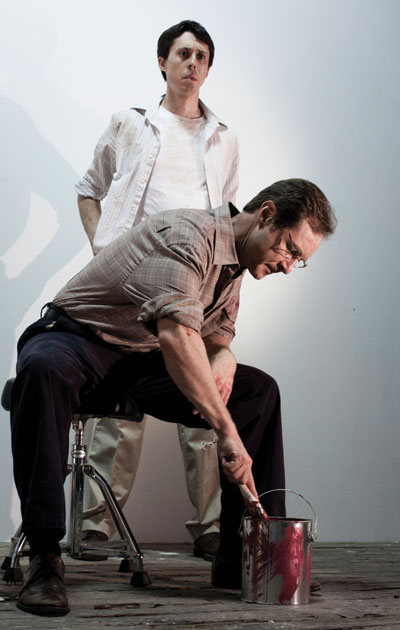 Red/Penfold Theatre Co.
Penfold Theatre brings you Mark Rothko, musing about art while he unveils  the art world's largest commission at The Four Seasons restaurant on Park Avenue. Red won 2010 Drama League, Drama Desk and Tony Awards. Sept. 12-29, Trinity Street Theatre.

IMAGE:  Steven Pounders and Ryan Crowder in Penfold Theatre's production of John Logan's RED. Photo by Kimberley Mead.
---
Les Miserables/Zach Theatre
Soaring anthems along with Victor Hugo's tale of redemption and unbridled patriotism make Les Mis the musical that shows no signs of slowing down. Sept. 25- Nov. 3, Topfer Theatre.

---
Stop Hitting Yourself/Rude Mechs
Austin's reigning mix-masters of devised theater, The Mechs, present a workshop performance of their newest work, Stop Hitting Yourself, which will premiere at Lincoln Center in New York City in January 2014. Expect 1930's Hollywood glamour: part Pygmalion, part Busby Berkley, part self-help lexicon, all while dancing around a queso fountain. Sept.19 – 28, The Off Center.

---
The Head/Puppet Trouble
Trouble Puppet's bunraku-style tabletop puppets are put to use in The Head, a darkly hilarious original work of puppet theater for grown-ups. Sept. 16- Oct. -12, Salvage Vanguard.

---
A Midsummer Night's Dream/Ballet Austin
Ballet Austin artistic director Stephen Mills' charming A Midsummer Night's Dream opens the company's season with live accompaniment from The Austin Symphony. Sept. 13-15, The Long Center.

---
Vincent Mantsoe and Dance Theater X/TPA
South Africa's leading choreographer Vincent Mantsoe teams up with Philadelphia's Dance Theater X, an Afro-contemporary company, directed by Charles O. Anderson. Mantsoe's Opera for Fools probes the center of the South African shebeen lifestyle during Apartheid, while Anderson premieres Restless Natives, a piece inspired by the writings of James Baldwin. Sept. 20, McCullough Theatre.

---
Mark Morris Dance Group/TPA
Texas Performing Arts is on the edge. Pianists Anton Nel and Colin Fowler and progressive New York orchestra The Knights join Mark Morris Dance Group for two performances of Mark Morris' celebrated Mozart Dances. Sept. 26-27, Bass Performance Hall.

---
DALLAS/FORT WORTH
Dallas/Fort Worth Music & Masterpieces/Dallas Opera
Dallas Opera, in partnership with the Dallas Museum of Art, launches "Music & Masterpieces" with a recital by Texas-born Tenor David Portillo, featuring music with music by Alberto Evaristo Ginastera, Carlos Gardel, Joaquín Turina and Maria Grever. Sept. 15, Dallas Museum of Art Horchow Auditorium. dallasopera.org.

---
Detroit/Kitchen Dog Theater
Kitchen Dog opens its 23rd season with the regional premiere of Lisa D'Amour's Detroit, a finalist for the Pulitzer Prize in 2010. D'Amour's dark comedy examines what happens when an innocent suburban barbeque between neighbors spirals out of control. Sept. 27-Oct. 26, kitchendogtheater. org.

---
Homeschooled/African American Repertory Theater
AART presents the premiere of Homeschooled, by Dallas playwright Jonathan Norton, a recipient of a Donna Wilhelm Family New Works Fund grant. Sept. 6-29, DeSoto Corner Theatre, aareptheater.com.

---
Dallas Pride Performing Arts Festival/Uptown Players
Uptown presents a nine-day festival of plays, a staged reading and a cabaret act celebrating Dallas Gay Pride. Sept. 6-15.


---
Assassins/Theatre Three
Just in time for the 50th anniversary of JFK's assassination, Theatre Three presents the Stephen Sondheim/John Weidman musical about the men and women determined to kill American presidents. Sept. 26-Oct. 27.

---
Matt & Ben/Echo Theatre
Mindy Kaling & Brenda Withers's Matt & Ben imagines a world where the screenplay for Good Will Hunting (yes, that Matt & Ben) drops from the sky. Hollywood hilarity ensues. Sept. 12-28. Bath House Cultural Center.

---
Profanity/Undermain Theatre
Undermain presents Profanity, by rising playwright Sylvan Oswald; set in 1950s Philadelphia, it chronicles the Schneider brothers' big dreams for the family real estate business. Sept. 12-Oct. 12, undermain.org.

---
A Raisin in the Sun/Dallas Theater Center
Considered the play that changed American theater forever, Lorraine Hansberry's A Raisin in the Sun offers an unflinching vision of what happens to people whose dreams are constantly deferred. Sept. 13-Oct. 27, AT&T Performing Arts Center.

---
Nobody's Hart/Amphibian Productions
In Nobody's Hart, Diana Sheehan Sings the Lyrics of Lorenz Hart, the songstress gets to show off her vocal chops singing some of the most memorable words from Lorenz Hart, the wordsmith of the songwriting duo Rodgers and Hart. Sept. 12 -15.

---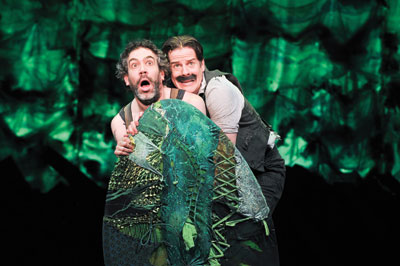 Peter and the Starcatcher /Lexus Broadway Series
How did the famed boy who would never grow up endup in Neverland in the first place? Catch Peter and the Starcatcher to find out. Sept.17-29, Winspear Opera House.

IMAGE:  National touring company of Peter and the Starcatcher. Photo courtesy AT&T Performing Arts Center.
---
The Cat in the Hat/Dallas Children's Theater
Dallas Children's Theater opens its 30th Anniversary season with the regional premiere of Dr. Seuss' classic, The Cat in the Hat, along with a free community birthday party on Sept. 21. Sept. 20–Oct. 27, Rosewood Center for Family Arts.

---
Tchaikovsky's 5/Dallas Symphony
Dallas Symphony's season begins as Jaap van Zweden leads the orchestra in Tchaikovsky's passionate Fifth Symphony, along with Berlioz' tender Summer Nights, songs of love and lost virtues, with mezzo-soprano Annalisa Stroppa. Sept. 19-22.Meyerson Symphony Center.

---
Strauss & Dennehy/Fort Worth Symphony
Fort Worth Symphony opens with a hint of South African Zulu music in Henry Lissant-Collins' Fuquoi in the Sugar Cane, along with Irish composer-in-residence, Donnacha Dennehy's song-cycle That the Night Comes, based on the poetry of Yeats, and two of Strauss' big hits, Der Rosenkavalier Suite and Till Eulenspiegel's Merry Pranks. Sept. 13-15, Bass Performance Hall.

---
HOUSTON
Sea Changes/Aperio
Aperio opens their season with Sea Changes: Contemporary Currents in Caribbean Music, with music by Robert Avalon, Paquito D'Rivera and Alberto Rodriguez Ortiz. Sept. 27, Hobby Center.

---
Twenty-Something Mozart and Schubert/Da Camera of Houston
Da Camera opens its season with Mozart's dramatic Piano Quartet, composed at age 29, and Schubert's serenely lyrical Octet, composed at age 27. Sept. 27, Wortham Center.

---
Basque and Slavic Folkscapes/Apollo Chamber Players
Apollo opens its season with Basque and Slavic Folkscapes, including the string quartets of Maurice Ravel and Leoš Janáček, along withApollo-arranged folk melodies from the Basque and Slavic regions, and the premiere of a newly commissioned work by acclaimed Rice University Professor Karim Al-Zand. Apollo repeats this program at their Carnegie Hall debut in October. Sept. 22, Duncan Concert Hall.

---
ROCO/Asia Society Texas Center
River Oaks Chamber Orchestra celebrates Asia with guest conductor Mei-Ann Chen. Sept. 27, Asia Society Texas Center.

---
Vadym Kholodenko/SPA
SPA offers the 14th Van Cliburn International Piano Competition Gold Medalist Vadym Kholodenko makes his Houston debut playing music by Liszt, Mozart and Rachmaninov. Sept. 28. Wortham Center.

---
Time Travel/Musiqa
Houston Downtown Management District and Musiqa celebrate the installation of the public art piece, What Time Is It?, created by Jo Ann Fleischhauer with original music composed by Musiqa's Anthony Brandt and Chapman Welch. Nov. 8. Market Square.

---
Musica Divina/Houston Chamber Choir
Houston Chamber Choir marks the election of Pope Francis with Palestrina's timeless Pope Marcellus Mass, plus Poulenc's The Four Prayers of St. Francis of Assisi for men's voices, and settings of Tu es Petrus, including Henri Mulet's majestic masterpiece for organ. Sept. 17, Co-Cathedral of the Sacred Heart.

---
Renée Fleming/Houston Symphony
Houston Symphony launches its Centennial season with three-time Grammy award winner Renée Fleming singing a mix of beloved opera arias, classical favorites, Broadway selections and songs from her crossover album, Dark Hope. Sept.7, Jones Hall.

---
Menu Plaisirs/Ars Lyrica
Inspired by the French royal court's "Cabinet of Musical Pleasures," Ars Lyrica Houston's season-opening program offers works from the ancien régime of Versailles and its imitators. Showcased: Marc-Antoine Charpentier's Magnificat à 3 and Petite Pastorale, plus works by Lully, C. P. E. Bach, and Handel. Sept. 22, Hobby Center.

---
Les Blank/Aurora Picture Show
Film icon Les Blank's landmark 1978 film, Always For Pleasure, presented on 16mm film, make an appearance at Aurora Picture Show, co- presented with Blaffer Art Gallery. The film is followed by a performance by Zydeco Dots. Sept. 21, Aurora Picture Show.

---
Mongoose Versus Cobra Reading Series
Upcoming readings feature Shanna Compton, Megan Burns, Joseph Bienvenu, Joseph Makkos, Bridget Lowe, and many others. Second Monday of the month.

---
Mario Alberto Zambrano/Brazos
The dancer and choreographer turned novelist Mario Alberto Zambrano pops in to Brazos Bookstore to read from his acclaimed debut novel, Lotería. Sept.19.

---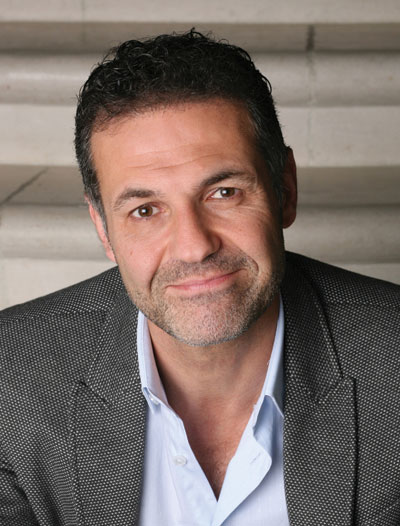 Khaled Hosseini/Inprint
Inprint presents Hosseini, author of The Kite Runner, reading from his third novel And the Mountains Echoed. Sept. 23,Wortham Center.

IMAGE:  Khaled Hosseini reads at Imprint. Photo by Elena Seibert.
---
The Pine/Catastrophic Theatre
Catastrophic Theatre continues its roll with wordster, and poet of the stage, Mickle Maher's The Pine, a fairy tale of sorts that deals in matters of love, death and grief. As expected, it's written completely in verse. Sept. 27-Oct. 10.

---
The Real Thing/Main Street Theater
Main Street Theater continues its love affair with Tom Stoppard, opening their 39th season with The Real Thing, Stoppard's play-within-a-play examining the romantic permutations of two creative couples. Sept. 5-29.

---
You Can't Take it With You/Alley Theatre
Who can resist the Grandpa who goes to graduations just for fun? There's much to love about this 1936 classic chestnut from George S. Kaufman and Moss Hart at the Alley. Sept. 25-Oct. 20.

---
Fuga(Escape)/Gente de Teatro
Gente de Teatro presents Jordi Galceránan's Fuga, an uproariously funny comedy of errors, which tells the story of a Spanish government secretary who resigns his post after a scandal in which he has been involved becomes public. Sept. 20-21, The Hobby Center.

---
Bill T. Jones/Cynthia Woods Mitchell Center
Post modern choreographer Bill T. Jones addresses the subject of collaboration in the inaugural event of the Mitchell Artist Lecture series. Artistic director of Bill T. Jones/Arnie Zane Dance Company and the two time Tony Award-winning choreographer of Fela and Spring Awakening, Jones has worked with an impressive list of collaborators, including Louise Nevelson, Kiki Smith, Toni Morrison, Keith Haring and Jessye Norman. Sept. 12, Moores Opera House.

---
i scream/Hope Stone Dance
Leave it to Hope Stone choreographer in chief Jane Weiner to create i scream, loosely based on Edvard Munch's famous painting, Macaulay Culkin's 15 minutes of fame, and America's endless love of ice cream. Sept.27-28, The Photobooth on Montrose.

---
Four Premieres & The Merry Widow/Houston Ballet
Stanton Welch celebrates his 10th anniversary with four premieres, featuring work by Garrett Smith and Melissa Hough paired with contemporary masters Christopher Bruce and James Kudelka. Amy Fote returns to her signature role as Hanna in Ronald Hynd's charming comic ballet, The Merry Widow. Sept. 5-29. Wortham Center.

---
Collide/NobleMotion Dance
Noble Motion Dance – Andy and Dionne Sparkman Noble – collaborate with Austin rock group My Education and lighting designer David J. Deveau on new work, along with Photo Box D, their signature collaboration with the late Jeremy Choate. Sept. 6-7, The Hobby Center.

---
SAN ANTONIO
Texas Biennial Performances/Blue Star
Dion Lauren, Natali Leduc,The Bridge Club and Skye Ashbrook perform as part of the Texas Biennial on Sept. 5. On Sept. 21, there will be performances by HOMECOMING! Committee, Julia Barbosa Landois and a special presentation by Michael Corris and the Dallas Collective. Blue Star.

---
Bravo! Mi Cultura/Diez y Seis de Septiembre
In celebration of Hispanic Heritage Month, the San Antonio Parks and Recreation Department presents an evening of dance selections celebrating the Hispanic Heritage in San Antonio presenting the budding local talents of young dancers from the San Antonio Parks and Recreation Department's Dance Programs. Sept. 14- 15, Arneson River Theater.

---
Jekyll & Hyde/The Cameo
Cameo Theatre opens its season with the Texas-born musical Jekyll & Hyde from Tony and Grammy Award nominee Frank Wildhorn and Oscar and Grammy Award winner Leslie Bricusse. It's dark and dangerous with plenty of some hummable tunes such as "This is the Moment" and "A New Life". Sept. 7-20. Cameo Theatre.

---
The Haunted House/Overtime Theatre
Adapted from the ancient Roman comedy by Mostellaria, The Haunted House is a farce about drunken carousing, crafty slaves, and slapstick tricks. Sept. 20-Oct. 19.

---
Annual 24-hour Theatre Making event In San Antonio
Theatre Coalition's annual 24 Theatre Making Event, local playwrights gather and draw props, phrases and an outline of a cast and a line of dialogue to incorporate into plays overnight. Sept. 22, Woodlawn Theatre.

---
Have an event to announce? Email submissions by Sept. 10 for the next issue to nancy@artsandculturetx.com