Abilene + Albany
Drawn In/Drawn Out
Presented at Abilene's Grace Museum and Albany's Old Jail Art Center, this two-venue show features works by Helen Altman, Vernon Fisher, Heyd Fontenot, Joseph Havel, Robyn O'Neil, Rusty Scruby, Matthew Sontheimer and Eric Zimmerman, among others. Through April 19, The Grace Museum and The Old Jail Art Center.
---
Austin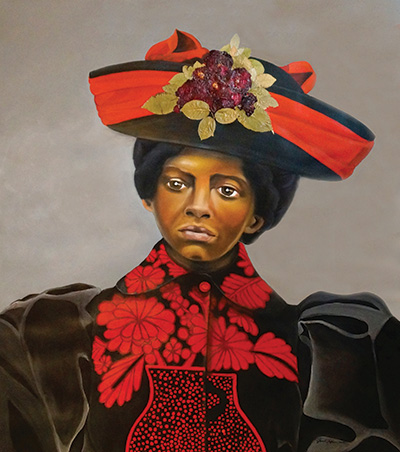 Janel Jefferson
Mining sites like eBay for 19th- and 20th-century photo portraits of everyday African Americans, Jefferson gives their forgotten sitters a shot at immortality by painting their formal portraits, emphasizing the importance of Sunday finery to people who toiled in the service industry six days a week during and after the days of slavery. March 1-29, Wally Workman Gallery.
---
∆Delta: Scott Gelber
Head to Co-Lab's Project Space for "two nested installations exploring six possible afterworlds based in myth, internet, and reality. Using ancient iconography and new technology, new media artist Noah Spidermen exhibits ΓGamma, an immersive video projection experience, and ∆Delta, a virtual reality journey through heaven, hell, and purgatory." March 8-15, Co-Lab Projects.
---
Tom Molloy: NATIVE
Known for enigmatic works dealing with the "production, distribution, and consumption of imagery dealing with current global affairs," the Irish artist returns to Lora Reynolds Gallery for his fourth solo exhibition with the gallery since 2007. March 22-May 10, Lora Reynolds Gallery.
---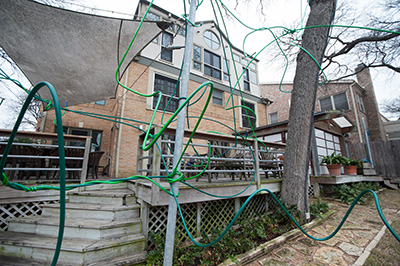 Homestretchbody
At the invitation of curator (and A+C contributor) Rachel Adams, Brooklyn, N.Y.-based artist Justin Cooper has installed "an immersive sculpture made from garden hoses that snake through the domestic setting of the ground floor. The hoses, articulating the formal lines of a drawing in space as much as a three-dimensional sculpture, create a multitude of niches and smaller locales within the gallery." Last chance: Through March 30, testsite.
---
Adela Andea: Lux, Lumens and Candelas
The Conroe-based artist's popular light sculptures and installations seem to be everywhere these days;  now Austin is in the loop. Last chance: Through March 20, Women and Their Work.
---
Michael Sieben: It Will All Happen Again
For his residency at the UT Visual Arts Center, the designer-illustrator and Okay Mountain co-founder has created a semi-immersive environment—filled with sculptures, wall paintings, animation, and drawings—"that examines the transition between childhood and adulthood." Through May 10, UT Visual Arts Center.
---
Living in the Layers: New work by Peggy Weiss and Micky Hoogendijk
A pairing of two Austin-based artists whose work is inspired by dreams and memories. Weiss, a photographer and collage artist, will unveil a new video and installation. Hoogendijk, a photographer, creates portraits and images inspired by the Dutch masters. Through April 5, Davis Gallery.
---
Dallas + Fort Worth
Nur: Light in Art and Science from the Islamic World
Organized by the Focus-Abengoa Foundation in Seville, Spain, explores the use and meaning of light in Islamic art and science through 150 rarely seen objects spanning more than 10 centuries. Featuring rare manuscripts and scientific objects from around the world, it's a landmark show for the Dallas Museum of Art, the lone U.S. venue for the exhibition. March 30-June 29, Dallas Museum of Art.
---
David Collins: Unbound
"One way of looking at my work is to view the subject as rooms," writes David Collins of his second Valley House Gallery & Sculpture Garden exhibition of his paintings and monotypes. "They are rooms real and imagined, rooms I have inhabited, and rooms that never existed." March 1-April 19, Valley House Gallery & Sculpture Garden.
---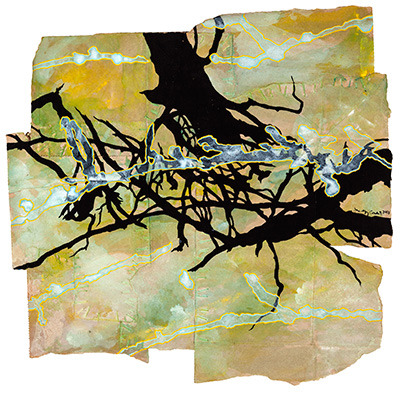 Painting in the Texas Tradition
Increasingly, art made in Texas reflects a global array of practices. Is there such a thing as "contemporary Texas regionalism"?  William Reaves Fine Art, a Houston-based gallery that mostly focuses on 19th- and 20th-century Texas artists, argues that there is, and brings some of its contemporary stable to the home of the Oak Cliff Society of Fine Arts. March 6-12, Turner House.
---
Annabel Daou: measure
Annabel Daou's text-based drawings are "worked with ink directly onto mending tape which is either exhibited as a scroll or unfurled onto paper. The language, written both in English and Arabic, is structured around historical depictions of the Wheel of Fortune such as its four directions in medieval art: I shall reign, I reign, I have reigned, I am without a kingdom." Last chance: Through March 29, Conduit Gallery.
---
ᗺ: Jeff Gibbons and Justin Ginsberg
Last summer Gibbons and Ginsberg, best known for their recent curatorial project Deep Ellum Windows, made a seven-week, 13,000-mile road trip together, making multimedia artworks along the way. ᗺ is the first exhibit of those works and related artifacts since their return. Last chance: Through March 29, Red Arrow Contemporary.
---
Samurai: Armor from the Ann and Gabriel Barbier-Mueller Collection
The first traveling exhibition in the Kimbell's new Renzo Piano Pavilion traces the evolution of the distinctive appearance and equipment of the Japanese Samurai from the 12th to the 19th centuries. Highlights include warriors' helmets of lacquered metal, adorned with emblems often inspired by nature; combat-ready samurai in full regalia on similarly armored steeds; and accoutrements used both for battle and ceremonies. Through Aug. 17, Kimbell Art Museum.
---
Art and Appetite: American Painting, Culture, and Cuisine
Organized by the Art Institute of Chicago, this traveling show explores how the topic of food has "allowed American artists both to celebrate and critique their society, expressing ideas relating to politics, race, class, gender, commerce, and how these categories define American identity." Featured artists include Richard Estes, Marsden Hartley, Edward Hopper, Roy Lichtenstein, Norman Rockwell, Wayne Thiebaud, Andy Warhol, Through May 18, Amon Carter Museum of American Art.
---
David Bates
"I always felt there was a club that included artists from Giotto through Picasso, and the American branch had members like Homer, Hopper, and Hartley," Bates says in the catalogue for his two-venue retrospective (paintings at the Modern; sculptures and works on paper at the Nasher). "I had always hoped to be a member of that club. I wanted to be a part of that more than a part of what was happening at the moment." Through May 11, Modern Art Museum of Fort Worth and Nasher Sculpture Center.
---
Peninsulas and Dragon Tails: Southeast Asian Art from the Crow Collection
Lacquered wood sculptures of young monks from the Mandalay period of Burmese history; a textile from 20th-century Bali; and a 7th-century sandstone sculpture of four-armed Vishnu, a rare example of early Khmer culture in Cambodia, are among the objects from modern-day Thailand, Myanmar, Vietnam, Cambodia, and Indonesia on view. Through May 5, Crow Collection of Asian Art.
---
Arthur Peña: slight shift, steady hand
Playing off the narrowness of his corridor space's walls, the Dallas painter first leads viewers through a mini-obstacle course of stacked panels of foam installation board—mounted on the walls, not stacked on the floor—before rewarding them with handsome collages of razor blades and a mural-sized grid of black, gray and white drawings that channel both Cy Twomby and Robert Ryman. Last chance: Through March 9, Dallas Contemporary.
---
Houston
John Singer Sargent: The Watercolors
Organized by the Brooklyn Museum and the Museum of Fine Arts, Boston, the exhibition unites, for the first time, their holdings of his watercolor paintings—the two most significant such collections. The Brooklyn and Boston collections were purchased by the two museums (in 1909 and 1912, respectively) directly from Sargent's two American watercolor exhibitions at the Knoedler Gallery in New York. March 2-May 26, Museum of Fine Arts, Houston.
---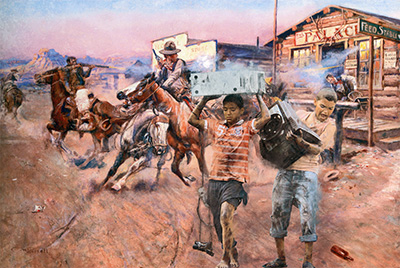 Wetiko: Cowboys and Indigenes
Finding parallels between the mythologizing images of Wild West artist-correspondents and the international community's influence in the Arab world, Egyptian artist-photographer Nermine Hammam manipulates historical paintings of the American West by Frederic Remington, Charles Marion Russell and others with recent photographs of the Arab Spring. March 14-May 4, Houston Center for Photography.
---
Last Tip of My Hat
To coincide with rodeo season, the National Museum of Funeral History has borrowed a custom-made pine coffin from the Cowboy's Last Ride casket company in Early, TX. Visitors can also view the memorial folder from Roy Rogers' funeral, as well as pay tribute to other fallen Hollywood cowboys and cowgirls in the museum's Thanks for the Memories exhibition. March 1-31, National Museum of Funeral History.
---
Mi Amor me ha dado recuerdos para ti/My Love has given me memories for you
This exhibition of photographic works by Delilah Montoya, based on her book of the same title, was "designed as a cathartic gesture to ease and bring closure to a personal relationship," she writes. "Presented as a compound narrative, the images, script, and keepsakes amassed during the relationship become a visual memoir." March 7-April 25, Multicultural Education and Counseling through the Arts.
---
Daniela Edburg: Killing Time
"With great nostalgia for the time when aspirations replaced real life and an apparently perfect world seemed like a possible fiction to live by, this series speaks of the self-destructive nature of mankind and the creation of what is perceived as a safe place," the photographer writes on her website. "These images were made near and around San Miguel de Allende and Mexico City, from 2005 to 2008." March 22-April 19, Anya Tish Gallery.
---
Memories of a Voyage: The Late Work of René Magritte
Drawn primarily from the Menil's deep holdings of works by Magritte, this exhibition brings together a number of of the Belgian surrealist's works made between 1941 and 1967. Mounted to complement the Menil's presentation of the traveling Magritte: The Mystery of the Ordinary: 1926–1938, it complements the arc of his career. Through July 13, The Menil Collection.
---
Nazar Yahya: The Truth
The Baghdad-born, Houston-based artist presents staged photographs and sculpture derived from the pages of his sketchbook to tell the story of the Islamic mystic poet Mansur al-Hallaj (858-922). Last chance: Through March 31, Wade Wilson Art.
---
Cheryl Donegan: Haul
For her first solo exhibition in Houston, Cheryl Donegan will debut a silent video projected onto a dress-form wearing a plain, white, full skirt. In Haul, "the video image fills the entire contour of the garment, creating a moving kaleidoscope of images that cover the skirt with pattern and form." The video is joined by paintings on jute in which the surface is multiplied, "repeated, imitated, broken down, covered over and thinly skimmed." Last chance: Through March 29, David Shelton Gallery.
---
Joanne Greenbaum
An abstract painter, Greenbaum "wields a vast visual glossary, with her works sometimes reading like punchy, assured, confrontational statements and at other times ballooning quietly across the page like slow-capture botanical animation, never arriving at any kind of declaration," Ali Fitzgerald has written. "Gestures grow and shift on an exposed plane, framed by a soft and immediate architecture." Last chance: Through March 29, Texas Gallery.
---
Dark Light: The Micaceous Ceramics of Christine Nofchissey McHorse
Working from traditional materials and techniques, the Navajo artist's vessel-based art blends the boundaries of pottery and sculpture, erasing the line between function and form. Her first traveling exhibition highlights "the unadorned sophistication of the sultry curves, black, satiny surfaces, and modern forms of her Dark Light series, created from 1997 to present." Through May 11, Houston Center for Contemporary Craft.
---
Marfa
Sound Speed Marker: Theresa Hubbard and Alexander Birchler
"Through three video installations—Grand Paris Texas, Movie Mountain (Méliès), and the premiere of their most recent film, Giant—Hubbard/Birchler frame the traces that filmmaking leaves behind in physical places as well as in people's psyches," writes A+C contributor Nancy Zastudil. Sound Speed Marker also includes related photographs and a comprehensive catalogue due to be published in December. Through July 31, Ballroom Marfa.
---
San Antonio
2014 CAM Perennial Exhibition
For the past three years Contemporary Art Month, a monthlong celebration of art in San Antonio, has invited a curator from outside the city to organize its Perennial Exhibition. This year's guest curator is Mexico City-based Leslie Moody Castro. March 21-May 31, Guadalupe Cultural Arts Center.
---
Paul Rodriguez: Post Penis
An installation consisting of video loops, light and sound, Post Penis "captivates the viewer using sublime landscapes, abstraction, still lifes, vivid color and entrancing sound as a means to provoke thought beyond the physical present." March 6-May 11, Blue Star Contemporary Arts Museum.
---
Paula Owen: Vague Chatter
Cartoonlike pictographic symbols float against abstract monochrome fields in Owen's paintings. "I seek the sublime, but we live in an era in which we are assailed by information—bits, bytes, symbols, images," Owen writes. "How do we navigate with all that swarms around us?" March 1-April 25, REM Gallery.
---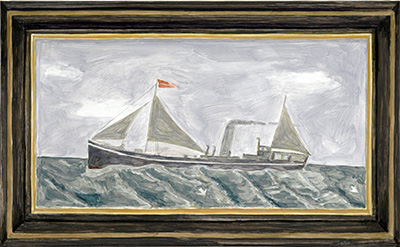 Happy Homemakers: The Pleasures and Perils of Domestic Life
Guest-curated by Menil Collection curator Toby Kamps, this group show uses painting, photography, sculpture, video, and performance "to re-domesticate the galleries of Sala Diaz, a former duplex apartment. Six Houston artists, Melanie Crader, Francesca Fuchs, Rachel Hecker, Mick Johnson, Jim Nolan, and Jenny Schlief, along with the Chicago-based collaborative of Dutes Miller and Stan Shellabarger, explore themes and forms from indoor living in works as fraught, funky, and funny as home life itself." March 22-April 27, Sala Diaz.
---
Andrés Ferrandis: Numinous
The Spanish-born, Miami-based artist presents constructions of collage on paper utilizing photography, fragments of text, and cut-paper organic and geometric forms. Billed as "landscapes of memory," the new collage works "bridge Ferrandis' painting history with his design practice in furniture and architecture." Last chance: Through March 22, Ruiz-Healy Art.
---
Thomas Sully: Painted Performance
Organized by the Milwaukee Art Museum and curated by William Keyse Rudolph , SAMA's  American art curator and chief curator, this retrospective argues that the American Romantic painter's lifelong connection to the theater informed his work, prompting him to orchestrate drama and a heightened sense of activity in his paintings. Through May 11, San Antonio Museum of Art.
---
Tyler
Illuminating Nature: Recent Paintings and Works on Paper by Billy Hassell
The show features thirty recent paintings, lithographs and mixed-media works by an artist known for his large canvases and vivid color palette. The exhibition includes several freshly completed pieces being shown for the first time. Last chance: Through March 23, Tyler Museum of Art.
— DEVON BRITT-DARBY
Email visual-arts submissions with hi-res images to devon@artsandculturetx.com.