---
IMAGE ABOVE: Youssef Nabil. Self-portrait with the Sunset (detail), Rio de Janeiro, 2005. Courtesy of the artist and Nathalie Obadia Gallery, Paris/Brussels.
---
Austin
Billed as "part art festival, part block party," the weekend-long arts festival "transforms the streets of downtown in a celebration of art, culture and creativity." It's happening in the streets, plazas and open spaces along Austin's Cesar Chavez Street and 2nd Street District. April 12-13, various locations.
---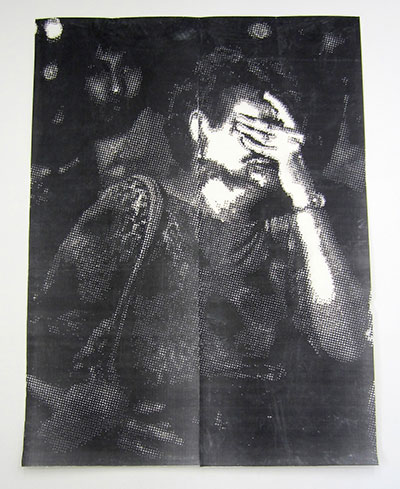 Tiny Park presents its last exhibition in the Navasota Street space and will include two large-scale works that are a continuation of Aragon's series of hand-drilled portraits. Aragon will also show a selection of small-scale works from a new series that explores "visual crowding," defined as the inability to distinguish details in clutter. Last chance: Through April 26, Tiny Park.
---
Here Be Monsters: Jon Langford, Reg Mombassa & Peter O'Doherty
Australian artists Reg Mombassa and Peter O'Doherty are best known stateside for their work in the band Mental As Anything in the 1970s and 80s and their band Dog Trumpet, which has been active since 1981. Jon Langford, a Welsh artist and musician living in Chicago, is known for his work with British proto-punk band the Mekons, Chicago alt-country outfit the Waco Brothers, and for his solo work. They're united in a group show of paintings and prints. Last chance: Through April 20, Yard Dog Gallery.
---
Springworks: Fresh Visual Culture
This open-studio event features sculpture, screen printing, video production, jewelry, textiles, painting and mixed media by more than 20 artists including Sara Vanderbeek, Foster Talge, Marianne McGrath, Jodi Rae Brownstein, Court Lurie, Scott Saunders, Tina Schweiger, Nicholas Dertien, Kristy Battani, Jason Webb, Paul Meyer, Pamela Johnson, Zoe Berg, Lacey Richter, George Silas, Bruce Braden & Ryan Burkhart, Lucy MacQueen, Jill Hubley, Casey Warr, Carolina Villareal, Alan Skelton, Chelsea Brouillette, and Tim Schmidt. The work is spread over six buildings on a three-acre campus. April 12-13, Artpost Austin.
---
Charles Long: CATALIN and Pet Sounds
A+C contributor M.M. Adjarian writes that CATALIN at Jones Center is a complex, multi-layered work that "focuses on the tensions between the natural and the man-made, as well as the looming threat of planetary destruction to which those tensions have given rise. Less cerebral but no less compelling, Long's Laguna Gloria installation Pet Sounds is a joyful, sometimes mischievous, interactive celebration of form and sound." Last chance: Through April 20, The Contemporary Austin.
---
Dallas + Fort Worth
Tiravanija is often recognized for his role in "relational aesthetics," a movement in art in which social interaction is key and the artist is a catalyst for social exchanges. In addition to his performances, the artist has created wall drawings, sculptures, installations, and text-based works that often relate to his social initiatives. April 6-June 21, Modern Art Museum of Fort Worth.
---
Richard Phillips: Negation of the Universe
Presented in tandem with his monumental outdoor sculpture Playboy Marfa, which will be installed outside Dallas Contemporary, Phillips's first U.S. solo museum exhibition will feature both past and new works that emphasize his career-long exploration of political and social identity, consumerism, eroticized desire and social constructs. April 11-Aug. 10, Dallas Contemporary.
---
Ninety national and international art dealers and galleries will exhibit painting, sculpture, works on paper, photography, video, and installations by modern and contemporary artists at the sixth annual iteration of the fair. April 11-13 (preview gala April 10), Fashion Industry Gallery.
---
The Art of Leadership: A President's Personal Diplomacy
More than two dozen of George W. Bush's much-discussed paintings will be "accompanied by artifacts, photographs, and personal reflections to help illustrate the stories of relationships formed on the world stage." Leaving aside what Los Angeles Times critic Christopher Knight aptly dubbed the vanity-museum setting, Bush's paintings, some of which look like they'd be fun finds if you stumbled across them in a thrift store, offer a case study in how what you know and think about a painter affects your reaction to his work. April 5-June 3, George W. Bush Presidential Library and Museum.
---
The Houston-based figurative painter's solo show was inspired by Vance's current living situation, a fourplex apartment building shared by three other single women who can often hear each other through the thin walls. The aging nature of the building itself creates odd situations that the women share—perfect fodder for the psychological-thriller mood Vance likes to give her paintings. April 6-May 10, Cris Worley Fine Art.
---
Inspired by nature, Billy Hassell's work combines elements of abstraction and representation. While never entirely abandoning recognizable subject matter, he composes with an abstract sensibility, emphasizing image with a dramatic use of color and a whimsical use of pictorial space. Images of nature, birds in particular, and fragments of landscape recur frequently throughout his work. April 5-May 10, Conduit Gallery.
---
Master of Fine Arts Exhibition
Masters-degree candidates from the University of Texas at Arlington present their work. April 7-19, The Gallery at UTA.
---
The first of what organizers say will be an annual photography and digital arts festival focused on Texas artists, this year's event includes work by Dornith Doherty, Hillerbrand+Magsamen, Richard Krall, Dick Lane, Kenda North, Elle Schuster, Soody Sharifi and Ann Stautberg. April 26-27, Valley View Mall.
---
"One way of looking at my work is to view the subject as rooms," writes David Collins of his second Valley House Gallery & Sculpture Garden exhibition of his paintings and monotypes. "They are rooms real and imagined, rooms I have inhabited, and rooms that never existed." Last chance: Through April 19, Valley House Gallery & Sculpture Garden.
---
Was Joaquín Sorolla y Bastida (1863-1923) the Spanish John Singer Sargent, or was Sargent the American Sorolla? Seeing this show in tandem with the Museum of Fine Arts, Houston's John Singer Sargent: The Watercolors (through May 26) may help you decide. Not only were Sargent and Sorolla friends and mutual admirers dubbed "children of Velasquez" by critics, but both exhibitions revolve around each artist's respective pair of successful New York shows presented at around the same time (1909 and 1911 for Sorolla; 1909 and 1912 for Sargent). Last chance: Through April 19, Meadows Museum.
---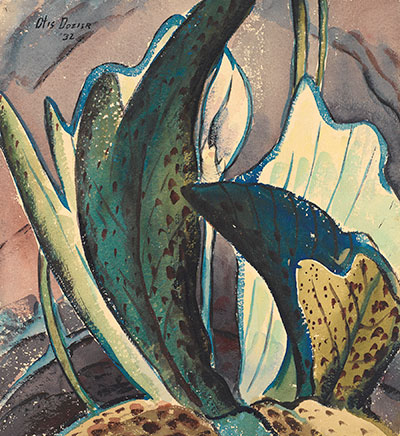 What a treat it's been getting to visit this installation of works by Depression-era Texas painters Jerry Bywaters, Alexandre Hogue, William Lester, Otis Dozier, Florence McClung, Thomas Stell, Harry Carnohan, and Coreen Spellman, among others, at the Amon Carter for the past year. It's a choice selection I'll be sad to see come down. Last chance: Through April 20, Amon Carter Museum of American Art.
---
Ma Jun's New China series includes various shapes—including radios, soda bottles, books, a lipstick, and cars—all in a style traditionally used on painted ceramics. his first four car sculptures were Buicks. A Porsche was suggested by Trammell S. Crow for the series, and china.porsche was commissioned and realized in conjunction with the Crow Collection. Its body is a fiberglass cast (mold) of a hand-carved wooden model, shaped to look like a Porsche 911. Through May 26, Crow Collection of Asian Art.
---
Alexandre Hogue: The Erosion Series
The land-management failures that spawned the dust-bowl decade of the 1930s became the impetus for some of Hogue's most powerful imagery—the Erosion series. Organized by the Rockwell Museum of Western Art in Corning, N.Y., this exhibition presents the artist's erosion works along with supporting drawings for several of the paintings. Through June 15, Dallas Museum of Art.
---
Samurai: Armor from the Ann and Gabriel Barbier-Mueller Collection
The first traveling exhibition in the Kimbell's new Renzo Piano Pavilion traces the evolution of the distinctive appearance and equipment of the Japanese Samurai from the 12th to the 19th centuries. Highlights include warriors' helmets of lacquered metal, adorned with emblems often inspired by nature; combat-ready samurai in full regalia on similarly armored steeds; and accoutrements used both for battle and ceremonies. Through Aug. 17, Kimbell Art Museum.
---
Houston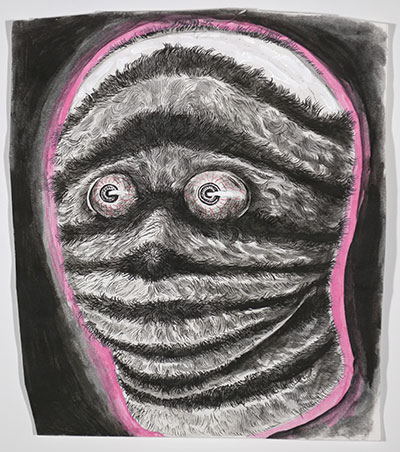 Trenton Doyle Hancock: Skin & Bones, 20 Years of Drawing Skin & Bones is the first in depth examination of Hancock's extensive body of drawings, collages, and works on paper. It features more than 70 works of art as well as a collection of the artist's ephemera such as notebooks, sketchbooks, and models–not just from the years spanning his career (1998-2014), but from his childhood and youth as well. April 26-Aug. 3, Contemporary Arts Museum Houston.
---
Dinh Q. Lê: Crossing the Farther Shore
The artist plans an architectural installation of black-and-white photographic ephemera taken from the Vietnam War era, pre-1975. They are stitched together in monumental grids and paired with text handwritten on the back of the photographs. April 10-Aug. 28, Rice University Art Gallery.
---
The exhibition offers a selection of about 40 pieces of furniture, ceramics, graphic design, jewelry and metalwork, industrial design, and lighting that have come into the MFAH's collection since 2010. Among the architects and designers represented are Peter Behrens, Andrea Branzi, Isamu Noguchi, Richard T. Notkin, Gerrit Rietveld, Carlo Scarpa, and Ettore Sottsass. April 18-Oct. 10, Museum of Fine Arts, Houston.
---
36th University of Houston School of Art Master of Fine Arts Thesis Exhibition
The 2014 Master of Fine Arts candidates are Jose Baez Franceschi, Aaron Bielish, Carlos Corona, Jessica Crute, Brenda Cruz, Jamie Davis, Lauren Moya Ford, John Forse, Betsy Huete, Bradley Kerl, Kyle Earl McAvoy, Linh O'Briant, Tom So, Jeremy Underwood, Joshua Ward, Arnea Williams, Rhonda Wolverton, and Amy Beth Wright. April 5-19, Blaffer Art Museum.
---
View from Inside: Contemporary Arab Video, Photography and Mixed Media Art
Curated by curator Karin Adrian von Roques, one of the world's leading experts on contemporary Arab art, this year's official FotoFest Biennial exhibition is best understood as one big show spread out over four venues—Silver Street Studios, Winter Street Studios, Spring Street Studios, and Williams Tower Gallery—rather than four distinct exhibitions, as in previous biennials. Last chance: Through April 27, various locations.
---
CrossSection: Latino Artists in Texas
Curated by Benito Huerta, this group show features politically charged works by Margarita Cabrera of El Paso, Adriana Corral of San Antonio, Rigoberto A. Gonzalez of Harlingen, Carlos Donjuan of Dallas, and Gabriel Martinez of Houston. Last chance: Through April 26, Houston Museum of African American Culture.
---
Soody Sharifi: The Space Within
Sharifi, a Houston-based Iranian-American artist, presents a body of work exploring "the condition of being at once a part of and apart from one's culture. Through a series of self-conscious portraits and fantastic desert tableaus, this exhibition explores the conceptual space where private and public impinge upon one another." Last chance: Through April 26, Deborah Colton Gallery.
---
FOTOFEST 2014: Kathryn Dunlevie, Julie Brook Alexander
Dunlevie's mixed-media photography reinterprets the urban landscape. Alexander creates photo-based work interpreting color, light and movement. Last chance: Through April 26, Hooks-Epstein Galleries.
---
"With great nostalgia for the time when aspirations replaced real life and an apparently perfect world seemed like a possible fiction to live by, this series speaks of the self-destructive nature of mankind and the creation of what is perceived as a safe place," the photographer writes on her website. "These images were made near and around San Miguel de Allende and Mexico City, from 2005 to 2008." Last chance: Through April 19, Anya Tish Gallery.
---
Through his transformation of low-cost mass-produced products, such as T-shirts, serapes, and posters, Esparza combines traditional Mexican-American craft-based practices with the universal language of geometric abstraction. Permeating HCCC's Front Gallery, his deconstructed serape installation brings Mexican-American identity to the forefront by calling into question the serape's function as Mexican icon. Through May 11, Houston Center for Contemporary Craft.
---
Marfa
Sound Speed Marker: Theresa Hubbard and Alexander Birchler
"Through three video installations—Grand Paris Texas, Movie Mountain (Méliès), and the premiere of their most recent film, Giant—Hubbard/Birchler frame the traces that filmmaking leaves behind in physical places as well as in people's psyches," writes A+C contributor Nancy Zastudil. Sound Speed Marker also includes related photographs and a comprehensive catalogue due to be published in December. Through July 31, Ballroom Marfa.
---
San Antonio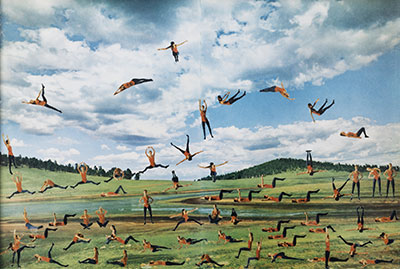 The inaugural exhibition for SPACE, the Linda Pace Foundation's new 2,000-square-foot exhibition space in the northeast corner of CHRISpark, features works in the foundation's collection by Catherine Opie, Donald Moffett, Lynda Benglis, Forrest Bess, Kendell Geers, Mona Hatoum, Jim Hodges, Andrea Bowers, Marilyn Minter, Wangechi Mutu and Linda Pace, among others. April 18-Sept. 13, SPACE.
---
San Antonio-based sculptor Brandon Nepote, the subject of this solo show, writes that his current body of work is "inspired primarily by conversation; the works are a discourse on interactions I have with people I encounter daily. … My response to words, context and meaning is at the core of the arrangement of elements." April 3-27, Blue Star Contemporary Arts Museum.
---
Straight from Berlin: Paintings and Works on Paper by Uwe Kowski and Jörg Herold
Ruiz-Healy Art's first collaboration with Galerie EIGEN + Art in Berlin features Uwe Kowski and Jörg Herold, members of the New Leipzig School, a group of artists identified with Neo Rauch who were born in then-East Germany and trained at the traditionally-inclined Hochschule für Graphik und Buchkunst Leipzig (Leipzig Academy of Visual Arts). Through May 3, Ruiz-Healy Art.
---
"Form, for me, means dealing with the total construction of a painting, not geometry or making a picture of something," Zurier told the Huffington Post last year. "I'm very interested in how compositional formats and motifs, and even incidents in a painting can trigger perceptual responses and associations." Last chance: Through April 25, Lawrence Markey Gallery.
---
Happy Homemakers: The Pleasures and Perils of Domestic Life
Guest-curated by Menil Collection curator Toby Kamps, this group show uses painting, photography, sculpture, video, and performance "to re-domesticate the galleries of Sala Diaz, a former duplex apartment. Six Houston artists, Melanie Crader, Francesca Fuchs, Rachel Hecker, Mick Johnson, Jim Nolan, and Jenny Schlief, along with the Chicago-based collaborative of Dutes Miller and Stan Shellabarger, explore themes and forms from indoor living in works as fraught, funky, and funny as home life itself." Last chance: Through April 27, Sala Diaz.
---
Tyler
Mediterranea: American Art from the Graham D. Williford Collection
The show features thirty recent paintings, lithographs and mixed-media works by an artist known for his large canvases and vivid color palette. The exhibition includes several freshly completed pieces being shown for the first time. April 13-June 29, Tyler Museum of Art.
---
— DEVON BRITT-DARBY
Email visual-arts submissions with hi-res images by April 11 to devon@artsandculturetx.com.