METdance  performs Margot Gelber's Significantly Other  on Sept. 25 at Miller Outdoor Theatre.
Photo by Ben Doyle.
---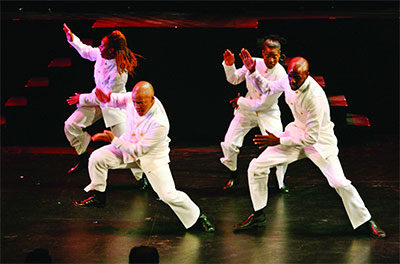 Houston's Miller Outdoor Theatre is truly one-of-a-kind.  Not only does it present top-notch dance, theater and film events in a tranquil outdoor setting, but it does so entirely for free for the public. As the largest "always free" program in the U.S., Miller's mission is to provide an eight-month season of world-class performances that bring together diverse audiences of all ages from across Houston. A+C writer Claire Spera spoke with Cissy Segall Davis, managing director of Miller, about the first couple months of Miller's 2015-2016 season.
Miller Outdoor Theatre has been presenting performances for 92 years. Have they always been free?
Performances have always been free. Although I cannot verify this, it is possible that in the 1920s and early 1930s, there was a charge for people to attend the radio broadcast of two major sporting events.
Miller has set attendance records for the past three seasons. With an audience capacity of over 6,200 between the seated section and the open-seating lawn, the Miller is the largest "always free" program in the country. Why is it important to present free programming?
Making the performing and cultural arts available to all is Miller's mission. By removing price as a barrier, everyone who wants to attend can do so, regardless of financial condition, social standing or cultural background. This venue and programming is a wonderful gift to residents and visitors of our great city.
What's the makeup of a typical performance season?
It's 85 percent Houston companies and 15 percent touring groups and films.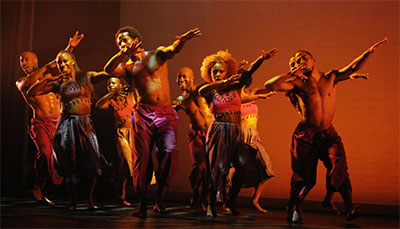 September and October count several dance companies on Miller's bill, including the Washington, D.C.-based step dance troupe Step Afrika! (Sept. 19). This will be the company's second visit to Miller; what was the energy like at their first performance? What can we expect for this upcoming performance?
Step Afrika! is an amazing company!I don't think I've ever seen such incredible energy in a single performance. The audience can expect a non-stop, high-energy, thoroughly entertaining performance.
Miller has had a long relationship with Houston-based modern dance company MET

dance

  (performing Sept. 25). How has that relationship evolved over the years?
METdance continues to evolve and grow as a performing company, bringing new ideas and choreography to their performances at Miller. This year, they wanted to celebrate the beginning of their 20th season with a performance at Miller, and the Miller Theatre Advisory Board embraced the idea by adding a grant to cover the second evening performance. METdance draws large, diverse audiences for contemporary dance, exposing thousands to creative and professional performances.
Talk about children's programming, especially with respect to the Oct. 5, 11 a.m. performance of Leverage Dance Theatre's Moving with Science, an interactive exploration of Sir Isaac Newton's Laws of Motion.
The daytime children's performances are an important feature of the free season at Miller, offering an affordable way to introduce younger children to a wide variety of performing arts productions, from opera to contemporary dance, musical theater to ballet folklórico and more. Young Audiences of Houston is presenting Leverage Dance Theatre's Moving with Science as part of its three-show series at Miller. The performances are entertaining, fun, educational and interactive — a great combination that also demonstrates the close relationship between the performing arts and science.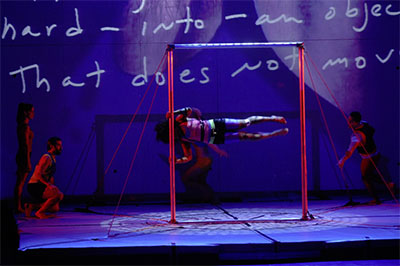 Streb performs Forces, a high-energy evening of choreography that intertwines dance, boxing, rodeo, the circus and Hollywood stunt-work, on Oct. 30-31. Streb hasn't been in Houston in over a decade. What's most exciting about bringing them back?
I've wanted to present Streb at Miller for the past five years, and the tour opportunity finally presented itself. The sheer athleticism and power displayed by Streb's company in Forces is breathtaking. I am in awe of their ability and creativity.
Breathless (Sept. 12) by Bollywood Blast! and Splendid China's X  (Oct. 16-17) both promise to be a ball. Tell me about the relationship the Miller has with each of these companies.
The relationship with Indian Performing Arts – Samskriti goes back many years. Rathna Kumar is one of the most highly respected teachers of classical Indian dance in the U.S. and India. Her late husband, Anil, nurtured the idea of adding Bollywood to the programming mix and came up with the title Bollywood Blast! Bollywood films are wildly successful in India and the dance style is distinctive. It draws a large, multi-cultural, multi-generational audience.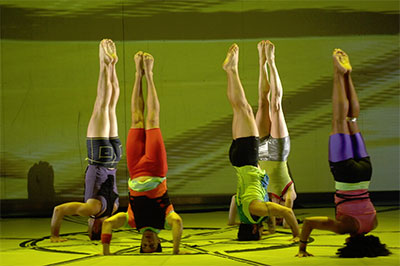 The relationship with Dance of Asian America began in 2002 with their production, East Meets West. Janie Yao proposed adding Splendid China 10 years ago. The company has a long and productive relationship with several professional dance companies in Shanghai and has been bringing spectacular, award-winning dancers to perform at Miller. The production is a combination of classical and contemporary Chinese dances performed by the amazing guest artists from Shanghai, the Dance of Asian America professional company and Mitzi Dance Studio performers. Lighting, costuming, remarkable skills — it's a beautiful evening of dance. Both of these companies add to the rich cultural diversity of Miller's programming, bringing traditional and contemporary examples of dance styles from India and China.
Anything else?
The Houston organizations that receive a grant from the Miller Theatre Advisory Board must match the grant they receive. This public-private partnership is what makes the free season possible. The board also raises funds to present the wide variety of touring companies like Step Afrika! and Ballet Folklórico de Mexico de Amalia Hernandez. Working together, we create an amazing season of 130 to 140 culturally and artistically diverse performances annually and offer them free of charge in a spectacular setting. To see hundreds of thousands of Houstonians and visitors of all ages, ethnicities and backgrounds coming together to enjoy the thrill of live performances is gratifying. This venue holds a special place in the hearts and memories of Houstonians, and it is a privilege to play a part in its storied history.
—CLAIRE CHRISTINE SPERA