Adan De La Garza and Ryan Ruehlen with dry ice and cymbals at Currents New Media festival, Santa Fe NM 2014.
---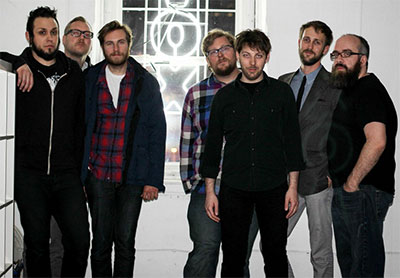 Flinching Eye Collective is a group of interdisciplinary media artists who explore sound-based, interactive performance. The Collective includes Max Bernstein, Matt Weedman, Scott Ferguson, Ryan Wade Ruehlen, Adan de La Garza, Tobias Fike, and Benjamin Gale-Schreck. After learning more about the Flinching Eye Collective during Santa Fe Currents International New Media Festival, we were excited to hear that Collective was headed to Texas for a three-city "Aberration" tour this November.  They will be performing on Nov. 6 at Church of the Friendly Ghost  at Salvage Vanguard Theater in Austin, Nov. 7 at CentralTrak in Dallas and Nov. 8 at Nicole Longnecker Gallery in Houston.  Weedman, one of their Texas members and founders, visited with A + C TX editor in chief Nancy Wozny about their work and the upcoming tour.
A+C:  From reading your bios I see it was at University of Colorado that you "collected." Why was this such a fertile place for you to gather and become Flinching Eye Collective?
MATT WEEDMAN:  To a large extent we gravitated to each other as the misfits of our program, feeling pressure to fit more established molds of art making.  As visual artists we found freedom in performance, which provided an opportunity to experiment with difficult materials such as sound, projection and time, which have a less established dogma in academia and the art world.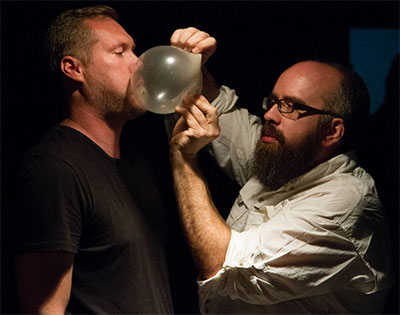 A+C:  When I think of the name Flinching Eye Collective I want to bring safety goggles to the show, possibly ear protection. Then I look at the photos and see that you are sometimes clad in hazmat suits. Danger and fun look part like part of the experience. But you tell me, what is the group's persona?
MW:  I see the term "flinching eye" as a statement on the difficulty of seeing the world as it is without bias. Ultimately, we are a collection of nerds that identify with the rock stars and art icons we will never be, as we put a lot of attitude into our ridiculous acts of art making.  We have also at some point lost our ability to be embarrassed, which helps make things interesting. Perhaps more descriptive might be that we are not guys behind computers making noises, our physicality and immersion is essential.
A+C:  I read that you deal with sound with the energy of visual artists rather than musicians. Use that idea as a jumping off point to explain what we might hear and see.
MW:  I would like to think that we relate to the wizards from the turn of century wonder shows, as our performances are akin to theatrical presentations of strange devices and inventions. In this show, we use a light bulb to transform sound and digitally remix live Doppler heart monitoring.  With much of performance art's tone being solemn and alienating, we are interested in bringing our audience right into the experience. Using spectacle and audience involvement, we attempt to locate hidden relationships between objects, technology and our shared humanity.  In the past, we have used such things as audience member's breath to create humorous aural imagery of fear and isolation.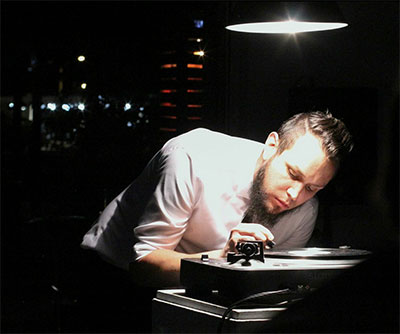 A+C:  I read your manifesto and like that you include your start to finish approach, in that all you need is a roof and an electrical outlet and you are good to go. Performance can be so high maintenance with so many special needs. How did you develop this approach, and what do you see as the great advantages of taking in from an artistic perspective?
MW:  Traditionally, the goal of performance, like painting, attempts to take your mind to another place, hence the stage and seating arrangement.  As contemporary artists, we are interested in acknowledging and engaging the spaces we perform in by performing all over the space and utilizing the unique features of the venue and audience whenever possible, often performing amongst other gallery artwork. By being a self-contained unit we are able to perform in spaces that couldn't otherwise handle a full show experience, and allow us to reach an audience that is fresh and not jaded by sound art performance conventions.
A+C:  Talk about the group's embrace of technology, old, new and imaginary.
MW:  As I stated earlier, we are at heart nerds and love tech and tools both old and new. The marriage of old technology, such as a handsaw with digital synthesis, allows both to be seen in a new way, and reveals the human relationship to technology by disrupting its prescribed use. We use video mapping, a sewing machine, infrared movement analysis, and hand-crank cake mixers in the most fluid way we can in an attempt to ask difficult questions about who we are.