IMAGE ABOVE: FROM Born To Fly: Elizabeth Streb vs. Gravity.
---
Kudos to the folks at Houston Cinema Arts Festival, Nov. 12-16,  for remembering that dance film is an important aspect of any festival claiming to be about the arts. Each year has brought gems of the dance film world to Houston audiences, and this year is no different, with four outstanding dance films throughout the festival. Modern dance, extreme action, ballet and just dancing around the house are some of the dance genres represented in the four films selected by HCAF artistic director Richard Herskowitz. And with two films centered on local dance companies, it's a terrific opportunity to learn more about dance in Houston.
Revolve on Camera
Houston Dance folks have been waiting for this one ever since news got out that Heather and Benjamin Epps of Gothic South were working with Revolve, the upstart troupe based in North Harris County, run by Amy Cain and Dawn Dippel. We have been teased with fabulous location shots on Facebook for a year now, and we can finally see what all the fuss is about when Revolve on Camera screens at the MFAH on Nov. 16 at the MFAH, with the filmmakers in attendance. The event also includes a live performance by the company as well. The filmmakers and Revolve first met at the Showstoppers Competition, which is run by Heather Epps' parents. The team was immediately drawn to their work. "Their technique and musicality seem utterly their own and I was captivated by the way they perform," says Heather Epps. "Their connection to one another is mesmerizing and palpable onstage, too. It's as if they move and breathe as one organism which creates remarkable work. They also have this uncanny ability to dissect music and make you, the audience, experience a new way of hearing through their movement and interpretation."
The film truly captures the snappiness of Dippel and Cain's choreography, in fact, some might say it adds another layer of interest. "Every frame counts, especially in dance, because the movement in the frame changes so quickly and dramatically," says Benjamin, who began taking dance classes during the process to get a better sense of the art form. "I seek to cinematically distill, enhance, and present the core flow of movement and emotion that Revolve loads into each of their dance works. The trick is to not try and capture every step, move, or nuance of choreography, because it's ultimately impossible.  Live performance allows the audience to edit with their own eyes in real time."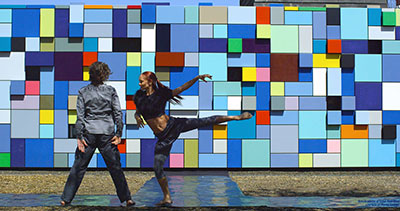 The company's robust musicality is also reflected in the film's dynamic editing. "When I'm editing dance specifically, the musicality is crucial, because that's really what you are after," says Benjamin. "The kinetic impact, whether it be staccato or legato – allegro or andante – and so forth. The dancer can land movement with a pop and I can land the edit with a pop."
The film was shot on several locations, including several Houston locations as well as more exotic locales. They worked hard to match each piece to the place. "We chose the pieces to not only demonstrate the vast and multifaceted repertoire of Revolve, but also to allow for different looks and settings for each piece, " says Heather. "Angsters was the first work that we shot on location, and it also contains the most locations of any piece, over 17 Houston locales. That piece really inspired us to go big on the location front.  After tackling such incredible settings in the Houston art world, we knew we had set the bar high in the remaining seven dances. We have a great mix of exterior landscapes from beautiful Texan grasslands, to the beaches of Malibu, and even a National Park in the California mountains."
Houston Ballet + Lang Lang at Miller Outdoor Theatre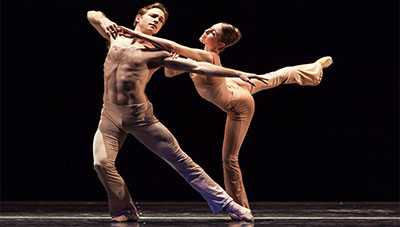 Houston Ballet and HCAF have partnered for several screenings over the years, including the world premiere of the Houston Ballet documentary, Breaking Boundaries, last year. This year, HCAF and Houston Ballet partner  for the U. S. premiere of Sounds of the Soul (Sons de L'ame), screening at Miller Outdoor Theater on Nov. 16. According to Houston Ballet artistic director Stanton Welch, the film really captures the chemistry between Lang Lang and the dancers, allowing the intimacy of the live performance to come through. "From the moment they took the stage, the dancers and Lang Lang never took their eyes off each other," recalls Welch. When Sounds of the Soul premiered at Theatre des Champs Elysees in Paris in October of 2013, the event proved a milestone for the company. Although, we have seen excerpts of this ballet last season, this is a chance to see the entire piece. Houston Ballet principal Karina Gonzalez recalls the experience. "Every performance with the amazing Lang Lang was a moment that I will never forget in my career. Every note that he played touched my soul and felt like the music and my dancing were one."
Born To Fly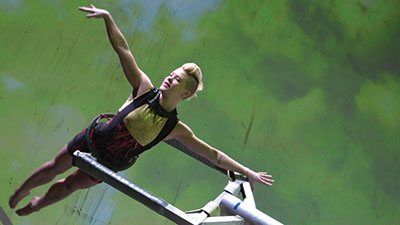 "Anything that is too safe is not action," says Elizabeth Streb in the documentary on her work, Born To Fly: Elizabeth Streb vs. Gravity, directed by Catherine Gund and screening on Nov. 14 at Sundance Cinemas with Gund and Streb in attendance. Streb is interested in the full catastrophe of humans in motion, and prefers the term "action." She is a singular force in the dance field, stripping the art form to its barest elements, bodies hurling through space, often from great heights. Although we may fear for the performers' lives, it's unbelievably exciting to witness, raw and visceral. Gund's film traces the evolution of Streb's philosophy and the road from ground to sky, while exploring the lives of her fearless troupe of daredevils. Expect to be dazzled in a "don't try this at home" way by the breathtaking performance sequences. Oh, and there's is no hiding the bruises.
Gund has been drawn to Streb's work since her college years. "I decided to make a movie about Streb's work because it functions on so many levels and has such a visceral, physical and emotional effect on me," says Gund. "I wanted to see if I could use my time-based medium, which is film, to create the same feelings in viewers that I feel when I see Streb's work: exhilaration, fear, joy, disbelief. I wanted to see if Streb's work could facilitate a broader understanding and embrace of risk, trust, fear, challenge. I wanted to take people out of their every day habits and routines with exposure to the characters of the dancers presented as facets of this powerful thinker."
Argentinean Dance Party with Living Stars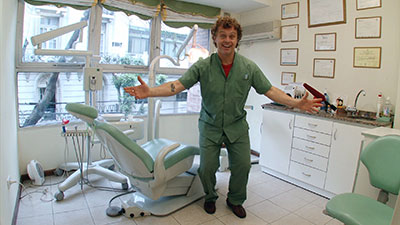 Sometimes you just want to dance around the house as if no one is watching.
Living Stars, a hit at the Sundance Film Festival, is a sixty minute dance party, showing Argentines dancing in their living rooms. Directed by Mariano Cohn and Gaston Duprat, Living Stars lets real people dancing be enough.  "Living Stars knocked me out at the last Sundance Film Festival, and I had a hard time sitting still while watching all the joyous, infectious dancing of everyday Argentines in their homes and workplaces," says Herskowitz. "We'll be showing the film on the patio of Cafe Brasil, and will not stop people from jumping up and dancing along."
BORN TO FLY: Elizabeth Streb vs. Gravity [Official Trailer] from Aubin Pictures on Vimeo.
—NANCY WOZNY