---
IMAGE ABOVE: Still from Rat Pack Rat.
---
When I heard Arts + Labor, a creative content community in Austin, co-produced four films in this year's Sundance Film Festival (Hellion, Rat Pack Rat, No No: A Dockumentary and Person to Person), I had to find out their secret Mojo.  So I drove to Austin and what I found was a dynamic work force of some of Texas' most creative and inspired folks working together on the entire second floor of an unassuming building in a mixed residential and commercial area.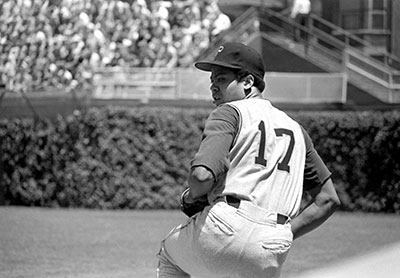 One of the founders of Arts + Labor is Alan Berg, an easy going former broadcast news reporter, who set out to create a collaborative community of talented artists.  Walking down the hallway, Berg explains they have 23 full-time employees and 50 or so collaborators, who are leasing office space.  For example Kat Candler (screen-writer and director), Clay Liford (director and producer), Jason Wehling (director and producer), and Johnny Mars (director and producer and actor) are all considered collaborators, while others like Yuta Yamaguchi (director of operations), Lauren Sander (senior editor) and Craig Parks (executive producer and principal) are employees and partners at Arts + Labor.
In the hallway I'm introduced to the co-founder, Berg's wife, Kristin Johansen Berg, who smiles warmly as she shakes my hand.  She and Alan started Arts + Labor in 2004 in a garage apartment and have grown it into a 10,000 square foot production studio.  Johansen-Berg is the CEO, and runs the day-to-day business, while she also executive produces such films as Outside Industry: The Story of SXSW, Saturday Morning Massacre, Black Metal, and Declaration.
I glance into Kat Candler's office, whose feature film Hellion is one of the four Sundance films that they've co-produced. At the moment Candler is in San Francisco finishing her sound mix on Hellion, which stars Aaron Paul of Breaking Bad. The film is about a 13-year-old boy named Jacob Wilson (Josh Wiggins), who is spiraling out of control as he deals with the loss of his mother, while his absent father (Aaron Paul) tries to drink his sorrows away. Eventually, Jacob's destructive behavior causes Child Protective Services to remove his younger brother, Wes (Deke Garner), to live with his Aunt Pam (Juliette Lewis).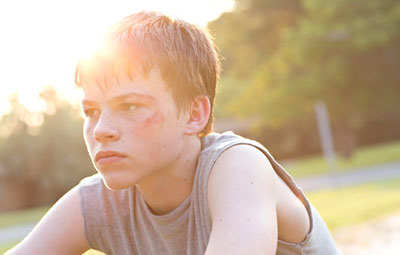 Berg explains, "Kat came to Arts + Labor around 2007.  She was teaching at UT and started writing the short script for Hellion, which eventually screened at Sundance in 2012."  Berg admits that Hellion is Arts + Labor's biggest project to date. "We invested monetarily, we also housed the editor, Alan Canant. He stayed in our garage apartment for several months."  Furthermore, Berg housed the director of photography Brett Pawlek, who also shot Short Term 12 and I Am Not a Hipster.  "What really helped us finish this film was a $70,000 grant that Candler, along with her producers Jonathan Duffy and Kelly Williams, received from the San Francisco Film Society."
As we continue down the hallway, Berg knocks on a door and then slowly opens it.  In the darkened editing room sit several collaborators, one being Clay Liford, who I have met before when we screened his feature film Wuss at 14 Pews.  At the moment, Liford is helping with the finishing touches of Todd Rohal's film, Rat Pack Rat.  Liford is the producer of the short Sundance film, which is about a Sammy Davis, Jr. impersonator who pays a house call to a dying fan. Liford is similar to many of the folks at Arts + Labor in that he excels in numerous areas of filmmaking – for example, besides being a producer, he's also a talented cinematographer, editor, director and writer. Similarly, Todd Rohal has directed three feature films, as well as worked as the writer, cinematographer, editor and producer on numerous others.
Farther down the hallway I'm introduced to Jason Wehling, a producer/director, who comes across as a brilliant contract's attorney with a strong artistic bent.  He has been with the production company for several years.  Before that he was on the programming team at PBS where he focused on the Independent Lens series.  He seems to ride the pulse on the many ways distribution has changed for indie filmmakers.  I overhear him talking about the distribution plan for The Retrieval, which he produced through Arts + Labor and which won the SXSW Special Jury Recognition for Acting for the lead Tishuan Scott.  "We're planning on opening in Atlanta." Wehling says.  I ask how he got involved with the project.  He explains, "I met the director, Chris Eska, years back at Rice University.   I also produced his first feature film "August Evening," so when he called me up and pitched his civil war movie, I said 'I'm in'."
When I ask Berg how he met Jason Wehling,he explains that it was at the time when Berg was directing his documentary A Place To Dance that Wehling relocated to Austin.  "We were connected through the producer of my documentary, Ann Walker McBay.  So, I asked Wehling if he could take a look at my rough-cut of the film.  Soon after, I got back a page-and-a-half of great extensive notes.  Because Wehling was a programmer at PBS, he has had the advantage of seeing around 2,000 films a year and has gotten really good at knowing what makes a story work and what doesn't.  We started collaborating in 2006."
2014 has been a watershed year for Arts + Labor. Besides the four films at Sundance Film Festival, they also have The Retrival coming out, as well as working on a new music documentary on Texas legend Doug Sahm.  Berg explains, "Every deal is different, sometimes it's just writing the check, other times it's helping them get the costs of the project down by providing people on our payroll.  The way we look at it, the business side of what we do, which is a lot of work for Dell, AMD, and corporate commercial type of stuff, attracts good talent for full-time employment, and to have our people feel like they're doing something cool we think it's good for them to be involved with these film projects. That's why we're bringing many of our employees to Sundance Film Festival to reward them for all the work they've put in on the business side."
As I leave Arts + Labor I'm impressed by the multi-talented people I have met and Alan and Kristin Berg's ability to create this amazing artistic collaborative community.  I want to bring Arts + Labor to Houston, so I talk with Berg about hosting a monthly series starting in May which would showcase their films at 14 Pews. Berg says he's in.
Two weeks later, I'm at the Sundance premiere of Hellion, which was held at the Library Center Theater in Park City, Utah.  The place is packed.  After the screening the audience erupts into applause.  The film is well received.  Kat Candler is asked to come up and speak.  She smiles shyly and hurries to the podium as the place again erupts into applause.  She invites her cast and crew up and as each one talks, they tell a similar story… that it was a wonderful creative collaboration.
That night I attended the Austin Film Society's Sundance Party. I talked with Alan Berg about the warm reception that Hellion received.  I feel there's traction on the film and that it has a great chance of getting picked up.  In the room I saw many of the Arts + Labor employees enjoying themselves along with their collaborators, like Clay Liford, Kat Candler, Mike Blizzard, the producer of No No: A Documentary and its director Jeffrey Radice.  Also there are many of their Austin colleagues: Mike Tully the writer/director of Ping Pong Summer and David Zellner, director of Kumiko, The Treasure Hunter, and Rick Linklater, the director of Boyhood, one of the best films I've seen in a long time.
It's now a week after Sundance and I'm back home at 14 Pews.  Rat Pack Rat won a Special Jury Prize for Unique Vision.   There's interest in Hellion but nothing set in stone. Arts + Labor continues to work on both their corporate and creative projects as they also gear up for SXSW, both Hellion and No No: A Dockumentary were accepted. Sometimes, a film can play 20 film festivals before it's picked up, so it's less of "if", and more of "when" it will be distributed. I predict a long bright future for this company and look forward to screening many of their films at 14 Pews.
—CRESSANDRA THIBODEAUX