Linnea Glatt, Continuum, Installation Shots, 2016.
All photographs © Allison V. Smith.
---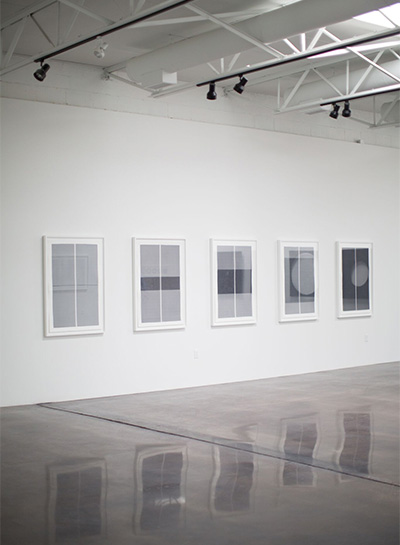 Barry Whistler Gallery was a fixture in Deep Ellum for nearly 30 years so it may have come as a surprise when Whistler decided to move his gallery to the Design District during the first week of May.   Now, a white-washed minimalist building off Dragon Street is the new home of Barry Whistler Gallery. It's an upscale yet unpretentious space, anchored by no-nonsense basalt-colored concrete floors. It's larger than his previous building, 4,500 square feet, and the scale is refreshing. Its size, paired with ample lighting from the windowed façade, allows the place to breathe – the visual equivalent of open-air.
Whistler says he wouldn't have left his previous spot, but the landlord wanted to take over the building to expand his business. Whistler decided not to move to a different location in Deep Ellum because of the evolving neighborhood. "We liked it there. It was nice, the identity with it and the music scene, but it's been bustling so much. It's just getting harder and harder to park," says Whistler.
So like many galleries, he made the move to the Design District. "I have friends like Cris Worley and Holly Johnson over there on Levee Street and liked what they were doing," he says. "I saw this building and how close it was to the Dallas Contemporary and the walk-up appeal. I just felt like the bones of it were good."
Whistler asked one of his long-time artists, Linnea Glatt, to christen the space with her newest body of work, Continuum, which is on view until June 25. He says Glatt was due for a show (her fourth with the gallery), and the choice proved appropriate. Glatt's minimalist work is about the passing of time, as evidenced in the progression of pattern and the interplay of light and dark. It's a fitting metaphor for the gallery's progression in its life cycle to a new space in a new neighborhood.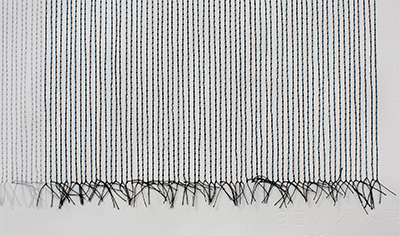 "[The work] says something about numbers, counting, building up, coming back down. You go through life and then death happens, but the human race continues," explains Whistler. "We had fun with the title [Continuum]. She came up with that. To us it felt very appropriate."
Each of Glatt's pieces reads as a series with a clear beginning, middle, and end. Some of the pieces like Unfolding have a beginning and end that are mirror images of each other, further commenting on life's cyclical nature: ashes to ashes, dust to dust, everything created from the earth returns to it.
From far away, Glatt's work doesn't show her carefully belabored details, including thousands of tiny hand-tied French knots in Decrease/Increase, which is why it's worth contemplating her work up-close. Her minimalism revels in the fineness of materials, including subtle fabrics and delicate paper.
Continuum is quietly poetic, deserving quiet reflection, and Whistler's space is up to the task. The gallery's large scale, much like the massive openness of the Dallas Contemporary, lacks stuffiness and affords your brain the space it needs to absorb and process understated elements. Like with the work First Blush, Final Sigh – two leather-bound books whose pages are assembled from gauzy pastel fabric, the name alone is a poignant illustration of the birth and death of a relationship – or of a life. One book is pink, perhaps depicting the coming into existence with fresh oxygenated blood, the other is blue, signaling the draining of life and a cold final resting place. As if to preserve the preciousness of this piece, it's tucked away at the end of a long hallway off the main gallery, encapsulated in a small glass display case, and it beckons for observation.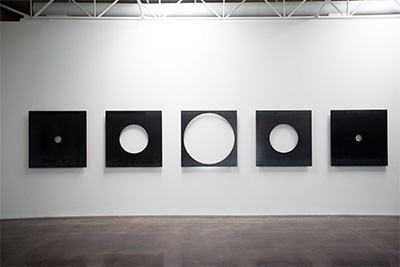 By contrast, the titular piece of the show is demanding in material and scale and is prominently displayed on the main gallery wall facing the entrance. A series of five circles cut out of imposing dark steel squares expand and then contract in size. The discrepancy in proportion between the middle and outer circles is uncomfortable in the best way possible. It's not safe or balanced, in short, Glatt makes a leap and lands it.
It's like Whistler's leap to a new location – it couldn't have been comfortable, but he also lands it. He mentions the sleepless nights in preparing the new space, moving in, and then opening Glatt's show a week later. It would be hard to leave a space and a neighborhood when place is so intermingled with identity, but Whistler seems to take it in stride.  He names a handful of galleries he's excited to be sharing his new neighborhood with including Site 131, Goss Michael Foundation, The Public Trust, Galleri Urbane and Liliana Bloch.
"There's things I miss about [Deep Ellum], but it's sort of nice this new challenge and to be able to get out and see people easily, so it's good," says Whistler.
—ALAENA HOSTETTER