A Chinese-American's journey to a secluded corner of Tibet. A Swiss woman's odyssey through North Africa. A string quartet's decades-long quest for "the bulletproof piece of music that can wrap its arms around us." Last but not least, humanity's ultimate adventure: the end of the world.
The Dallas Symphony's 2020 Soluna festival will encompass all that and more. The annual music and arts showcase, opening April 3, will feature Dallas artists plus globe-trotting guests; traditional concerts and multimedia immersions; a live incarnation of an acclaimed rock 'n' roll album as well as a documentary film whose subjects perform in person in front of it.
Fabio Luisi, who becomes the Dallas Symphony's music director this fall, will make his first Soluna appearances conducting a chorus-and-orchestra epic based on the book of Revelation: The Book with Seven Seals (April 3-5) by Franz Schmidt, an Austrian composer little-known in the United States.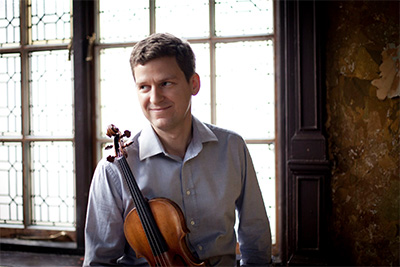 Schmidt was a musical leader of early 1900s Vienna, where he taught in the city's conservatory and played the cello in the opera orchestra led by Gustav Mahler, who regularly chose him to play solos. Luisi discovered his music as a conducting student in the Austrian city of Graz, and "Schmidt is now one of my favorite composers," the conductor says in a statement.
Despite being friendly with atonalist Arnold Schoenberg, "Schmidt refused the way of atonality and stayed in the spirit of the late Romantics," Luisi continues. "Nonetheless, he found his own personal language; very colorful, very deep, a continuation of the Romantic mood."
Narrated by a tenor soloist who portrays St. John, The Book with Seven Seals evokes the whole end-times saga. The orchestra, chorus and soloists evoke the cataclysmic events: the Four Horsemen of the Apocalypse; war, plague and famine; St. Michael's battle with the dragon; and the opening of the graves. At the climax, the voice of God–in the form of the bass soloist–announces that blessedness is at hand.
Luisi will conduct another program focusing on the sunshine of Johannes Brahms' Symphony No. 2–the start of a Dallas Symphony recording project including all four Brahms symphonies–and the lyricism of Edward Elgar's Violin Concerto (April 9-11). The latter will feature violinist James Ehnes, a familiar Dallas Symphony guest who also will lead the orchestra in a British program (April 16-18) and join a handful of DSO musicians in a chamber-music concert (April 14). Ehnes "is such a warm and generous performer that it's always a pleasure to see him onstage," says Peter Czornyj, the orchestra's vice president of artistic operations.
Stepping away from classical music, the orchestra and members of the Dallas Symphony Chorus will back up veteran rock band The Flaming Lips and frontman Wayne Coyne in a live performance of their acclaimed 1999 album The Soft Bulletin (April 19). In a testimony to the band and album's appeal, fans have already snapped up all the tickets, says Gillian Fox, the orchestra's director of contemporary and Soluna programs.
"This is going to be a psychedelic performance, but one that elevates the role of the orchestra," Fox says. "It's a true collaboration. If you have your ticket, you're in for a treat."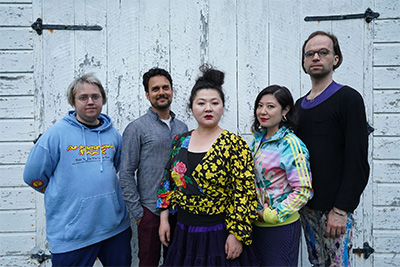 Many Soluna events don't involve the orchestra, of course. Pulitzer Prize-winning composer Du Yun will come to Dallas with her band Ok Miss to perform Windows to Yushu (April 3), which grows from her visits to the people–especially the children–of Yushu, a secluded Tibetan region that's largely untouched by time. Du Yun's music will spring from the music and stories she heard.
"She's creating a musical window into a community that we wouldn't have an opportunity to interact with otherwise," Fox says. Du Yun hasn't yet revealed any of it, but her music is known for bridging styles. "There are parts of it that feel kind of punk- or rock-ish, and there are parts that feel like classical new music. She's very focused on breaking the barriers of genre."
Dovetailing with Du Yun's music, director Julian Crouch will bring clips from a film about her project. The performance will take place at the Crow Collections of Asian Art amid the work of a previous Soluna artist: Master Shen-Long, whose large-scale calligraphy creates "a landscape effect," Fox says. The combination "will create a very beautiful, immersive experience–and take you out of Dallas for a moment."
Dallas artist Carmen Menza will create another work that will envelop its audience. Drawing on her formal training as a jazz musician and her subsequent move into visual art, Menza's Negotiating Dialogues (April 18) will meld a musical score performed by Dallas Symphony players with projected images triggered by the music via computer algorithms.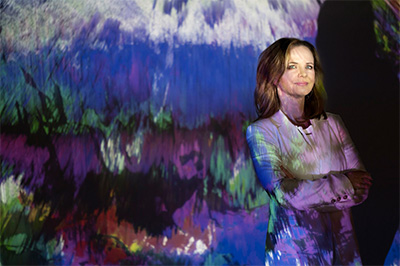 As the 45-minute, five-movement work unfolds, the audience will move through The Boedeker Building, taking it in from changing perspectives. Menza "says this is the largest piece she has ever been asked to do, and it's the most complex in its performance nature," Fox says. "I have heard two of the five movements, and they are gorgeous."
Besides serving as midwife for Negotiating Dialogues, Soluna will produce a new staging of an attention-getting recent opera: Missy Mazzoli's Song from the Uproar (April 19-21), the story of a real-life Swiss woman who traveled through Algeria a century ago disguised as a man.
With Mazzoli's blessing, Fox says, Soluna's staging will enlarge the vocal ensemble that tells the story from five singers to 17. The leading role will go to mezzo-soprano Bronwyn White, a Texas Christian University graduate who, during her audition, "really caught us off guard by her unique and passionate interpretation of the role," Fox says. Dallas' Voices of Change and Verdigris Ensemble will also perform, and the production will include video projections created by UT Dallas' ATEC LightSquad.
Sō Percussion, a New York-based quartet, will contribute a program including Forbidden Noise (April 7) by Julia Wolfe, the Dallas Symphony's composer-in-residence. The work, crafted for the four instruments of a string quartet, involves "all the things you aren't supposed to do with string instruments," Wolfe explains in her program note. Experimenting with the help of Sō Percussion's members, she "devised a very personal new language" including "boings, szhings, hammering, and more."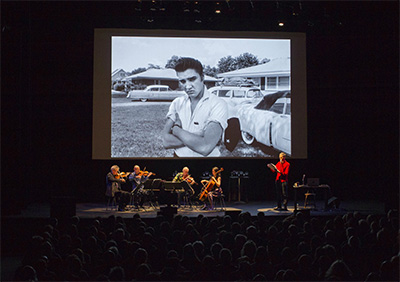 During nearly 50 years as a trailblazing modern-music group, the Kronos Quartet has probably let loose with a few boings and szhings of its own. In the documentary A Thousand Thoughts, the festival's closing-night event (April 21), filmmaker Sam Green tells the group's story–literally. Yes, Green has crafted the film so that he narrates it from the stage. The Kronos Quartet plays alongside him, supplying a live soundtrack for its own biopic.
"On the program page, you can see the number of pieces they're playing that they were involved in commissioning. That's really cool," Fox says. "To me, this film culminates what Soluna is all about. … It talks about the importance of classical music and the importance of new music and living composers, and (it explores) where our industry is going. It's a great way to wrap up the festival."
-STEVEN BROWN