Installation shot, Meandering Abstractly.
Courtesy Frank Elbaz Gallery.
---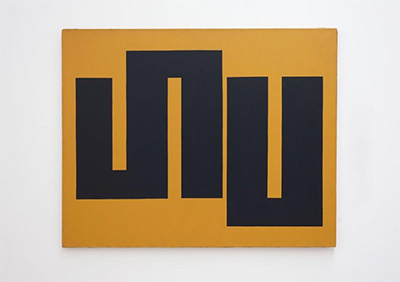 As a timely acknowledgment of how lively things are in the Dallas art scene, Parisian gallerist Frank Elbaz opened a location in the design district across the street from the sizzling Dallas Contemporary.   He mounted an inaugural exhibition in September, bypassing art magnets, like New York City and Los Angeles, for a market with a strong collector base that the gallery tested through participation in the Dallas Art Fair, where both sales were made and contacts established.
Elbaz began selling art in the late eighties and then moved to Japan as an art dealer, staying for ten years. He returned to Paris and founded his namesake gallery in Le Marais in 2002, made possible by his shift toward contemporary art and the relationships he forged with artists in small-scale group shows. Now he represents A-list artists and concentrates on both French and American talent. Over the years. he cultivated an interest in rediscovering figures from art history who, while still relevant, faded into the background, like Wallace Berman and Jay DeFeo.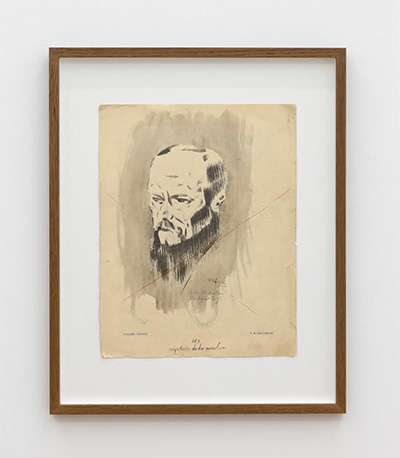 In addition, this led to a similar retrieval of significant artists from Eastern Europe associated with the Zagreb conceptual scene, specifically the Gorgona Group, which includes Julije Knifer and Mangelos, whose pieces in a recent exhibition titled Meandering, Abstractly, perfectly exemplify the content and quality we can come to expect from the gallery. Elbaz sometimes brings in guest curators to enliven and enrich his programming. He often works with art historian Paul Galvez, currently a research fellow at the Edith O'Donnell Institute Of Art History, whose rigorous scholarship and thoughtful curating bestow an authority much needed to keep pace with such a progressive agenda.
For example, Meandering Abstractly, curated by Dr. Galvez, argued through art historical exhibition history by evoking Alfred Barr's famous 1936 exhibition, Cubism and Abstract Art, for which he designed the image construct of a genealogical tree whose leaves were the modernist art –isms. It followed branch-like paths from post-Impressionism to Surrealism, describing how art evolved directly from one style to another; good for survey classes but viewed as somewhat out of fashion nowadays. For Galvez, and perhaps as a modus operandi of the gallery itself, the pathways of non-objective abstract art created by, and funneled through, Malevich (b. Ukraine) and Mondrian (b. Netherlands), among others, are the seed-like lenses that grew into movements that thrived through the 20th century to the present. This position dispenses with the genealogical model in favor of a model based on interlacing networks, viewing the story of postwar European abstraction through lesser-known roads emerging from Zagreb, or artists based in Paris who only now may be granted inclusion into the grand art historical narrative that excluded them. For these gallery artists, the questions to ask are how did they process the art of their forebears in such original and compelling ways, while exploring the historical and geographical contexts that contributed such unique responses to personal circumstances and situations?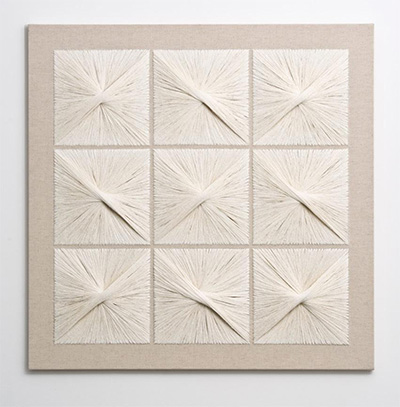 Elbaz has worked for years with both Mangelos and Knifer. Mangelos' Negation de la Peinture series, 1951-1956, are striking examples of early conceptualism wherein an image, perhaps from an art magazine, is almost completely occluded by black tempera as a gesture against direct representation. He finished with a red x crossed over the surface; as an overcoming of Russian models this presents an example of El Lissitzky's colors put to new uses.
Knifer's monochromatic paintings and drawings, as in 3-23.V. 1-13.VI 15-22 VI 25 VI-6 VII 80, 1980, feature interconnected bars of space in black and white, almost like irregular maze designs, that supplant the cosmic symmetries, and the black square, of Malevich's supremacist fantasies with spatial, repetitive motifs. The gallery also exhibits new work by Sheila Hicks, like Conversation, 2016, a type of link to her training at Yale with Anni Albers, once a professor at the Bauhaus in Germany. This woven textile piece in linen, cotton, and wool is the culmination of her life's work exploring color, form, and abstraction. Artists tied to ideas, historically grounded, and fleshed out in complex exhibitions like Meandering Abstractly are hints as to the bright future of this new space in Dallas.
—JOHN ZOTOS