Leslie Moody Castro.
---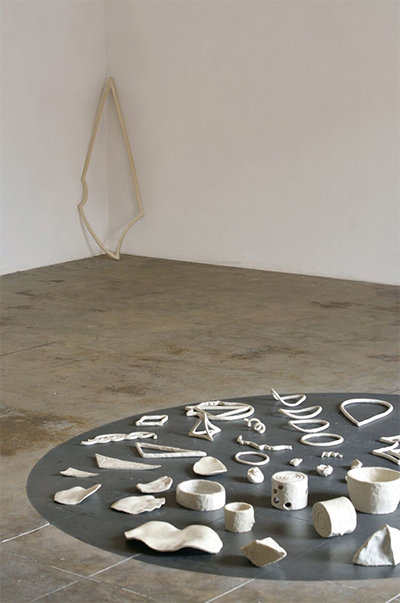 For centuries, Mexico has been an edifying hub and home to many globally recognized talents. Recently, the region has attracted more attention as patrons, collectors, and artists make their pilgrimage to Mexico City. With Zona Maco, its contemporary art fair, and its newest Material Art Fair, the city is brimming with cultural curiosity. A+C writer Paul Middendorf caught up with Texas Contemporary art fair special projects curator Leslie Moody Castro to talk about The Other Mexico, a curated section of the fair on view Sept 29. – Oct 2. in Houston, which focuses on Mexico City's vibrant contemporary scene and ongoing dialog across borders.
What brought you to Mexico City?
It was really a lack of information. I concentrated on Latin American Contemporary Art in undergrad at DePaul University in Chicago. As many classes as I had taken on art history in Mexico, I still had a major gap in information; moving to Latin America was necessary in order to really understand the contemporary world. I wanted to be more knowledgeable about the region's history and its complexity, and just generally be a responsible scholar. So long story short, it was the art that brought me to Mexico.
What drove you to start your initial exchange of ideas?
I think it just seemed natural. I learned that I had completely underestimated the city in terms of art because what I was learning and seeing was so different from what was being shown or talked about, especially in Texas, and I wanted to show that. The art world in Mexico is full of multi-faceted voices that experiment and collaborate in dialog with each other. I really wanted to show the heterogeneity of Mexico City, and these exchange collaborations just seemed like the best fit to do that.
Has cultural exchange always been part of your curatorial practice?
Definitely. I think it really comes from cutting my teeth in the professional art world in Mexico City where, for the most part, there is a very collaborative spirit of mentorship. I also like the challenge involved in these kinds of exchanges between people and places. Currently I am answering your questions from Vilnius, Lithuania, and am on my way back to Tallinn, Estonia, where I'd been for most of June. I was reminded this month how important it is to be outside of my comfort zone. I think that is the space where learning and empathy can really happen, and I think this is a very important part of the process of cultural exchange.
What is it that drives your interest in Mexico City, specifically, and how do you translate that to what is happening in Texas and vice versa?
I think the level of conversation and criticality that exists in the city is what really excites me about being there. There are real conversations about the work, and those conversations can get really intense. There's a real level of being critical, not just patting someone on the back for producing a show, although that exists as well, but that is also everywhere. The level of discussion is much more theoretical and that's exciting for me.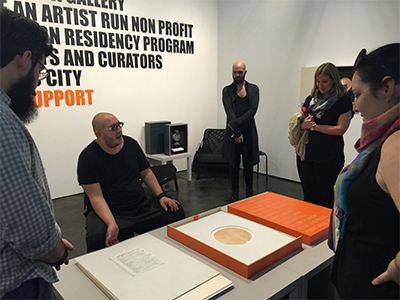 It seems to me that only recently have some of the smaller spaces and galleries started bringing attention to Mexico City. Do you feel the city is just hitting its stride or has there always been a hidden treasure with its contemporary art scene?
I am amazed by the recent surge of publicity Mexico has gotten. It's like people are suddenly "discovering" Mexico and Mexico City in particular. As long as I have been living there, the city has always been a vibrant place and the art world most definitely responds to that. I think it's also important to note that this "vibrancy" isn't always in response to positive happenings either. Mexico certainly has its history of violence, corruption, economic crisis, etc. and that is still happening—and artists respond to all of that. It's great that the city is getting more visibility but it's also important to keep things in perspective. Mexico City is still in a developing country. It's not the new Berlin, the new Paris, or even the new Los Angeles.
What were your overall goals with bringing Mexico City galleries to Texas Contemporary?
Over the years I've built really strong relationships with galleries, artists, project spaces, residencies, etc., and it's something that I really pride myself on. I am extremely protective of these relationships and do my best to make sure there are mutual partnerships. Because of this, I was very considerate of whom I wanted to invite, especially because building a program like this requires real sensitivity. My goal was to show a general overview of the contemporary art scene in the city, which is a special and complicated place. I wanted to skim the surface and offer a moment of insight to the variety of things and spaces happening, which all support the dialog of contemporary art in the city. Mexico City is a special and yet complicated place and and I really wanted to represent that.
This year The Other Mexico is back and with a slimmed down refined vision and includes other cities. What was the idea behind the changes and what outcomes are you expecting with the curatorial refinement?
One of the biggest outcomes from last year's Other Mexico is that Texas Contemporary decided to bring back the program. This year we are really opening up the conversation and not just focusing on Mexico City, but the country and the dialog as a whole. We are pulling talent from all over the country in an attempt to decentralize Mexico City as an art center and look at what's happening across the country, something that is radically different from last year which just focused on Mexico City itself. While there are only five voices, it's still a statement about the quality of production and experimentation happening across the country. So it's slimmed down but conversation is opening up at the same time. It is really important to keep in mind that other cities in the country are also hubs,with their very distinct centers, and that all of these places should be having a collective conversation. I'm excited that Texas Contemporary is once again taking the risk of being the platform for all those conversations to happen, and once again placing Houston at the forefront.
—PAUL MIDDENDORF