Roberto Gutiérrez, Cesar E. Chavez Avenida, 1994, screenprint, 23 15/16 x 26 1/8 in., Blanton Museum of Art, The University of Texas at Austin, Gift of Gilberto Cárdenas, 2017.
---
Two years ago, the Blanton Museum of Art received a gift of more than 350 prints from collector Dr. Gilberto Cárdenas, who holds one of the largest private collections of Latinx art. In light of the gift, museum curators Florencia Bazzano, Assistant Curator, Latin American Art, and Christian Wurst, Curatorial Assistant, Deputy Director for Curatorial Affairs, were compelled to organize Arte Sin Fronteras: Prints from the Self Help Graphics Studio, on view through Jan. 12.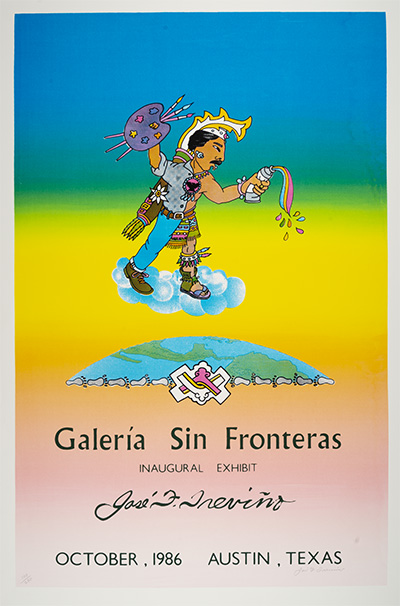 The prints in the exhibition were produced at Self Help Graphics and Art, a gem of East Los Angeles. Since 1972, this now-famous nonprofit organization has been "dedicated to the production, interpretation, and distribution of prints and other art media by Chicana/o and Latinx artists," founded by Sister Karen Boccalero, muralist Carlos Bueno, and photographer Antonio Ibáñez. Today, the workshop continues to support the local Mexican American community through art classes (printmaking training) and cultural experiences such as an annual celebration of Día de los Muertos.
In 1982, the workshop launched their Experimental Atelier Program wherein they invited local and visiting artists to work with master printmakers to produce limited edition screenprints, resulting in thousands of works by hundreds of artists. Arte Sin Fronteras focuses on those prints created as part of the program. Of the exhibition, Wurst says, "It complements Austin's print community. One of the main goals of Self Help Graphics is to support artists. Early on, the studio was open 24/7 and offered studio space in exchange for leading workshops. It was a haven for artists."
Cárdenas was one of the earliest supporters of Self Help Graphics and, in 1986 upon the urging of Sister Boccalero, founded Galería Sin Fronteras in Austin. The gallery helped to bring visibility to the Experimental Atelier Program and marketed the work of Latinx and Chicanx artists. He was also a sociology professor at the University of Texas, and recently retired professor emeritus and executive director of the Center for Arts and Culture at the University of Notre Dame.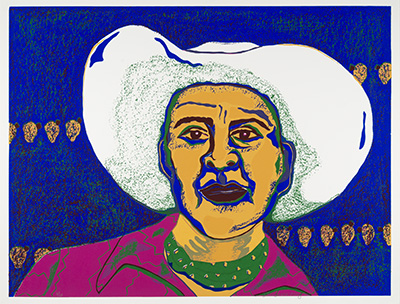 As Wurst and Bazzano reviewed and processed Cárdenas's donation, they noticed certain subjects and themes, ultimately deciding to include more than 70 works created between 1978 and 1997, and organizing them into abbreviated surveys. Segments of the exhibition include the workshop's history as a community organization, the construction of Chicanx/Latinx identities (including the Chicano Civil Rights Movement of the 1960s, as well as creations of self-representation), intersectional exploration of Chicanx/Latinx cultural and sexual identities, migration at the United States/Mexico border, and Mexican-American religious traditions.
Among the artists featured in the exhibition are Irena Cervantes, who was active in Self Help through teaching art classes and participating in the Atelier Program; Leo Limon, who helped found the annual celebration of Día de Los Muertos and other programs at the center; and Sam Z. Coronoado who, after spending time at Self Help Graphics, returned to Austin and established Coronado Studios, a contract print shop, and the non-profit Serie Project which supports Latino artists.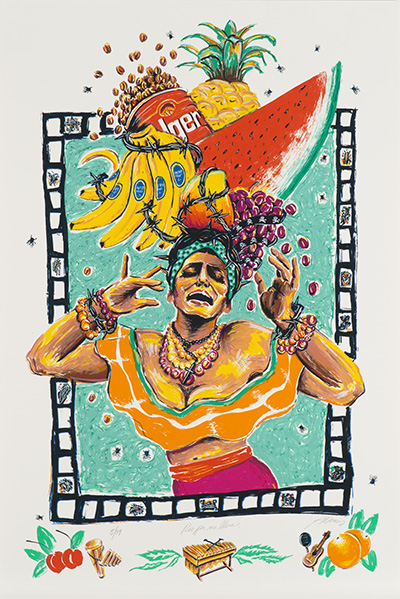 Just one example of the powerful images on display is a screenprint by Alex Donis, whose works Bazzano explains address stereotypes and identity. "In Rio, Por No Llorar, Donis shows Carmen Miranda who once represented the stereotype of a tropical Latin America. But his vision is more critical," she says. "The fruits in her headdress are wrapped barbed wired, referring to US-based multinational companies that exploit rural workers in Central and South America. At the same time, this intersectional work is based on photograph of the artist, addressing his plight in being accepted as a gay person."
"When people think about the Chicano art movement that culminated in the 1960s, they think about posters," says Wirst. "The works in this exhibition are from a decade after those more political works; they are in the realm of fine art rather more than the dissemination of information."
—NANCY ZASTUDIL