Nicolas Valdez in his solo show Conjunto Blues at the Guadalupe Theater in San Antonio on May 12, 2016 as a part of the Tejano Conjunto Festival, produced by the Guadalupe Cultural Arts Center.
Photo by Rojelio Garza.
---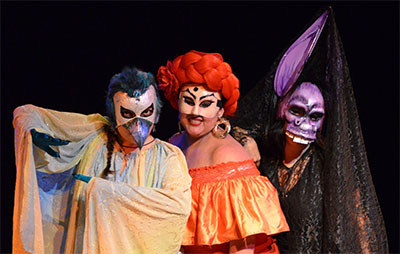 From Oct. 29-Nov. 19, 2017, San Antonio's Nicolás Valdez will travel to California to be in residence at the Los Angeles Theatre Center where his show, Conjunto Blues, will play in repertory alongside 12 other productions as part of the Encuentro de las Américas International Theatre Festival. Encuentro is the Spanish word for "encounter" and, in Los Angeles, audiences from across the United States, Latin America, and Canada will be able to encounter a homegrown San Antonio artist that Texas audiences have been witnessing for years.
Conjunto Blues began its life at Su Teatro in Denver before making its San Antonio premiere at the Guadalupe Cultural Arts Center in May 2016. Valdez has toured the show across the country since its inception. Conjunto Blues is an interdisciplinary theatrical experience that weaves personal narratives to tell the story of how working class Mexican-Americans have used Conjunto music to celebrate their cultural values despite being against the odds. In Valdez's words, Conjunto music "is, at its core, an expression of cultural resistance and liberation." It seems fitting for audiences in Los Angeles to be exposed to a slice of San Antonio that is so indicative of the larger Latina/o theater scene in the city.
Valdez's successes in and out of Texas offer us a moment to reflect on the state of Latina/o theater in San Antonio. Who are the theater artists? What are they doing? What are the theater companies and cultural organizations supporting this work? What are the successes and challenges of making culturally specific theater in San Antonio?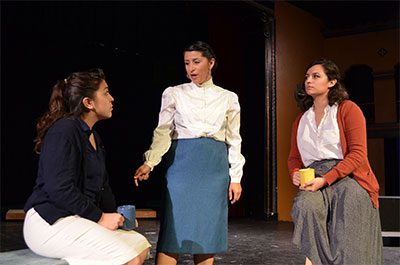 Currently, San Antonio has no Equity houses, does not have an MFA program in theater, nor did the city house a culturally specific Latina/o theater company until 2016 when Teatro Audaz launched. The only company that pays artists a living wage is The Magik Theater, which is a children's theater catering primarily to audiences under 13. Even so, trained, professional theater does exist despite these roadblocks.
According to native San Antonio teatrista Marisela Barrera, the city is home to the so-called "Trinity of Teatros": Guadalupe Cultural Arts Center, the Esperanza Peace and Justice Center, and Jump-Start Performance Co. As Barrera explains in a 2015 essay on Café Onda, "Although our community is small, productions are growing more frequent with the addition of city funding for independent artists. Our cultural organizations are evolving, and teatro is on their radar."
The San Antonio Latino/a Theatre Alliance (SALTA) was founded in April 2013 to serve and grow the Teatro scene in the San Antonio Region. Contemporary Latina/o theater in the city is not formally institutionalized and, therefore, lacks infrastructure. SALTA was formed to help fix this by creating and advocating for more infrastructure to support the development of Latina/o theater.
The Guadalupe Theater remains the most recognizable Teatro institution in San Antonio. Playwright Carlos Morton was the first Theater Director in 1982 and 1983, before Jorge Piña stepped into the role in 1984, where he worked for more than 16 years cementing San Antonio's place as the Third Coast of Latina/o Theatre. Piña's leadership saw productions of staples of the canon of Latina/o theater such as La Víctima and Real Women Have Curves. In subsequent years, Marisela Barrera and Jerry Ruiz oversaw the Guadalupe. Each year the Guadalupe Theater fully produces a mainstage play, hosts the annual Nuevo Teatro: A Festival of New Works, and presents Teatro Salon, a showcase of short pieces by local playwrights. According to Nicolás Valdez, the Guadalupe "has struggled to maintain a vibrant theater program, but the value of a cultural institution that can serve the needs of the Latino/a community has never been more evident."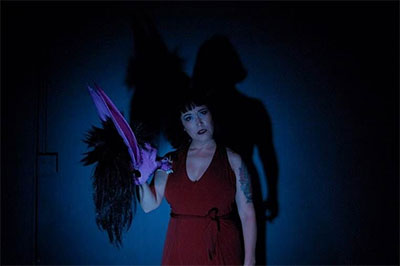 The Esperanza Peace and Justice Center has routinely filled gaps in the city's theater and performance scene since its founding in 1987, such as the Lila Downs Le Canta a San Antonio concert in 2014. Notably, Chicana teatristas Virginia Grise and Irma Mayorga were working at the Esperanza when they began to develop The Panza Monologues, a cycle of monologues exploring Chicana identity, body politics, and, of course, San Antonio.
While not a Latina/o-identified organization, Jump-Start Performance Co. remains one of the few theater companies that regularly employs and produces Latina/o talent. Jump-Start has been an important home for the development of new work by San Antonio Latina/o playwrights. In recent years, Marisela Barrera, Lisa Suarez, and José Rubén De León have all premiered new plays at Jump-Start.
In 2016, Teatro Audaz, or Audacious Theatre, launched to create a full-time culturally specific Latina/o theatre in the city. As the company grows from the ground up they mostly produce staged readings and short-play festivals. In August 2018, they will produce West Texas playwright Liz Coronado-Castillo's Aye, No! in collaboration with The Playhouse San Antonio.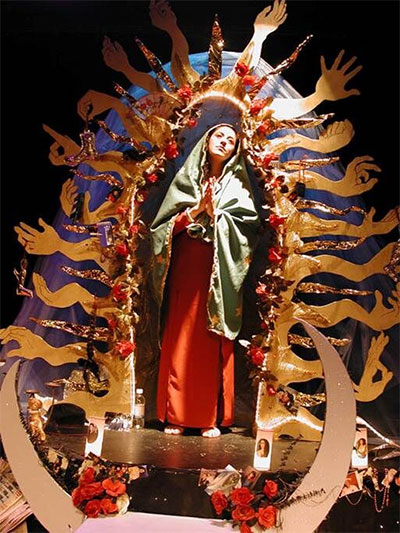 In addition to brick-and-mortar institutions, San Antonio is home to a number of Latina/o playwrights. While Adelina Anthony, Virginia Grise, and Irma Mayorga have left the city for professional purposes, Jesus Alonso, Marisela Barrera, Gregg Barrios, Anna De Luna, Amalia Ortiz, Janie Sauceda, Lisa Suarez, Nicolás Valdez continue residing in The Alamo City. After speaking with San Antonio artists, it was evident that the region has a wealth of opportunity even if resources are limited. Joel Settles, Director of Programs at the Guadalupe, notes that if artists want to write and present Teatro to local audiences, they certainly can: "there are many galleries, studios, schools, community centers, and even small theaters that will host necessary and relevant work." Settles adds, "I encourage artists to continue to take matters into their own hands while they simultaneously protest for more institutional funding and access, one can do both at the same time."
While making Latina/o theater in San Antonio continues to be a struggle, there is little doubt that Teatro is alive and well in the Alamo City. Despite a lack of resources, San Antonio theater artists persevere. There is a rich Latina/o cultural history in South Texas and perhaps there is no better place to explore this than the San Antonio stage.
—TREVOR BOFFONE