It was a big year on the Houston theater landscape. Most nights of the week ACTX's trusted Houston theater writer Tarra Gaines can be found in a theater seat. Gaines visited with ACTX editor Nancy Wozny to sort out what happened on Houston stages in 2018.
Biggest news in Houston theater: Go!
Stages Repertory Theatre announced plans for a new three-theater campus. The Chelsea Market stage is set to close, leaving Classical Theatre Co. and companies subletting like Mildred's Umbrella in a lurch. Thanks to a generous donor 4th Wall Theatre gained a new life. Queensbury Theatre's relatively new producing executive director, Marley Singletary, attempts to turn the outside the Loop theatre into a hub for contemporary musicals. Theatre Under the Stars celebrates its 50th anniversary with a season of self-produced classics. And everyone continued to recover from Hurricane Harvey.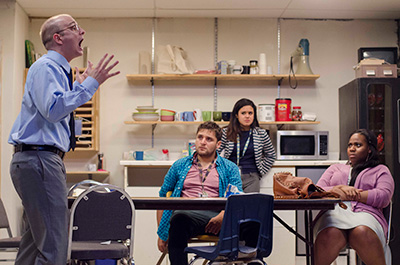 Another year any of these stories might win biggest news, but nope, the winner is of course the offstage high-drama at the Alley Theatre. First came the officially announcement in January of longtime artistic director Gregory Boyd's retirement with three days' notice. Then everything blew up after that with many whispered stories of his behavior over the years becoming shouts and suddenly the Houston theater community was having its own #Metoo moment. The drip, drip over the next few months of what was probably almost two decades worth of backstage reveals just made everything worse.
It feels like the whole cycle took several years but with the announcement new artistic director Rob Melrose in November, it looks like the Alley is attempting to put it all behind them. Here's hoping that they can.
I'm exhausted just reading that. That's a lot of change in a year. A few comments on your fabulous news round up:  It's super great news on Stages. What's not to love about repurposing a building? Mildred's moves The Hunchback of Seville to the Alley's Neuhaus space March 27-April 6, as a special one-time event, and Classical Theatre will finish out its season at Queensbury Theatre. JJ Johnston is considering his options for next season. There are not many. And Obsidian is losing their space and moving to the MATCH.
As for the Alley or any other group putting it all behind them, it's more about how an artist or organization moves forward, and what they put in place so that it never happens again. Ever.
On the subject of moving on, what were your favorite shows?
Hamilton finally made it to Houston, and it lived up to the hype.
Of course. Keep going…
Eight months later, and I'm still a bit stunned by the humor that turned into horror of We Are Proud to Present at Stages Theatre.
Ah. I remember sitting in the audience a few rows back, thinking, "What will Tarra write?" I often think about that when I send you to review a show. I am as interested in your words as much as the play. Sometimes, your reviews are more interesting than the play.
Let's keep going with faves.
But I need to call out September as a month when I hardly even saw a meh show. In fact, one week I saw the delightful absurdist The Moors at Mildred's Umbrella, one of the best I think the Alley had to offer in 2018, Skeleton Crew, and one of the most moving moments I experienced this year when TUTS partnered with the Houston Ballet for Oklahoma. September also brought the fun Book of Will at Main Street Theater, the sly and tragic Exit Strategies at Rec Room and some of the best performances of the year with 4th Wall Theatre's Jesus Hopped the A Train.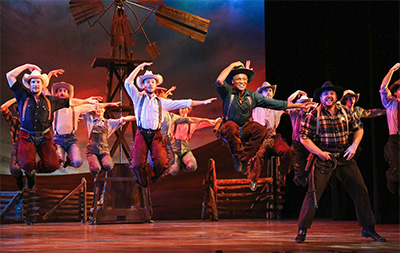 Alright now, that's a long list of shows, and how great to jump out of the September gate with a strong season. For me, Oklahoma was positively dreamy. I want Houston Ballet dancers to be in every musical I see. (I usually cringe when the dancing starts.) Theatre Under the Stars and Houston Ballet knocked it out of the corn field with this baby.
I also thought that Ars Lyrica's production of Handel's Agrippina was simply gorgeous in every aspect. It may be the one show that I saw that you didn't. OK, OK, it was an opera, but I wish you had seen it. Jane Weiner's Honey I'm Home at Havel Ruck Project's Ripple is another one I wish you had seen. So fabulous and fun. I am determined to turn you into a dance writer!
So we had a lot of strong shows. Did you see a unifying thread or theme?
I'd actually like to go beyond Texas for a minute with this question, if allowable.
Wait, there is something beyond Texas?
Occasionally.
Continue….
The odd political play makes its way into most theater seasons no matter what's happening in the world, and this year was no exception. The Alley and Main Street made comparisons between the politics of 60s and today with The Great Society, which chronicles the final years of the Johnson administration, and Daisy about the television ad that helped Johnson win his second term, respectively. Classical Theatre gave Ibsen's Enemy of the People some contemporary resonance.
But I noticed something brewing in the zeitgeist (seems to be the most appropriate word to use) about mid-way through the year after seeing my third show about the arts and artists struggling to survive in the shadow of growing authoritarianism or fascism.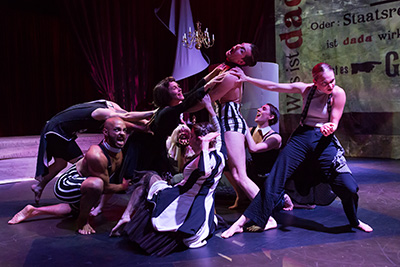 I know where you are heading and it's not pretty.
Catastrophic Theatre took an absurdist route with this theme in Wallace Shawn's Night at the Talk House. Obsidian staged an intimate and beautifully sleazy Cabaret. Rice's Moody Center presented one of my favorite performing arts shows of the year, Annie Arnoult's immersive, theatrical dance piece Dada Gert about the life and art of Valeska Gert during the Weimar era in Germany. Perhaps, this was a case of Houston directors and artists feeling some of the same political urgency that many artists are feeling in the world.
Our local iPic cinema had a limited showing of Hitler vs. Picasso, a fascinating documentary about the "degenerate art" that Nazi Germany rounded up and put into weird traveling exhibitions. While I was on vacation in London, I saw an amazing cabaret/opera, on this same subject matter, Effigies of Wickedness (Songs Banned by the Nazis) at the Gate Theatre in partnership with English National Opera. Finally on that same vacation, I caught Canadian playwright Jordan Tannahill's Botticelli in the Fire at the Woolly Mammoth Theatre in D.C. No Nazis in this one but a fantastic and somewhat fantasy re-imagining of early-Renaissance Florence history as art became the first thing thrown into the fear-stoked bonfires when authoritative regimes came to power. Since this theme seems to have hit Houston already, I'd love for a local theater to produce this play.
Hey local theaters, Ms. Gaines would like to see Jordan Tannahill's Botticelli in the Fire.
Is immersive theater is making a comeback?
2018 was a year immersive took something of a breather after having a big year in 2017. Open Dance Project's Dada Gert, with choreography by Annie Arnoult, was the one wondrous exception, and there were still some stellar shows that broke the fourth wall. Horse Head Theatre's production of Young Jean Lee's We're Gonna Die was a melancholy-sweet example of the kind of play that pretends not to be a play and calls for audience participation. But I didn't see many fully immersive offerings that ask the audience to get their butts off the seats and wander around like Dinolion's Red House or Strange Bird's Man From Beyond this year. I've heard rumors that Dinolion has new plans for 2019 and that Strange Bird is migrating. I'm looking forward to seeing where it lands.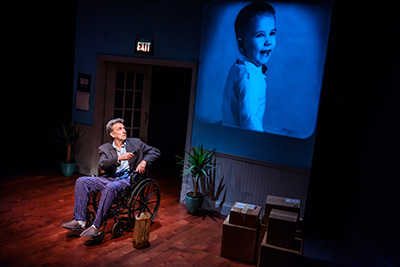 Strange Bird migrating. That's a Tarra-ism! Yes, they are moving to a new space at the Houston Design Center. They are planning another round of Man from Beyond and promise an all new show later in the season. As for Dinolion, they are collaborating with Merel and Tony in January for Lionshare.
On the theme of looking forward, what are you dying to see in the upcoming months?
Well, keeping this answer all about me, some interviews I've done this year have influenced what I'm looking forward to for 2019. After discussing his play Wakey, Wakey with Will Eno, I'm now anticipating Catastrophic Theatre's partnership with Austin's Hyde Park Theatre and the University of Houston to bring the play to town in January. And for fun fluff, I want to see how TUTS artistic director Dan Knechtges delivers a fresh perspective to Mama Mia. He told me that he plans to stage in the style of a rock concert.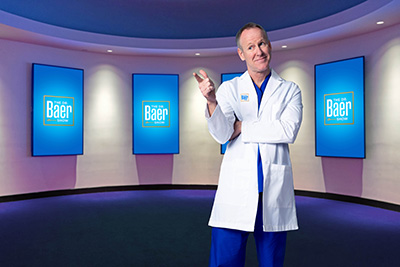 That Dan! He's too fun. I just might have to go. What else?
No interview with these, but I'm also intrigued by the playwright/director combo for two productions the Alley has slated for their Neuhaus stage. I'm only familiar with her work as an actress, but I definitely want to see how the brilliant, and Texas native, Judith Ivey directs Eliza Clark's new comedy Quack in February. Since I'm a sucker for plays about science, I'm also looking forward to Nick Payne's Constellations, which won much critical acclaim in London and New York. The Alley brings in noted Houston-based director Leslie Swackhamer for this one.
And now for actors who stood out this season. I will call them "The Tarras."
Tamarie Cooper in Leap and the Net Will Appear,
Michelle Elaine in We Are Proud to Present,
Matthew Jamison in Exit Strategies,
Mateo Mpinduzi-Mott in Jesus Hopped the A-Train,
John Feltch in Book of Will,
Yvette Clark in The Wiz
Joseph "JoeP" Palmore in everything.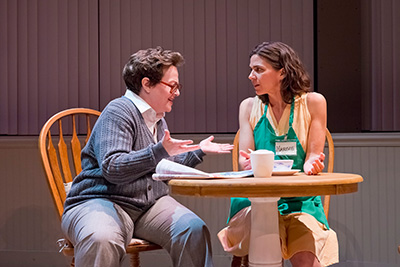 JoeP. That's all. He should be in every show. Greg Cote, who is great too, is in every show that I go to. (Cote was haunting in The Flick at Horse Head.) Any new folks to watch?
I don't know that I can single out just one or two actors, but I did see two productions this year, Main Street's Men on Boats and Rec Room's Exit Strategies, which introduced me to some wonderful actors who were pretty new to me. Both shows had a really nice mix of veteran Houston performers and several who hadn't been on my radar. It also seems like Houston's getting some great, young talent migrating in from the Sam Houston State University Musical Theater program recently.
Enough about everyone else. Let's talk about you. Your writing took a turn toward the personal this season. Someone once told me that as writers we figure out what we actually think on the page. I can feel that in your writing.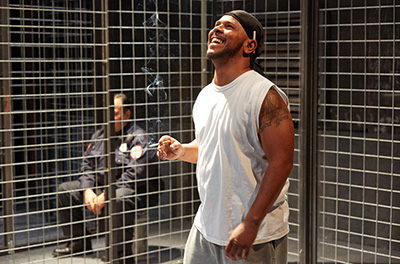 This might be a case where the editor sees more than the writer because I hadn't really noticed that turn that you're seeing. I've been too busy trying to follow my own teaching advice I give my students: use more action verbs.
There's more going on than just action verbs!
I do think that some forms of writing, like reviews and trend/thematic articles tend to begin as explorations, finding my way through an alien landscape looking for meaning. And maybe along the way, I can sketch out a kind of map to share with readers, sometimes detailed, sometimes broad-scaled. Hopefully, that map contains its own bits of artistic merit while not getting the reader completely lost.
-TARRA GAINES AND NANCY WOZNY