Anthony Rapp & Jackie Burns in If/Then.
Photo by Joan Marcus, courtesy of AT&T Performing Arts Center.
---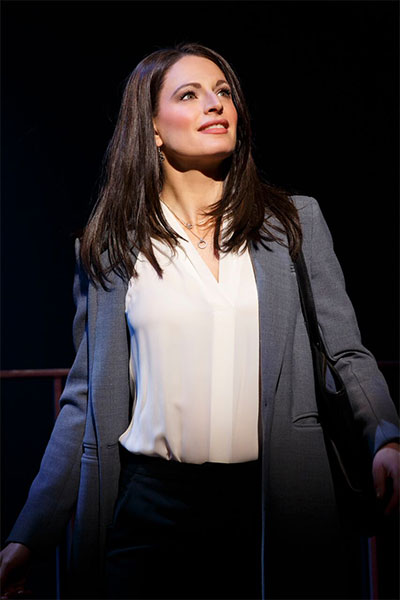 If/Then is a new touring musical aptly titled for it has two dueling personalities. It can be clever/confusing, bright/dark, fun/maudlin, sincere/fake. The musical is from the same team that created the Pulitzer prize-winning musical Next to Normal and follows two distinct storylines in the life of Elizabeth, a city planner who moves back to New York to restart her life and career. Despite a full-throttle performance from lead Jackie Burns (taking over for Idina Menzel for the remainder of the tour), If/Then, running through Jan. 31 at AT&T Performing Arts Center, ultimately is too ambitious for its own good.
The show premiered on Broadway to much fanfare and was one of the hits of the 2013-2014 season, fueled primary by star Menzel's rising star thanks to her Tony award-winning performance in Wicked and her singing for the animated film Frozen. The singing is definitely one of the show's strongest points, and the original cast album debut at No. 19 on the Billboard charts, the highest premier ranking since the cast recording for Rent hit that mark in 1996.
Directed by Michael Grief, no slouch to musical theater with such standouts as Rent, Grey Gardens, plus …Normal on his resume, the show couldn't capitalize on its strengths, closing after a year and some 400 performances. The national tour began in October with original stars Menzel and Anthony Lucas (Rent) in tow. The short five-day Dallas stop at AT&T Performing Arts Center, marks the first Texas stop (others are yet to be announced), with Menzel now out.
The show is visually arresting, with Mark Wendland's set playing up the 'reflection on life' theme with large background projections that both establish time, place and mood. Lyrically, some songs are fun ("What the Fuck?") and others still have a profound message about human connection ("A Map of New York") and the daily grind of urban life ("Ain't No Man Manhattan"). But ultimately the musical orchestrations starts to mirror each other and become a bit been there/done that.
Saving grace to the music is the standout vocals by most of the cast, with Burns showing great range and control on soaring lyrics that aren't always easy to sing, especially in Act II where the consequences of life decisions begins to drive the show into darker, less interesting territory, bottoming out with an airplane crash scene that was more fit for a Lifetime television movie than a big, bold, bright musical.
In the end, the strong cast pulls the show back on course, but the damage has been done. A fresh, lively and fun Act 1 is thrown off balance by a murky, maudlin Act II. WTF, indeed.
– SCOT C HART