Nurturing a Literary Culture
---
IMAGE ABOVE: Jeremy Ellis, Brazos Bookstore Manager. Photo by Mark Hiebert.
---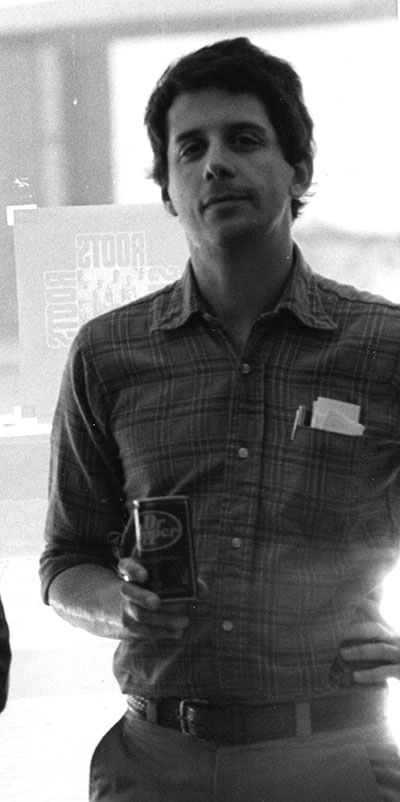 When Karl Kilian opened his bookstore in the summer of 1974, he spent almost all of the next three months on the couch, reading Proust; all of his potential customers had fled Houston's heat. Now to commemorate their fortieth year in business, Brazos Bookstore will be celebrating with a host of parties and events, including a series of Summer of Proust events to honor that fateful inauguration. The Brazos book club will be reading Swann's Way, and a movie night will show Little Miss Sunshine, alongside their dozens of regularly scheduled readings.
Houston is home to quite a few indie bookstores: Blue Willow Bookshop, Murder by the Book, Kaboom. All of them nourish the thick veins of Houston's literary scene, but Brazos has been the pivotal player in the evolution of Houston's writing community. According to Rich Levy, Inprint's executive director, "The impetus for starting the Creative Writing Program at the University of Houston came in part by the patrons of Brazos Bookstore. They wanted a literary life here. They knew that they could create that by starting a serious graduate program in Houston. Donald Barthelme and Cynthia MacDonald were brought here by them. Inprint sprang out of that same group."
In Houston, Brazos Bookstore is the place where people read; local and national writers come to promote their books, readers go to find writers, and work feeds out into the marketplace. When Brazos was on the verge of closing a few years ago, the group of investors who purchased the store—who own the store now,—came directly from the same literary community.
Like Houston's Inprint, Gemini Ink in San Antonio provides writing classes, hosts readings, and supports writers in the community. When Tim O'Brien, Ha Jin, Grace Paley and Margaret Atwood burrow their way to Texas, the literary organizations offer them the stage. But bookstores, like Houston's Brazos or San Antonio's Twig, are the cultivators of the literary scene.
All independent bookstores are curatorial in nature. Like galleries, their inhabitants have to read ahead of the curve. No one can help us understand exactly what we don't want yet better than a person who runs an independent bookstore. James Leath at Fireside Books in Tyler queried, "Need a cookbook for Thai food, how to repair your plumbing, or raise vegetables? Interested in the history of this local area or the Middle East in ancient times? Want a good biography of an entertainer or a book by that mystery writer who nobody else sells and you can't quite remember their name but it takes place in Florence (Magdalen Nabb if you are curious)?"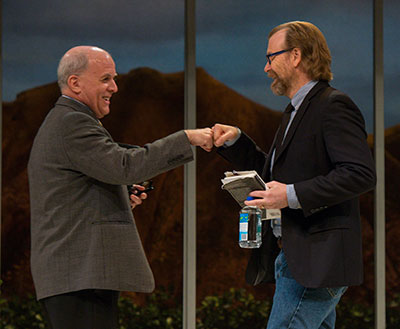 As anyone who reads and writes in Houston knows, Brazos  is the hub for readers and writers in Houston. Brazos's Ellis affirms, "Good bookstores foster creativity." Hosting the nation's best-known writers as well as  local writers, Brazos has evolved with Houston's writing scene.
When Austin's BookPeople was opened in 1970 by two couples with just $5,000, they offered a hand-picked collection of books from small presses and   little-known authors who focused on alternative politics, political theory, metaphysics, and eastern religions. Eight years later Philip Sansone, recently returned from the Peace Corps, purchased the store and began expanding. Now, according to anecdotal reports, BookPeople may be Texas's biggest independent bookseller, hosting authors nearly every day of the week. BookPeople provides meeting space for Writers' League of Texas and the local chapter of the Society of Children's Book Writers and Illustrators.
South Padre Island's Paragraphs on Padre serve readers and writers as far away as Brownsville and Harlingen. Paragraphs on Padre hosts author signings, artists, musicians, children's story time and book club. They even host auditions for the local theater group.
Opened in 1948 as Lena Dean's Lending Library, Fireside Books in Tyler was originally a kind of Blockbuster for books. Lena Dean was a literary maven of East Texas, offering books for rent; Her legacy was passed down through a customer, Trudy Richardson, who bought the bookstore 1976 as "a way to support her own reading habit." When she passed away, it fell to James Leath who's been working there for over twenty years.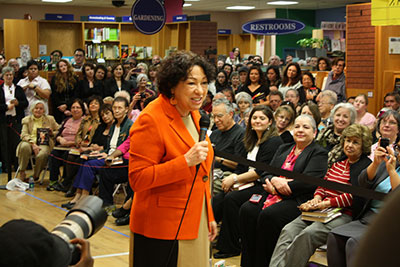 Leath argues that independent bookstore are a bulwark for creative freedom. "Before chains, publishers had to take into account the tastes of the whole nation of readers as filtered through a few thousand independent sellers who insured a diversity of choice in styles of fiction and all sorts of viewpoints in non-fiction. The big chains gave very little choice to local management in what to carry, so a few people in New York could control what books got published or not, based on their predictions regarding whether or not they would order a few hundred thousand copies for their chain. The internet offers the opposite problem where everybody in the world who can slap words between covers can (and do) put a book out there. An independent bookstore is where someone has acted as a gatekeeper hopefully in terms of quality but been inclusive in terms of beliefs."
Joni Montover has been coming to South Padre Island as winter visitor since 2002. She noticed there was no bookstore selling new books on the Island. Construction for home and store started in 2008 and Paragraphs on Padre opened its doors February 2009. By 2011, they were the only full service bookstore in Cameron County. Paragraphs on Padre hosts local authors and provide a space for locals and visitors to just talk about books.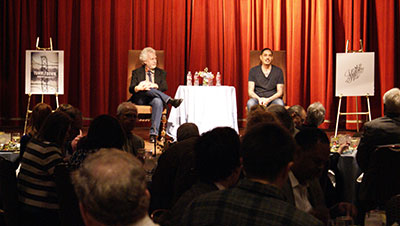 When I contacted owner Tim Johnson about his bookstore in Marfa, he couldn't talk because he was "too busy with publication projects, exhibitions and record releases all related to the bookstore." My sentiments, exactly: Texas independent bookstores stand as creative centers in their communities.
All of us local creative types shuffle through the doors of bookstores hoping to put a finer point on our curiosities. In Houston, Brazos has been fundamental to the voices of the community both literally and figuratively. My first reading as a graduate student was at Brazos Bookstore; as an editor at Gulf Coast Magazine, a reading there was a rite of passage. The two or three books sold could not have covered the cost of the lights, but Karl knew that we needed that space. We needed to stand among all the works of published writers and hope that one day, our own books would sit on that shelf.
—NICOLE ZAZA