There is actually no way to know how many artists support themselves solely through their artwork, but most people agree that it's a fairly low percentage. And one measure of success for an artist is being able to focus full-time on making art. Curator Veronica Roberts has been pondering this idea for about 20 years.

The result is a new exhibition,
Day Jobs,
which runs Feb. 19 through July 23 at the Blanton Museum of Art
 in Austin. The exhibition was organized by Veronica Roberts, former curator of Modern and Contemporary Art Blanton, with Lynne Maphies, former curatorial assistant, Blanton Museum of Art.
"Early on in my career, I kept meeting artists with day jobs, and they didn't want to talk about it," Roberts said. "I think it has deprived us of learning more about the realities of being an artist. I really wanted to bring this subject to light, as it has been profoundly influential for many American artists."
Her research has yielded some 75 works of art by dozens of artists ranging from Andy Warhol to Jeff Koons to Violette Bule. "It was a different type of show to put together," Roberts said. "I was not deep in research like other shows. I was mostly talking to colleagues and artists asking for recommendations." Roberts developed the thesis that day jobs are not always detrimental to an artist's creativity. In fact, this show seeks to illustrate how this part of an artist's life can inspire new ideas, materials, and methods of working.
Roberts had to set some parameters, or the show would have been massive. She limited the exhibition to work produced in the U.S. since World War II and deliberately excluded artists who teach art or work as artists' assistants.

"I faced many challenges on how to present the topic," said Roberts. "Deciding who to include took a lot of careful thought. I decided to focus on the U.S. and start with Warhol. I didn't want it to be all men, and the immigrant experience also was a key part of my selection." Included are artists who have supported themselves as servers, dishwashers, graphic designers, hairstylists, nurses, nannies, lawyers, museum workers, and more.
It came as no surprise that many artists sought employment in the art world. Roberts was intrigued, however, to learn of a group of artists who worked at the Museum of Modern Art around the same time. Sol LeWitt was a night watchman and receptionist, Dan Flavin an elevator operator, Robert Ryman and Robert Mangold were security guards, and Howardena Pindell was on the curatorial staff.
Sandy Rodriguez worked in the Getty Museum's education department, and Fred Wilson worked at several museums in New York City, including the Metropolitan and the Museum of Natural History. Influenced by seeing all the work that was not on view, Wilson became a freelance museum educator, mining the collections to curate them in new and profound ways. His sculpture Grey Area (Brown Version) from the Brooklyn Museum presents five busts of the Egyptian queen Nefertiti, a familiar image from ancient Egypt. He painted them in various shades ranging from dark chocolate to oatmeal raise issues regarding the racial identity of ancient Egyptians and how racism remains an issue to this day.
Among the more common ways artists make a living is working in the service and trade industries. Before his rise to fame at a young age, Frank Stella was a house painter, so he used Benjamin Moore paint and house-painting brushes for his early works. In fact, the 1962 piece in this show is titled Miniature Benjamin Moore Series. This grouping of six striped paintings was given to the Brooklyn Museum by Andy Warhol.
The work of Violette Bule, who is from Venezuela but lives in Houston, is directly related to her experience as a restaurant server.
Dream America
is a photograph of a fellow worker from one of her jobs; she is shown with a tray of dirty dishes on one side and an American flag in the other. "Homage to Johnny" is a tribute to Bule's partner who worked as an illegal alien washing cutlery for $5 an hour. It is an iron door with magnets and 1,500 forks that can be detached and thrown at it. These pieces address the challenges immigrants face supporting themselves in the U.S.
Austin-based artist VLM (formerly Virginia Lee Montgomery), who works as a graphic facilitator, is represented by a five-minute digital video titled Pony Cocoon from the Blanton's permanent collection. This serene production begins with VLM in a light-filled bedroom with a blonde ponytail on the bed and transitions into a close-up view of the emergence of a Luna moth from a cocoon attached to the disembodied ponytail.
One of the more fascinating inclusions in the show is a series of photographs by Vivian Maier, who worked as a live-in nanny in New York and Chicago for 40 years. Largely unknown until after her death in 2006 at the age of 83, her job allowed her to shoot constantly and develop the prints secretly in her bathroom. Intriguing self-portraits from 1954 to 1976 and a few other pieces reveal a compulsive need to document her daily life.
Several artists worked in media and advertising, most notably Andy Warhol, James Rosenquist, Barbara Kruger, and Chuck Ramirez. Warhol's beginnings in commercial illustration are well-known, and he utilized the silk-screening process extensively to make paintings and prints. "Warhol was one of the first artists to talk about art as a business," Roberts said. "He understood branding and marketing."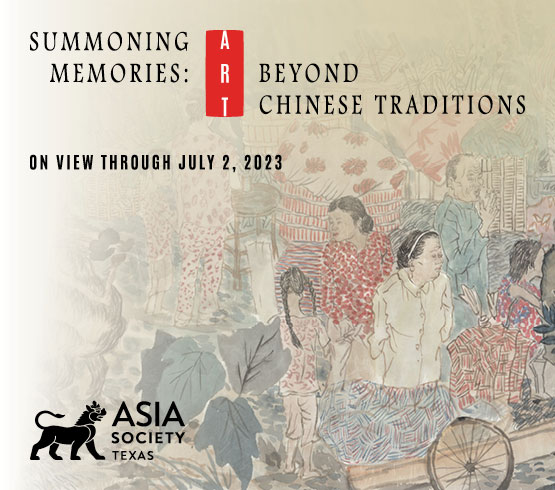 As a former lead designer for Condé Nast, Kruger works with words and slogans directly relate to her previous career. And it is widely known that Rosenquist was a billboard painter, which influenced his large paintings fundamentally both in imagery and technique. Ramirez's
Whatacup
is easily recognizable as a What-A-Burger cup, reflecting not only his designer background but his Texas roots. One of the first What-A-Burger fast-food restaurants opened in Corpus Christi in 1950.
Mark Bradford worked at his mother's hair salon, and the end papers he used to color hair were one of the first elements he incorporated into his mixed-media pieces. The influence of spending time in a place where Black women gathered still percolates through his work, and community is an important part of his sensibility.
With this show, Roberts hopes to put to rest the persistent myth of the genius artist working in isolation in their studio. She believes that the course of modern and contemporary art history has been determined more by "pragmatic choices rather than dramatic epiphanies."
—DONNA TENNANT