A scene from the Canadian Opera Company production of Nixon in China, 2011. Conductor Pablo Heras-Casado, director James Robinson, set designer Allen Moyer, costume designer James Schuette, choreographer Seán Curran, lighting designer Paul Palazzo, sound designer Brian Mohr and video designer Wendall K. Harrington. Photo by Michael Cooper.
---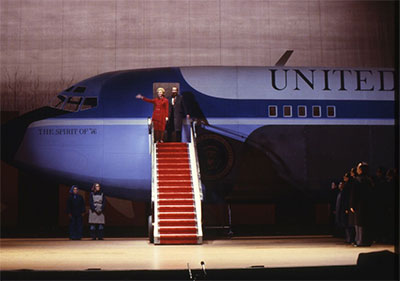 The U.S. presidential election looms, and the politician has planned his trip for maximum media impact. He's a divisive figure, with ideas that could revolutionize the world order. Cameras track his plane's arrival, and when he steps out, legions of television viewers are watching him. He knows that, and he has every intention of capitalizing on it.
Sound familiar? We aren't talking about Donald Trump, though. This is Richard Nixon as he arrives in Beijing in the first scene of Nixon in China, John Adams' operatic transformation of the late president's 1972 trip. Thirty years after presenting the world premiere, Houston Grand Opera will bring Nixon back to the Wortham Theater Center Jan. 20–the very day Nixon's latest successor is sworn in.
With the rise of this year's president-elect proving the power of media mastery, Nixon in China resonates more than ever, stage director James Robinson says. "Now we realize that everything is a carefully orchestrated media event," he says. "There are no accidents. That's what's kind of scary. Things take off on their own."
Nixon in China, commissioned by HGO and three other companies, easily ranks as the most prominent of the 50-plus operas premiered in Houston since former chief David Gockley made new works one of the company's missions. Public television broadcast HGO's staging nationwide, and leading U.S. and European companies have presented the original production or new ones. By the time Nixon reached New York's Metropolitan Opera in 2011, some critics were calling it a modern classic.
"This is an opera that is now 30 years old, and I think it sounds as fresh and plays as wonderfully as it did when it premiered. … It's about an American president, but it's almost a fantasy journey. We all know what happened to Nixon. Knowing where we are now — when you think about what this event did, and how it opened up China in this really big way — you can't believe how prophetic (the opera) is."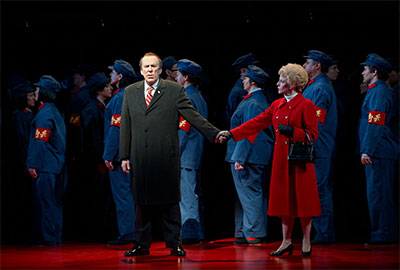 Nixon in China began with stage director Peter Sellars, who made his name in part by re-imagining familiar operas: The year after Nixon premiered, his production of Mozart's The Marriage of Figaro transplanted the action to the Trump Tower. Sellars thought Nixon's outreach to China — then a closed, impoverished nation ruled by communist icon Mao Zhedong– was ripe for theatrical treatment: The trip was "a ridiculously cynical election ploy … and a historical breakthrough," he told Opera News. He enlisted poet Alice Goodman and Adams — who was one of the United States' leading composers, but had never written vocal music, much less an opera.
The trio crafted a scenario that used events — Nixon's landing, his meeting with Mao, a banquet, a performance of a communist-themed ballet — as a window into the characters' thoughts and emotions. The last scene would involve no action at all: The protagonists, at the end of an arduous day, would muse about their lives and worlds as they prepared for bed.
"Nixon's visit to China … overflowed with an abundance of themes to pick from," Adams writes in his autobiography, Hallelujah Junction. "On one level it signified a clash of the titans. Nixon and Mao virtually embodied the twentieth century's great agonistic struggle for human happiness: capitalism versus communism; the market economy versus the social welfare state. The lead characters were so vivid they … cried out for operatic treatment."
Opera neophyte Adams faced "a steep learning curve, but I reveled in it," he writes. Creating music that illustrated characters' inner lives enthralled him. How should he describe Nixon's psyche? Thinking back to the heyday of the Middle America Nixon often invoked, Adams drew on the sounds of Swing Era big-band music, and he filled out his orchestra with a hefty brass section and four saxophones.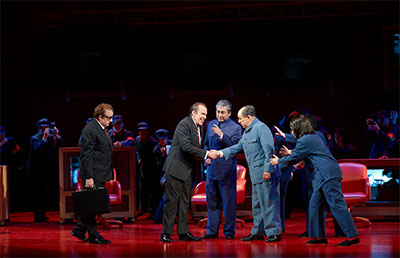 That yielded an orchestral sound that was "burly beyond belief," Adams says. The singers' voices had to be amplified, which caused problems in the absence of a sophisticated sound engineer at Wortham. The production team opted not to use supertitles, meaning that much of Goodman's text was lost on the audience. Adams credits the cast's vocal gifts and theatrical commitment with the opera's impact at its premiere – which overlapped with an HGO production of Verdi's Aida starring soprano Mirella Freni and tenor Placido Domingo.
"The Houston theatergoers cheered both productions loudly, especially the arrival of Air Force One," Adams writes. "But I suspect that the melancholy detumescence of our final scene, with its deflated characters all lying on their solitary beds … may have puzzled those Texans who had gathered in a blitz of diamonds, Stetsons, and white ermine for the opening night."
Robinson, who will also direct HGO's April production of Mozart's The Abduction from the Seraglio, created his Nixon production for Opera Theatre of St. Louis in 2004. He and his design team began with their own recollections of 1972.
"How did we view this event? We viewed it all on television as kids," he says. "Nixon going to China, after JFK's funeral, was probably the biggest television event of the time. … It was monumental. So we decided to look at the piece through television — as this journey that is all about media."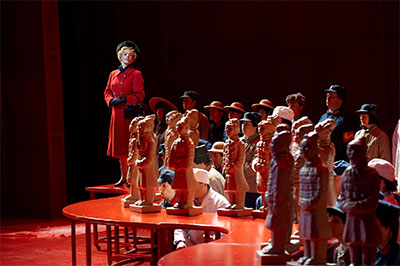 Robinson's production features about a dozen 1970s-style console TV sets, which fly in and move around to create an aura of media omnipresence. Against that backdrop, Robinson says, Nixon creates compelling portraits of its protagonists: Pat Nixon savoring her vision of her homeland; Madame Mao, the force behind China's Cultural Revolution, reveling in her power in a coloratura-soprano tour de force; Chinese premier Chou En-Lai wondering about history's verdict. Nixon's reminiscence of his life's happiest times is especially poignant, Robinson adds, in light of his eventual downfall.
"There are times you think, 'Does opera matter? Does art matter?' Well, maybe it does," Robinson says. "Maybe it does hit on things and make us look at things differently. Maybe we do have a purpose."
—STEVEN BROWN