Alejandro Diaz, It Takes a Village, 2015. Mixed media installation, 113x162x112 inches.
---
Alejandro Diaz and the currency of clout at SPACE
Until September 12th, the artwork at the Linda Pace Foundation's SPACE will look deceptively like a group show—or more accurately, like an eccentric re-contextualization of seminal works. Despite appearances, only one artist is behind the exhibition; Alejandro Diaz, now based in New York, returns to San Antonio,  his hometown, with an eclectic grouping of sculpture and painting.
Diaz is known in San Antonio for founding the well-respected art space Sala Diaz which hosted a residency program, Casa Chuck, in the former residence of celebrated photographer Chuck Ramirez. Diaz passed on the directorship of the space in '97 to pursue further education. Despite "finding out who [he] wasn't" at the Bard Curatorial Program, there is a sense that this show is curated by Diaz as much as it is crafted: Through heavy references to well- known artworks, it's as though Diaz is selecting and showcasing pieces from an expansive collection of artwork from the last 50 years and (in some instances) beyond.
Visually the works at SPACE seem strikingly separate, including color-field paintings reminiscent of the 40s and 50s; a simulacrum of Calder tapestry; canvas emblazoned with a trademark font from social media over a mechanically-even blue; mannequin-like sculpture; and an installation combining display aesthetics of shop-windows and those of multiple artists and craftspeople. Though visually and stylistically miles apart, these works sit adjacent to one another through a conceptual lens; each piece relates directly back to social status and methods of communicating that status.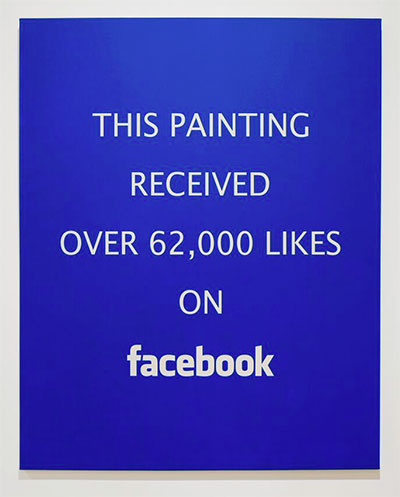 Facebook Likes is the most obvious in that regard. Though the artist will protest at typifying it as such, it is quite literally a one-liner. In large white Facebook Tahoma caps over a Facebook blue background, the painting's caption reads "THIS PAINTING RECEIVED OVER 62,000 LIKES ON FACEBOOK". The work is intentionally absurd, proclaiming something in its creation that could only be true after its creation is complete. The painting is simple, but sheds light on the modus operandum of its author; Diaz takes what he sees as status indicators and uses them either directly or ironically to create an altered sense of value and question the idea of status itself.
This is not a Calder may be more representative of Diaz's usual subject matter. Here the artist smashes together the tapestry work of Alexander Calder and René Magritte's ubiquitous The Treachery of Images. The viewer finds a doppelganger of Calder's woven works with the edition of a line of text lifted and translated from Magritte's second-best-known painting. The result is something significantly less valuable than either, and while that poses some interesting questions about where that value comes from, one very simple answer is originality—a meddlesome answer indeed, in terms of this exhibition.
In his artist talk, Diaz said that if he found himself lusting after a famous work of art he would simply reproduce it, something he attributes to the make-it-yourself culture in which he grew up in San Antonio. Though Diaz did not mention it, one can't help but connect the history of production behind Calder's fiber-based work (some crafted by 100 Nicaraguan laborers at four times the usual rate) to the culture of low-wage immigrant labor in which Diaz grew up.
This brings the reader to the murky waters of Diaz's Muebles, sculptures that mimic Allen Jones'1969 works, Hatstand, Table, and Chairs—pieces which still manage to stir up controversy, notably through other artists continuing appropriation of his imagery. Jones was controversial from the get-go, receiving tremendous backlash from the growing feminist movement for his furniture situating sculpture of female figures in bondage in place of the usual supports for benign domestic objects. In 2014 Bjarne Maalgrad made headlines and reawakened the controversy by replicating Jones' Chair, replacing the original figure with that of a black woman. Diaz took a slightly different approach the year after by desexualizing the figures and replacing them with stereotypical images of Mexican migrant workers. Brown or black, both alternate versions of Jones' original make white people feel uncomfortable, or at least they should.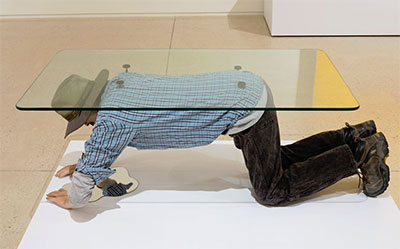 Despite their placement in a museum space, and because they are furniture, Muebles are easily imagined in a home setting. Given that the rest of the show seems very focused on status and class, the mind naturally gravitates to the economic implications of these works moving from their current status as museum objects, to the potential future state as individual owned status indicators.
After some heated discussion Diaz spells it out this way: "Would I feel bad about selling an image of a poor person for a lot of money? I think it enhances the complexity around the conversation about the work. If you see that work in a museum, it's one thing; but if you see that work in the home of a wealthy, non-Hispanic, Madison Avenue woman, it gets really complicated. I'm not one to shy away from those issues. A lot of my work does deal with the value of art and taste, and what that means. My part is to question that in my work and create situations where that is in question."
Regardless of one's opinion about the merits of Diaz's position in that troubling hypothetical, it cannot be denied that he certainly creates a situation in which those implications come into question; and by that measure, the exhibition clearly succeeds.
—SETH ORION SCHWAIGER